UM-Flint health care administration alum making a difference at Ascension Genesys Hospital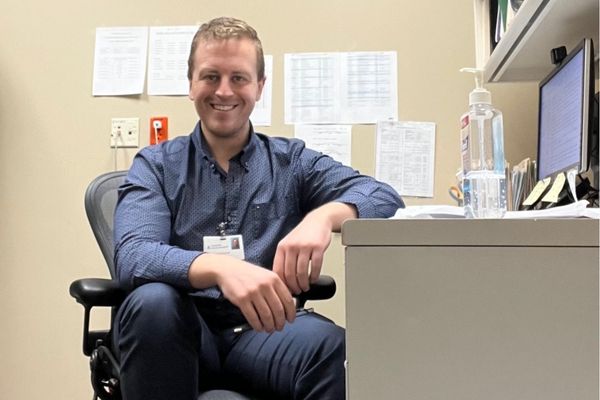 Well-trained doctors, nurses and other health care providers are essential in allowing individuals and communities to thrive. But, there are also many other vital health care employees behind the scenes, ensuring that clinicians can give the best care possible.
Garrett Knickerbocker, a 2018 and 2020 University of Michigan-Flint graduate from Frankenmuth with a bachelor's degree in health care administration and a master's degree in health care management, is one of those administrators. He is a clinical support manager at Ascension Genesys Hospital in Grand Blanc and handles many tasks that help the hospital run smoothly, including hiring, patient complaints and compliance. He is also responsible for patient transport, imaging support and language support services.
"You get to be the person that creates change," Knickerbocker said. "You know that you impacted patient care because of a decision that you made. When you are heading up a project, whether it is technical or people-oriented, you get to follow it from A to B and see that you have made a difference. It is very rewarding."
Knickerbocker earned an associate degree in general business from Delta College and then decided to specialize in health care to stand out in the job market. The plan paid off.
While in UM-Flint's bachelor's degree program, university staff helped him find an internship as an executive administrative intern at McFarlan Assisted/Independent Living, managed by Presbyterian Villages of Michigan. He got hands-on experience in sales, marketing, customer service and conflict resolution, and helped write a federal grant.
He says that the internship and the real-life, practical skills he learned in the program prepared him to land the job shortly after graduation and thrive in his career. He returned to UM-Flint for a master's degree in health care management, completing the program online while working full-time.
"Understanding HIPAA, Medicaid/Medicare, and the micro/macro facets of the health care industry allowed me to jump headfirst into this career with a solid base of knowledge," he said. "I found the option to attend classes in person or online to be incredibly helpful as a working student in both of my programs. My professors were passionate about what they taught and they offered a melting pot of experiences for students to consider during lectures and assignments."
Reza Amini, associate professor of public health and health sciences, says that Knickerbocker thrived in the program.
"He was an outstanding and diligent student and demonstrated his ability to integrate scientific theories with practical and real-life applications in the health care system," Amini said.
The importance of highly qualified employees working in health care administration was highlighted at the beginning of the pandemic, when Knickerbocker and other administrators had to respond quickly, sourcing vital equipment that was in short supply, implementing electronic scheduling and improving processes.
"There were things happening that there were no rulebooks for," said Knickerbocker. "You have to critically think and be innovative. It is a great field. It is evolving and there is a future in it. It doesn't become stagnant because every day looks different. It is not a job where everything is predictable."
As the demand for health care increases, the need for empathetic, ethical and effective health care administrators is also growing at an extremely fast rate. Jobs for health services managers are expected to grow 32% through 2023, according to the U.S. Bureau of Labor Statistics. That is almost four times the growth rate for all jobs. With a master's degree, the field also pays a high median salary of $104,280 per year.
Both UM-Flint's health care administration bachelor's degree and health care management master's degree can be completed 100% online. To learn more about these programs, visit the College of Health Sciences's webpage.
Martha Pennington
Martha Pennington is the communications specialist for the College of Health Sciences. She can be reached at mkpennin@umich.edu.