Upgrades to 'My UM-Flint' portal making it easier to use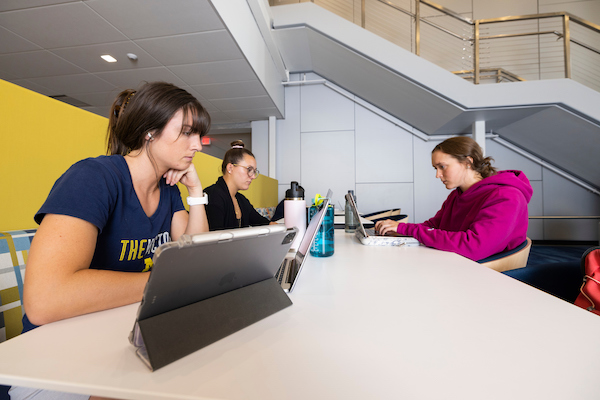 The University of Michigan-Flint is making the digital student hub for essential information easier to use.
My UM-Flint, which students can access from the university homepage, offers access to email, Canvas, campus events and services, the academic calendar, a campus map, the Information Technology Services Help Desk, a campus directory, the UM-Flint intranet, and more.
"'My UM-Flint' has been the centralized portal for students, faculty and staff for access to all authenticated campus resources since 2012," said Joel Howard, ITS client server operations manager. "Since its launch, 'My UM-Flint' has gone through several iterations and feature enhancements. The goal is to have all of the critical information and systems students need to access in one easy to navigate and use place that works on any device, anytime and anywhere."
ITS recently made changes to "My UM-Flint" to make it easier for students to use. As the site requires logging in through Duo Security, the active session time has been extended from two hours to seven days, which prevents users from constantly having to log in to use it.
The portal's layout was also rearranged to move up My Personal Information–Student Information Services and Namecoach–Popular Links & Services from the top to free up room on the mobile layout. ITS also removed the explanation paragraph from SIS to free up space. Widgets and blocks within "My UM-Flint are now collapsable to create easier navigation on mobile devices.
With the new update, ITS also added a link in the footer of the page with information about how to add My UM-Flint to the home screen of a user's mobile device for easy access.
"ITS appreciates the input from Student Government on this round of enhancements and we look forward to collaborating with (Student Government), the Division of Student Affairs and a number of involved students-at-large for future functionality features and enhancements that will directly impact our users," Howard said.
Lindsay Knake
Lindsay Knake is the Communications Coordinator for the UM-Flint Division of Student Affairs. Contact her with any questions, comments, or ideas about the DSA newsletter, social media, events, and communications.