UM-Flint PT alum wins national innovation award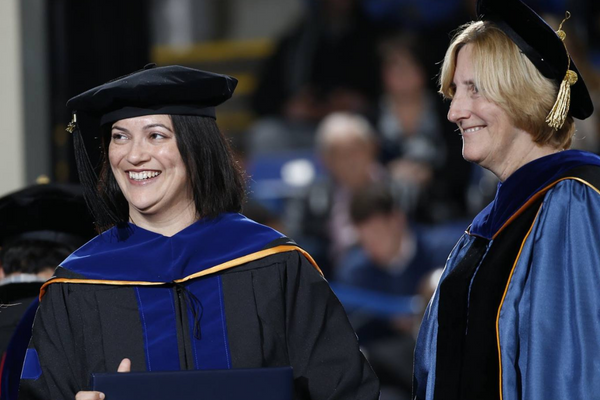 After becoming the first student to earn a PhD in physical therapy from the University of Michigan-Flint in 2017, Shweta Gore followed in the footsteps of her UM-Flint professors and mentors by becoming an educator. As an associate physical therapy professor at MGH Institute of Health Professions in Boston, Gore values excellence in both teaching and research, a commitment that has earned her national recognition.
Gore, who is also a 2014 graduate of UM-Flint's Transitional Doctor of Physical Therapy program, was recently awarded the Innovation Award from the American Council of Academic Physical Therapy. The honor recognizes innovation in delivery of educational content that has made a significant impact in learning opportunities for students. She was nominated for the award by several colleagues.
Gore was recognized by ACAPT based on her innovation in teaching methods, including creative activities to improve foundational knowledge of cardiovascular and pulmonary anatomy such as having students build tracheobronchial tree models using magic clay for deeper learning. She also collaborated with faculty colleagues to deliver an innovative coaching model to teach psychomotor skills remotely during COVID-19.
"These past five years have been a wonderful learning experience for me," said Gore. "There are so many different ways to engage students. As a teacher, you are constantly learning and as you learn, you grow."
She is also the principal investigator of a grant from the National Institutes of Aging to study physical function in patients with multimorbidity related to cardiovascular disease. This grant will establish cut off points for simple tests of physical function – gait speed and hand grip strength – to predict the risk of hospitalization, long-term nursing home placement, and mortality. Central to this grant will be the involvement of graduate students in order to spark an early interest in research.
In addition, Gore is working with a team of researchers from Johns Hopkins University, Boston University and Boston Medical Center to implement an activity and mobility promotion approach hospitalwide and study the effectiveness of this implementation on patient outcomes. This work is supported by a Learning Health Systems Rehabilitation Research Network pilot grant.
Gore said that UM-Flint's PhD program and the mentorship she received set her up to succeed as both a professor and a researcher.
"I owe a lot of my teaching development to my time in the PhD program," she said. "The hands-on, real life experience that I received gave me so many pearls of wisdom that I carry to this day. The research skills that I acquired helped me formulate all of my other research. I also started grant writing in the program and was able to publish a few studies before I graduated. Those are amazing skills to have."
The program dedicates a semester to equipping students with teaching skills in higher education and active learning strategies. Gore also taught a physical therapy course as a PhD student and was able to design the syllabus, content and assessments.
"It is a wonderful thing to mentor a student who goes on to achieve so much as an early career researcher and faculty member," said Jennifer Blackwood, associate professor and director of physical therapy at UM-Flint, who mentored Gore during the PhD program. "I am very proud of the work that Dr. Gore has done and continues to do."
In her teaching, Gore focuses on scaffolding information, building from simple to complex, with students in her acute care course learning how to mobilize patients by practicing on each other, then lab instructors and finally in a hospital environment, with multiple chances to improve.
Gore, who previously worked as a clinical physical therapist, said that teaching graduate students is incredibly rewarding.
"All physical therapists should consider teaching," Gore said. "Sharing your clinical experiences is so valuable. In the clinic, you don't get a lot of exchange of ideas and you don't get to dive deeper into what you are seeing. When you are in a classroom, you are surrounded by so many curious students that have wonderful questions that make you think deeper. It is so rewarding."
To learn more about UM-Flint's PhD in Physical Therapy, visit its webpage.
Martha Pennington
Martha Pennington is the communications specialist for the College of Health Sciences. She can be reached at mkpennin@umich.edu.