UM-Flint Psychology Club debuts new career series panel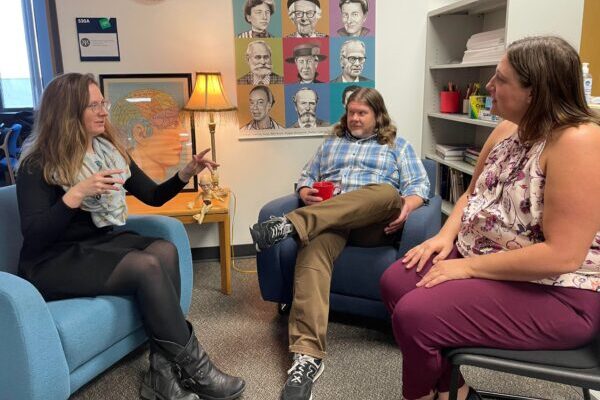 Psychology students got the chance to pick their professor's brains all in the name of researching professional development and choosing a potential career path.
It was all part of the University of Michigan-Flint Psychology Club's new monthly career series panel held Oct. 27 that highlights different professions and graduate programs directly related to psychology and professions in which having a psychology background would be beneficial.
The series inaugural panel featured the research of three UM-Flint professors: Nathan Miller, associate professor of psychology; Jennifer LaCosse, assistant professor of psychology; and Hillary Heinze, program chair and associate professor of psychology.
Miller spoke about his research on Parkinson's disease, including his most recent collaborative project titled "Inclusive Design in Shared Autonomous Vehicles for People with Parkinson's Disease."
LaCosse talked about her own social psychology research, which focuses on stereotypes, prejudices and anti-racism through the lens of minority populations in science, technology, engineering and mathematics and interracial interactions.
Heinze, who serves as the club's advisor, shared past experiences about conducting research on topics that include homelessness and positive development in at-risk youth. Her area of expertise is clinical psychology, and she talked about her own eight-year journey to obtaining a PhD. Heinze also currently teaches a course that covers careers in psychology which provides more insight into what steps students can take to find their niche in the field.
Together, the trio addressed specific topics including how students can best express their interest in becoming a research assistant, how to split time between research projects to either receive college credit or compensation for work being done, and the importance of writing strong personal statements when applying to graduate programs.
The professors also discussed their own professional development, including their educational journeys and what steps students can take if they are interested in becoming a professor or researcher, which closely aligns with club president and junior psychology major Taylor Culinski future goals following her 2024 graduation date. "I love learning and I want to help others learn to love it too," said Culinski.
Culinski's desire to pursue a career in psychology is personal – she wants to apply what she learns in her courses to her daily life and to help support her loved ones. "I also think it's an area when I can help other people, and that's something I've always wanted to do," said Culinski, who is from Swartz Creek.
Culinski joined the psychology club in 2020 because she wanted to surround herself with students who share her interests. Now those same students helped bring her idea of a career series panel to life.
"When I suggested we meet with like-minded professionals so they could share their experiences, club members were thrilled about that opportunity," said Culinski. "Meeting with professionals who are well established in their fields may help club members narrow down their path when it comes to their own psychology careers. Many of our members are interested in therapy so in order to support them we'll be inviting art, music, family and forensic psychologists to speak at our panels."
She added that since most psychology-related graduate programs require research, she and other club members felt that the career series panels would help build foundations that would prove to be helpful when introducing students to psychological research projects.
Culinski and the professors also highlighted the university's Undergraduate Research Opportunity Program, adding that it is a great resource for students because it connects them with various research opportunities, helps them build research and analytic skills and gives students a chance to present their work at conferences all over the United States.
Future club meetings can be found on Campus Connections.
To learn more about psychology at UM-Flint, visit the program's website.
Madeline Campbell
Madeline Campbell is the communications specialist for the College of Arts & Sciences. She can be reached at mciak@umich.edu.