UM-Flint's Hagerman Center for Entrepreneurship is finalist for 2023 Excellence Awards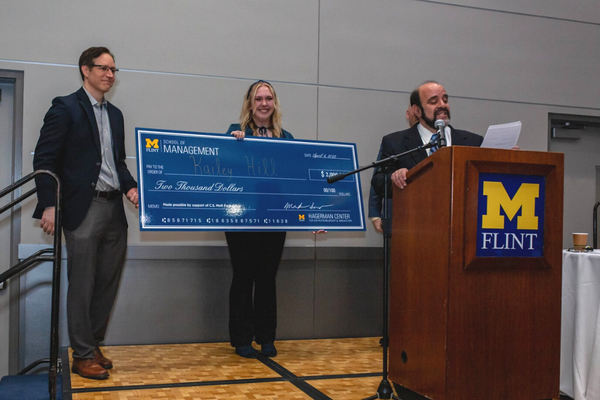 The University of Michigan-Flint's Hagerman Center for Entrepreneurship and Innovation is a finalist for the ​​Excellence in Co-Curricular Innovation Award from the United States Association for Small Business and Entrepreneurship. With more than 700 members, USASBE is the world's largest organization devoted to entrepreneurship education by universities, making this one of the most prestigious awards a university can receive.
USASBE recognizes bold and innovative programs making an impact in the field of entrepreneurship education. The award honors colleges and universities with comprehensive, creative, high-quality, sustainable and impactful co-curricular programs in entrepreneurship education.
UM-Flint's Hagerman Center is one of just four finalists selected to compete for this distinction.
"The quality of the applications this year was higher than ever," said Judi Eyles, USASBE program awards co-chair. "We are seeing programs really put together strong cases for these awards, making the selection of finalists a real challenge."
Established in 2015 with a gift from Phil and Jocelyn Hagerman, the Hagerman Center offers an easy-to-enter innovation competition for students of all majors called Zillion Solutions, a summer program for high school students, faculty innovation awards, student scholarships and funding for the Entrepreneurs Society student organization. Shortly after the center's founding, UM-Flint's School of Management introduced the entrepreneurship & innovation management major to further equip students with the skills to be successful entrepreneurs and innovative leaders in existing organizations.
Mark Simon is the Hagerman Professor of Entrepreneurship and Innovation and director of the center at UM-Flint.
"Our commitment to entrepreneurial education extends to every corner of our community," said Simon. "Empowering students studying everything from nursing to English to make their ideas a reality is extremely rewarding and a testament to the importance of entrepreneurial thinking in every discipline. To be a finalist for this award is truly exciting and reflects the impact of programming offered by the Hagerman Center."
The Hagerman Center will present its case for selection as the award winner at USASBE's annual conference, Jan. 18-22, in Tallahassee, Florida. Award recipients will be announced during a formal ceremony, Jan. 21.
"[Our awards] are one of the most exciting elements and value-added components of our organization," said Julienne Shields, CEO of USASBE. "Sharing the breadth of efforts and excellence of these finalists helps our members really see what can be done. Our finalists love to share their stories so others can learn and replicate ideas in ecosystems."
For more information about the award, visit the USASBE website. To learn more about UM-Flint's Hagerman Center, visit its webpage. 
Logan McGrady
Logan McGrady is the marketing & digital communication manager for the Office of Marketing and Communication.