UM-Flint professor, team of writers create multimedia guide for Michigan exploration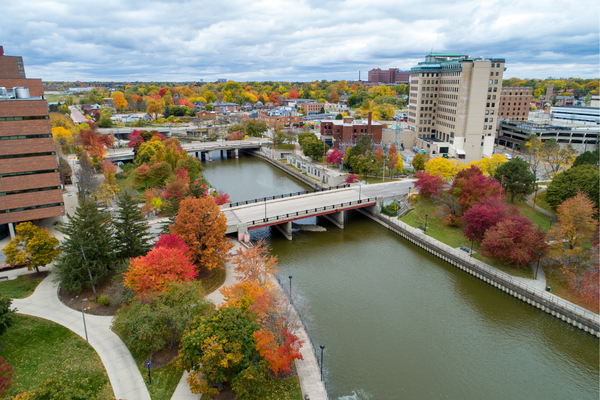 In the fast-paced age of technology it can be difficult to slow down and get to know your surroundings, but one University of Michigan-Flint English professor with a team of 40 writers including alumni, are working to make it easier.
Mary Jo Kietzman, associate professor of English, wanted to see if it was possible to remake a regional guide modeled on those produced by the 1930s-era Federal Writers Project without the federal money or bureaucracy. The Writers' Project was an arm of President Roosevelt's Works Progress Administration or WPA — an acronym that inspired the name of the project website, "We Poke Along: From Flint to Port Hope."
"We are trying to get people excited about exploring their own backyard, nudging them to fall in love with their hometowns," said Kietzman, who has been exploring Flint alone and with students for 25 years.
Kietzman secured a grant from the Michigan Humanities Council that was matched by the university to provide stipends for the younger writers on the project. Stipends enable them to travel and collect material for walking, kayaking, and driving tours of Flint, Saginaw, Bay City and Midland, as well as the towns and farmlands of Shiawassee County, the Thumb, and the Lake Huron shoreline.
The aim is to inspire local travel and exploration of cultures and places that are overlooked or unknown: non-reservation indigenous peoples, Muskrat French still living by trapping and hunting in the marshes along our waterways, German settlements, utopian experiments, a Black resort in the middle of rural Tuscola County, and the subcultures of factories and Flint neighborhoods.
Faculty from an array of disciplines along with a few professional writers have written background essays in part one of the project. Part two includes city profiles and ideas for walking, biking and paddling tours, while part three presents driving tours of the Thumb. The plan is to publish a print guide, maintain a website of representative story maps (digitized versions of the tours with photos), and create a phone app ("MiPilgrimage") for the Flint tours.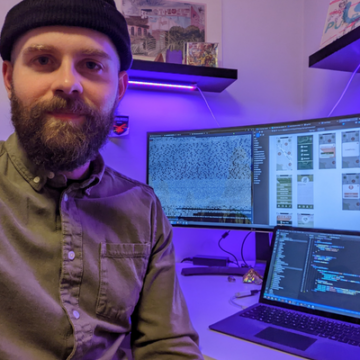 Zach Scott, a 2017 UM-Flint graduate with bachelor's degrees in computer science and English, is building the app that nudges users to choose their own adventure. Scott, who studied renaissance literature with Kietzman, believes the app will add layers of interest and spontaneity to storytelling that would be difficult to accomplish in traditional narrative modes.
"Often, when a person chooses a story to read, they have an idea of the sort of experience they're choosing for themselves. With this app, we can let users guide themselves to a point of interest and help them see their community differently," Scott said.
Current and former students writing for the guide have had the chance to dive deeper into the stories of their own home areas. For example, Amanda Seney, a 2020 UM-Flint graduate with a bachelor's degree in English, focused on writing about villages and small towns like Cass City, Caro, Vassar, Millington and Otter Lake. She got involved with the project because of its focus on highlighting areas and places that are often overlooked.
"This project is very empowering for me as a storyteller," said Seney. "The Thumb has a lot of natural beauty, but there are also great beaches, breweries, historical buildings and unique festivals and other things we often associate with urban environments, but you have to drive a little further to find them."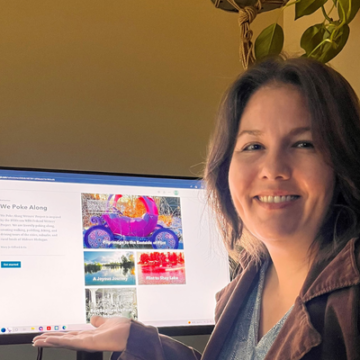 Elise Sturgeon, a 2021 UM-Flint graduate with a bachelor's degree in geography, planning, and environment, worked to put those areas and features on the map, both figuratively and literally as she is responsible for designing the interactive story maps for the project. So far, Sturgeon has mapped Flint's East Side, Saginaw, Shay Lake, a kayak trip the whole 73 miles of the Flint River, Owosso and will start on a tour of Flint businesses featuring the iconic Paul's Pipe Shop.
A Flint resident, Sturgeon says the story-mapping aspect is incredibly important because it will help readers gain a greater knowledge of their surroundings and the history that made it possible. "I hope the narratives alongside the beautiful imagery will lure people to come take a walk, bike ride, kayak trip or swim and learn things they didn't know about," she said.
Madeline Campbell
Madeline Campbell is the communications specialist for the College of Arts & Sciences. She can be reached at mciak@umich.edu.