UM-Flint Nursing creates Team Micaela to support student battling breast cancer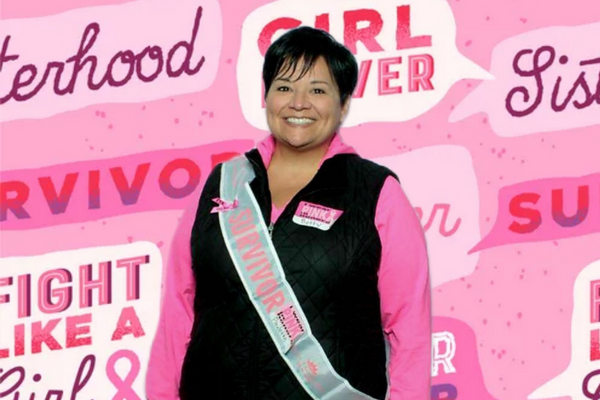 Fighting cancer is something no one should have to do alone. So to help one of their own, the University of Michigan-Flint's School of Nursing created Team Micaela to support a student facing the toughest battle of her life. The team shared financial donations and ensured Micaela Trevino felt their love, Oct. 22, at the Making Strides Against Breast Cancer event in downtown Flint.
Trevino, a senior Bachelor of Science in Nursing student from Clio, had already completed successful treatment for breast cancer before enrolling at UM-Flint but discovered the disease had returned earlier this year. Undaunted by the diagnosis, she remained determined to pursue her dream of becoming a nurse. Trevino's continued resilience has kept her on track to graduate this December with the rest of her cohort.
"Having Team Micaela behind me was like having another family. Everyone has pulled together to show support and offer help in an effort to keep me on track to graduate with my cohort," said Trevino. "They are an amazing group. The faculty have been incredibly supportive. My clinical instructors frequently send emails and texts to check on me."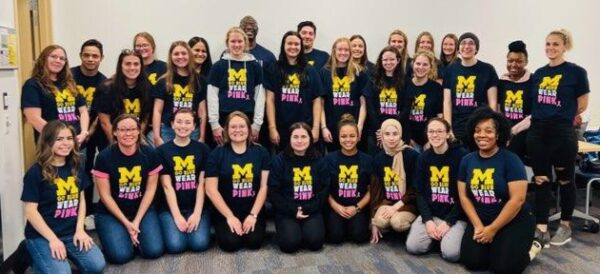 Trevino is now undergoing an intense phase of her treatment while taking four courses this semester: two online and two in-person. She receives chemotherapy treatments during a three-hour break between lectures on Wednesdays, while taking part in clinical courses on Mondays and Tuesdays. She also works part-time on the weekend at Beaumont-Troy in labor and delivery – not to mention being a single mom and keeping up with regular oncology appointments.
So on behalf of Trevino, UM-Flint SON faculty, staff and students all wore "Go Blue-Wear Pink" T-shirts and walked together through downtown Flint, raising more than $2,000. "Micaela will step into people's lives and will make a difference as a registered nurse," said Margie Murray-Wright, clinical assistant professor of nursing, who helped organize the effort. "I am humbled by her capacity for courage, resilience and endurance. She is an everyday hero and we are privileged to be with Micaela on this journey."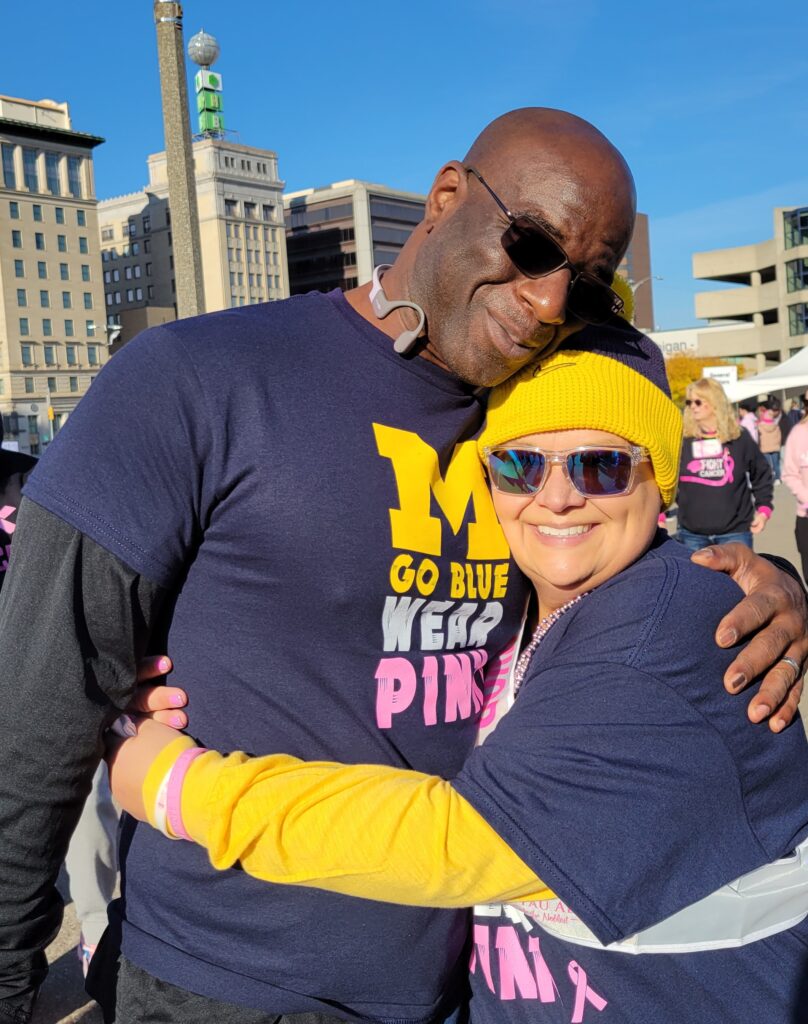 According to the American Cancer Society, 65% of breast cancer cases are diagnosed at a localized stage, meaning there is no sign that the cancer has spread outside of the breast, for which the five-year relative survival rate is 99%. Members of Team Micaela want to make sure everyone:
Remains up-to-date with their personal breast cancer prevention plan.
Checks-in with family members regarding their breast wellness.
Coaches a friend into getting that overdue mammogram.
Honors those lost to this disease by donating to their organization of preference.
Since 1993, the American Cancer Society Making Strides Against Breast Cancer campaign has united communities, companies, and individuals with a collective goal to end breast cancer as we know it. In 2022, an estimated 287,500 new cases of invasive breast cancer will be diagnosed in women in the U.S. as well as 51,400 new cases of non-invasive breast cancer.
Cynthia McCurren, dean of the School of Nursing and a two-time breast cancer survivor said, "I held hope that I would defeat breast cancer a second time and emerge even stronger. I share this strength and courage with Micaela. The lived experiences that nurses have as patients themselves, ultimately allow us to be ever more caring and compassionate as caregivers."
Brad Brokaw
Brad Brokaw is the communications specialist for the School of Nursing. He can be reached at brokawbr@umich.edu.