UM-Flint education programs receive national endorsement from Colleges of Distinction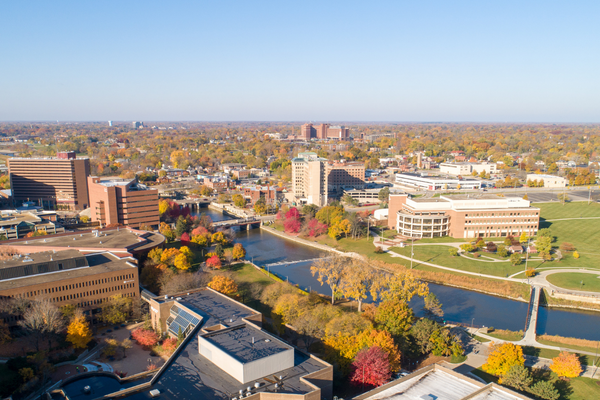 The University of Michigan-Flint's education programs earned a national endorsement from the Colleges of Distinction, an online guide for college-bound students that honors colleges and universities throughout the U.S. for their excellence.
According to COD, this specialized endorsement for the university's education programs is intended to recognize schools "whose undergraduate experiences are grounded in a philosophy of well-rounded, individualized engagement." Among these institutions, "UM-Flint delivers leading-edge undergraduate education programs as education transforms alongside constant changes in technology, public policy, employer demands, and more." 
Schools were evaluated based on criteria, traits and benefits for students that included stability, accreditation, multidisciplinary, practical experience, non-education specialization, dedicated advising and counseling, high-impact practices, and industry connections. 
"We complete a thorough review of the programs in question before giving the awards," said Tyson Schritter, chief operating officer for Colleges of Distinction. "It's wonderful to see how UM-Flint really exemplifies these qualities within the field. The university graduates future educators who are not only knowledgeable but also efficient mentors who provide empathetic support and practice novel teaching methods."
UM-Flint's School of Education & Human Services Education Department offers undergraduate degrees that lead to early childhood, elementary, secondary and K-12 certifications and an early childhood program without certification. UM-Flint offers the only Master of Arts with Secondary Education Certification as an alternative route to certification in Michigan. Additionally, the school has online stackable educational leadership degrees, including a Master of Arts in Educational Administration resulting in a building-level administrator endorsement, an education specialist degree resulting in a district-level administrator endorsement and a Doctorate in Education. UM-Flint's Early Childhood Trauma and Education Certificate, offered across the two departments in the school (Education and Social Work) is an example of the school's commitment to serving the community.  
"This recognition is a testament to the hard work of our faculty and staff who provide high-quality programs that enable our graduates to make a positive impact on the students and schools they serve," said Beth Kubitskey, dean of UM-Flint's SEHS. "We're proud of these national endorsements because they are a great reminder that UM-Flint is a special place, and they give us an opportunity to share that with others."
For more information about the awards, visit the Colleges of Distinction website. To learn more about UM-Flint's SEHS, visit the school's webpage. 
Robb King
Robb King is the director of marketing and communications at UM-Flint. He can be reached at rwking@umich.edu.