UM-Flint communication alums share advice, work experiences with soon-to-be grads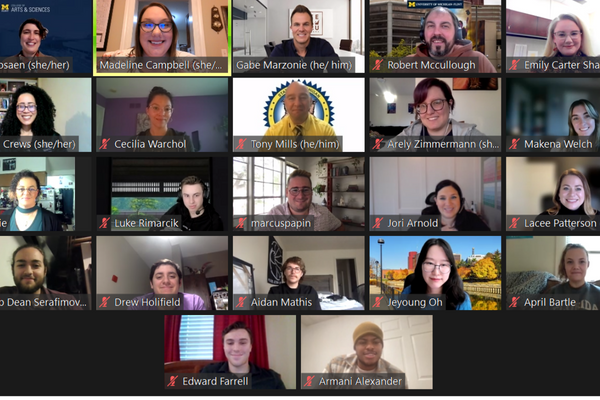 With fall commencement drawing near, graduating students have many things on their minds, including weighing the options for graduate programs or their imminent entries into the workforce.
Fortunately, students enrolled in the University of Michigan-Flint's Communication 426 course are now more prepared to take their next steps, regardless of the path they chose, thanks to meeting with a group of UM-Flint communication alumni as a part of the senior seminar course.
The alumni selected to speak with the students featured varying work experiences, which highlighted the flexibility of a degree in communication.
For example, Tony Mills, a 2010 UM-Flint graduate with a bachelor's degree in communication, is now working as a mentor coordinator with the Michigan Department of Corrections. "I found the job that I was meant to do," said Mills. "A big lesson I learned was to not necessarily follow the money, but to pay close attention to the culture in the workplace."
Emily Carter Sharpe, a 2015 UM-Flint graduate with bachelor's degrees in professional communication and music, added that forthcoming graduates should be open to different experiences in the workforce.
For example, Carter Sharpe's professional journey began at the Flint Institute of Music's Whiting Auditorium before moving on to positions at the Detroit Symphony Orchestra and Ascension Health. Currently, Carter Sharpe works as an associate director of campaigns at Wayne State University's School of Medicine.
"All of my professional experiences have turned me into a jill-of-all-trades," said Carter Sharpe.
Lacee Patterson, a 2012 UM-Flint graduate with bachelor's degrees in visual communications and journalism, shared that her work experiences have shown her how graphic design and communication skills overlap.
Currently a campaign manager for Hilton Hotels, Patterson also highlighted the importance of making professional connections and tapping into them when starting a job search as it helped her successfully secure a job with a waterfront developer on the western side of the state.
Arely Zimmermann, a 2016 UM-Flint graduate with bachelor's degrees in communications and English literature, talked about the importance of researching companies before accepting a role and that graduates should be wary of companies that want to set up meetings just hours after applying for a job, adding that kind of immediate response is typically a red flag. Zimmerman currently works for Capstone Publishers as a sales operations specialist.
However, Erika Crews, a 2014 UM-Flint graduate with a bachelor's degree in communication, had the opposite experience. Crews, who currently works at Michigan State University as a diversity, equity and inclusion coordinator and academic advisor explained that job hunting sometimes requires a lot of patience, as her search did. She applied to two different jobs and was contacted by the employer she really wanted to work for five months later.
"I was concerned about job hopping at first, but I had to advocate for myself and take the job that was right for me," said Crews.
Jori Arnold, a 2012 UM-Flint graduate with a bachelor's degree in professional communication, added that it's important for students to talk about their professional goals and career path with their advisor while they're still in college.
"I almost decided to become a wedding planner and event coordinator," said Arnold. "It didn't sink in that I'd likely be busy every weekend in that line of work until my advisor mentioned it. I'm glad I chose a different path." Arnold now works at Optum RX as a principal recruiter.
Gabe Marzonie, a 2003 UM-Flint graduate with a bachelor's degree in communication, has worn many hats, working at places like Dreamworks, lobbying on Capitol Hill and even working for the Department of Homeland Security. Marketing, however, is his true professional interest.
He said that marketing boils down to changing a consumer's spending behavior, and that's something he's gained experience with while working in different roles throughout the years. Marzonie is now the marketing director for Leelanau Wine Cellars.
Marcus Papin, a 2012 UM-Flint graduate with a bachelor's degree in advertising, also has varying work experiences, but said that being in different positions has helped him meld his skills and education together in order to become a successful senior project manager at Getaway, a specialty hospitality company that connects vacationers with tiny cabins on the outskirts of metropolitan areas.
Overall, the panel helped to ease some of the students' anxiety about stepping into the job market.
"It was really refreshing to hear from a wide range of professionals working in their fields and doing what they love," said Makena Welch, a senior communication major from Grand Blanc.
Madeline Campbell
Madeline Campbell is the communications specialist for the College of Arts & Sciences. She can be reached at mciak@umich.edu.