UM-Flint PT, OT students deliver free impactful care with HEART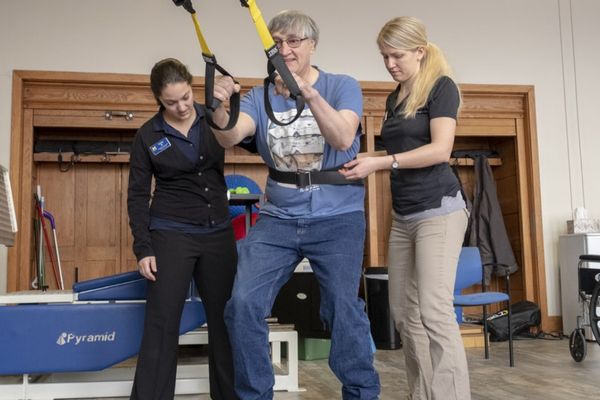 It's no secret that uninsured adults and children have less access to proper health care. And it's that lack of availability that can lead to a poorer quality of life and make recovery from any illness a tough road to navigate. But in Genesee County, many have found an unlikely source of hope through HEART, a pro-bono clinic run by students and faculty from the University of Michigan-Flint's Doctor of Physical Therapy and Occupational Therapy Doctorate programs.
Now in its 12th year, HEART, which stands for Health Equity, Action, Research and Teaching, has continued to grow and improve, just like the participants it serves. Each Friday at Flint's Sylvester Broome Empowerment Village, students and faculty offer free one-on-one physical therapy and occupational therapy services, an exercise class for people with Parkinson's disease, and a walking class for people who have suffered from a stroke.
The clinic is both impacting health outcomes for uninsured and underinsured patients, and providing meaningful, hands-on learning experiences for UM-Flint students from multiple programs.
"These participants are such good teachers," said Amy Yorke, an associate professor of physical therapy, who specializes in neurological disorders and developed both of HEART's exercise classes. "They can teach the students so much more than I can."
Launched in 2010 as PTHEART at the North End Soup Kitchen, it offered physical therapy and health education; other disciplines have been integrated during the life of the program through UM-Flint's College of Health Sciences. The expansion has added both care and learning opportunities for all involved.
Occupational therapy students added OT services in January 2022 and the clinic was renamed HEART to reflect its interdisciplinary approach. Undergraduate nursing students in a Community Population Health class have also joined the program, bringing their expertise in managing vital signs, medication concerns, patient safety and patient education.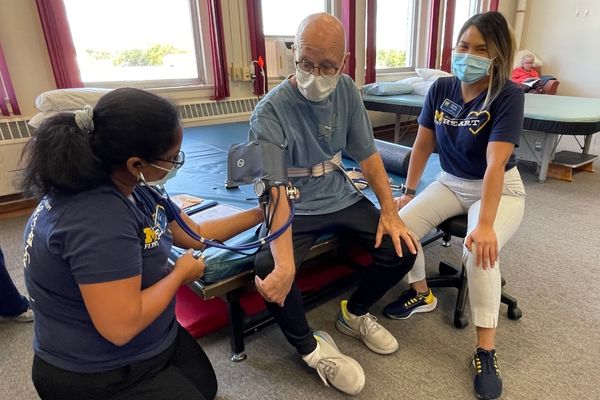 Other disciplines, including public health and physician assistant, are working on plans to incorporate their students in the coming months. Public health students previously had provided health education and other services when the clinic was housed at its original location and are developing new ways for getting involved at the current location.
An average Friday will have more than 40 students volunteering at HEART and more than 20 patients taking advantage of its classes and services. Participants said they are making great strides and feel supported by the students who work with them. Students and faculty said the clinic provides learning opportunities that could never be found in a textbook.
"It is a completely immersive experience, which is one of the most powerful ways to learn," said Elizabeth Yost, clinical assistant professor of occupational therapy. "Students also learn soft skills, which can be difficult to apply in a classroom environment. As occupational therapists, we focus on participation in meaningful activities in an authentic context. We are mirroring that at HEART with our students."
HEART is overseen by UM-Flint faculty, a board of directors consisting of physical therapy and occupational therapy students, and an advisory board comprised of various Genesee County health care leaders.
While many of the clinic's patients have impaired walking abilities following a stroke, the MoveMore class features assisted mobility and heart rate monitoring to aid in getting people back on their feet.
Kimberly Lucas of Flint had a stroke in 2019 and was paralyzed on her left side. During her hospital stay, one of her physical therapists, who was a UM-Flint graduate, recommended HEART to her. She's been visiting the clinic ever since. Lucas said her husband used to bring her into the facility via wheelchair but that she now walks into the building herself using only a cane.
"The progress I have made is unbelievable," said Lucas. "I feel very supported. They say, 'we've got you' and I really feel that. I continue to make progress and my goal is to walk in one day without this cane. It has been a true blessing to me."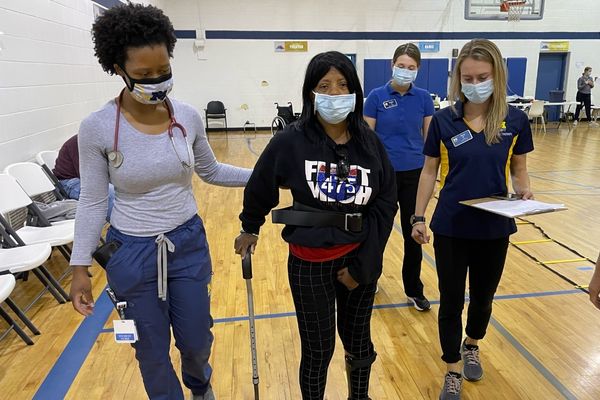 And while exercise clearly helps improve stroke outcomes and is also the only thing proven to slow the progression of Parkinson's disease, there are other positive impacts as patients have also reported lower blood pressure and improved blood sugar levels.
Sean Hurlburt, a third-year DPT student from Saline, is the former director of the Parkinson Wellness Recovery exercise class. The 37-year-old found a second career in physical therapy after earning a doctorate in music. He said that the progress he sees in Parkinson's patients through exercise is inspiring.
"The patient jumps out of the textbook," Hurlburt said. "It gives you confidence to work with different populations and learn how to respect physical and emotional boundaries. Physical therapy school is hard. Having a touchpoint each week where I can see the difference that I am making, makes it all worth it."
While the clinic originally relied on student volunteers, this year the physical therapy program added a service-learning requirement and calls for volunteer hours at community organizations, including HEART, during all three years in the program.
The HEART experience is also realizing a reach beyond the clinic space as patients often come to the UM-Flint campus to work with students in a classroom as well. Additionally, students also teach virtual exercise classes through the Michigan Parkinson Foundation every other week.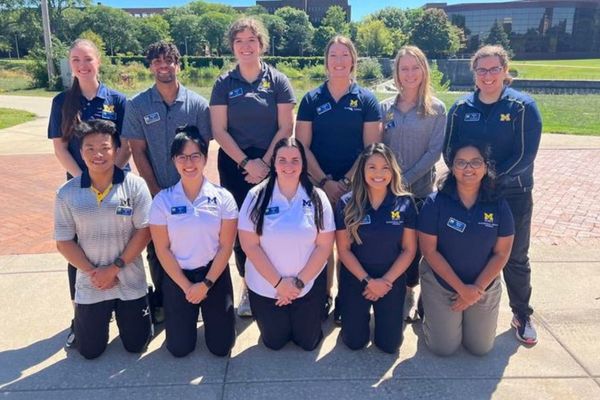 Maureen Murphy, assistant professor of nursing, says volunteering at HEART has quickly become one of her students' favorite clinical experiences. Aside from working with patients, students recently taught an educational series to caregivers on how to prevent falls.
"(Our students) have really bonded with the patients," Murphy said. "When we are interdependent as disciplines, we give strong and holistic patient care."
Mona Desir, an accelerated second-degree nursing student from Saginaw, agreed.
"In the hospital, we are nurturing patients back to health and now we get to see what happens when they leave the hospital," Desir said. "This is a really rewarding experience. We are getting to know the patients and helping them foster courage. The people we work with are determined to improve."
Cynthia Cummings of Flint, who suffered a stroke in 2017, has been learning to walk again at HEART.
"They are teaching me how to use my limbs again," said Cummings. "(When I got here) I was afraid to stand but they helped rebuild my self-confidence. I had a goal to walk again by my birthday, in October of this year, and I beat it."
Additional information for community members who would like to receive services through HEART; clinicians interested in volunteering to oversee students; or those interested in donating to support the clinic, is available at www.umflint.edu/heart.
Martha Pennington
Martha Pennington is the communications specialist for the College of Health Sciences. She can be reached at mkpennin@umich.edu.