UM-Flint to celebrate National Chemistry Week with hands-on demonstrations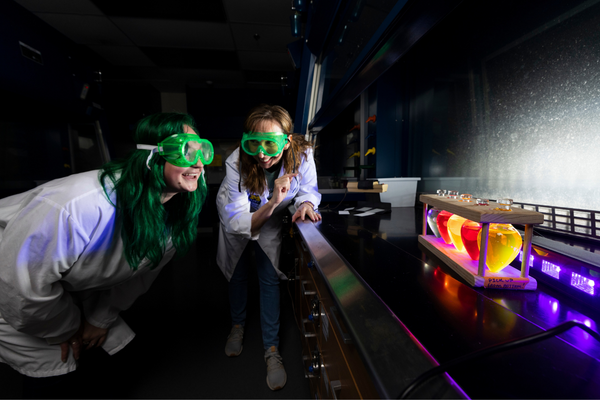 Chemistry is much more than equations and lab reports – it offers an opportunity to see science in action. And with that serving as a base, the University of Michigan-Flint Chemistry Club will act as the catalyst of STEM curiosity and exploration during National Chemistry Week,  Oct. 16-22.
The club, which officially became a student chapter of the American Chemical Society in 2002, is conducting various demonstrations throughout the week to showcase the possibilities of chemistry to the UM-Flint campus as well as visitors at the Sloan Museum of Discovery.
The National Chemistry Week kickoff took place Oct. 18, with students gathering in Murchie Science Building 109 to observe several general and organic chemistry demonstrations conducted by the UM-Flint Chemistry Club, which included the reactions called "dragon in a bottle," methane bubbles and "snowy nitrogen."
Here is an example of "dragon in the bottle."
Club members also caught a $20 bill on fire to demonstrate differences in chemical volatility between two solutions.
The demonstration ended with a bang as club members conducted the "snowy nitrogen" demonstration.
**WARNING** the bang is loud so you may need to adjust your speakers accordingly.
The club will celebrate Mole Day a few days early, Oct. 21, by crafting fluffy pompom moles. Mole Day is usually observed on Oct. 23 in order to commemorate Avogrado's number (6.02 x 1023) which is a basic unit of measurement in chemistry.
Kelly Crowley, a senior green chemistry major from Ortonville and club president, said she's excited about this year's chemistry week activities.
"I am looking forward to spending time and interacting with the other club members and students. Everyone has a busy schedule, so that time can be hard to find," she said.
Crowley added that National Chemistry Week also shows students the important role science plays in everyday life. "Choosing unique demonstrations helps students understand that chemistry is not only practical, but fun. That makes teaching them about it a lot easier," she said.  
Jessica Tischler, associate professor of chemistry and biochemistry, who also serves as the club's advisor, said National Chemistry Week provides her and the club members opportunities to engage in community outreach which in turn has the potential to change lives.
For example, she and club members will be conducting demonstrations at the Sloan Museum of Discovery, Oct. 22, in order to connect with K-12 students.
Their demonstrations will focus on the American Chemical Society's theme, "Fabulous Fibers: The Chemistry of Fabrics."
Crowley said the demonstrations she and other club members plan on conducting involve fabric chromatography, a lab technique that focuses on the separation of a mixture into its components and synthesis of nylon thread.
"These demonstrations will be hands-on and are designed to teach children and their parents that chemistry doesn't have to be intimidating," said Tischler.
Tischler encourages both children and adults to ask questions during the demonstrations because it could serve as inspiration for someone to continue learning about chemistry.
"There's nothing better than observing a young kid realize they can be a scientist too," said Tischler.
Tischler said that she became interested in science at a young age herself, as she dreamt of becoming either a paleontologist or an astronaut.
However, she became interested in chemistry during her freshman year in college following a class with her undergraduate chemistry professor George Eastman at Grand Valley State University.
"It all started in my general chemistry class," Tischler said. "We had an hour-long block of visually-striking chemistry demos one day and those demos held the power of seeing what can be done with chemistry and that was life-changing for me."
In fact, the demos were so life-changing that they helped her narrow down her career path. She got the chance to participate in independent lab research, and then learned how to present her findings.
And now, she wants to help the UM-Flint Chemistry Club create a similar experience for anyone who attends the demos on campus or at the Sloan Museum.
"We have the chance to spark someone's interest in science. That's a really big deal."
Madeline Campbell
Madeline Campbell is the communications specialist for the College of Arts & Sciences. She can be reached at mciak@umich.edu.