UM-Flint earns national endorsement for nursing programs from Colleges of Distinction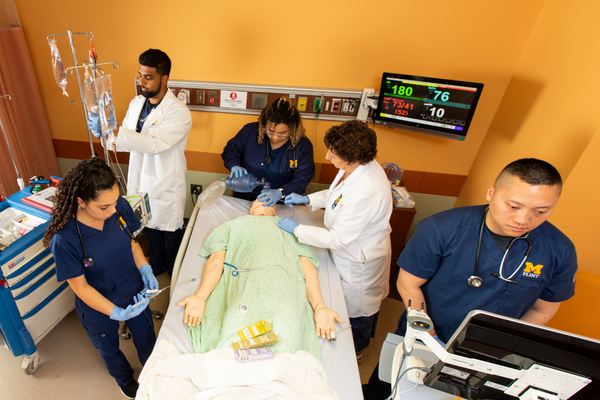 The University of Michigan-Flint's nursing programs earned a national endorsement from the Colleges of Distinction, an online guide for college-bound students that honors colleges and universities throughout the U.S. for their excellence. In addition to being named a 2022-23 College of Distinction, UM-Flint received specialized recognition for its undergraduate nursing programs, which include a traditional Bachelor of Science in Nursing program, an accelerated second degree BSN program, an online RN to BSN completion program, and a veterans BSN program.
According to COD, this specialized endorsement is intended to recognize schools "whose undergraduate experiences are grounded in a philosophy of well-rounded, individualized engagement." Among these institutions, "UM-Flint excels at graduating students into the workforce with solid, well-developed critical thinking skills as well as the ability to adapt in an ever-changing society." 
Schools were evaluated based on criteria that included stability, excellence, accreditation, practical experience, high mastery rates, dedicated advising and counseling, liberal arts exposure, high-impact practices, and industry connections.
"We complete a thorough review of the programs in question before giving the awards," said Tyson Schritter, chief operating officer for Colleges of Distinction. "It's wonderful to see how UM-Flint really exemplifies these qualities within the field."
The baccalaureate, master's, certificate, and DNP programs offered by UM-Flint's School of Nursing are accredited by the Commission on Collegiate Nursing Education.
"At UM-Flint's School of Nursing, we work very hard to listen and understand the needs of our students," said Cynthia McCurren, dean of the School of Nursing. "As nurse educators, we must engage broadly and intentionally with our practice partners and the community. This allows us to co-create models of care that reflect a shared vision for the profession of nursing which ensures equitable access to care and a culture of health for all. It is very gratifying to know that the Colleges of Distinction recognizes and rewards our efforts."
For more information about the awards, visit the Colleges of Distinction website. To learn more about UM-Flint's nursing programs, visit the SON webpage. 
Robb King
Robb King is the director of marketing and communications at UM-Flint. He can be reached at rwking@umich.edu.