UM-Flint alum, history student work together in archive digitization project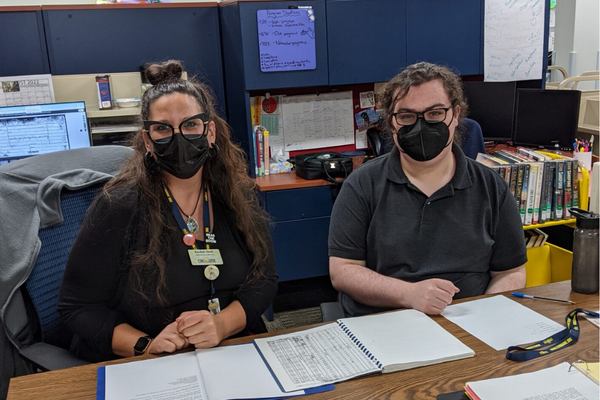 A University of Michigan-Flint alum is diligently working to ensure that Hartland residents can easily access information from the past and is doing so with a current UM-Flint history student to make it happen.
Clio resident Rachel Stock, a 2016 UM-Flint graduate with a bachelor's degree in history and two-time Wyatt Endowment scholar, works as an archivist at Cromaine District Library, managing its archives department and local history collection.
She says her job is a great fit because it allows her to tap into her passion and credits working at UM-Flint's Frances Willson Thompson Library for providing her with an impactful experience that helped her explore her future career.
"That was the highlight of my time at UM-Flint and is the biggest reason I became an archivist and librarian," said Stock.
She also credits the UM-Flint history program for supporting her passion for local history and helping her understand and appreciate her surroundings.
Her experience has now come full circle because she provides Cromaine District Library patrons with the same levels of support, guidance and resources that she received as a student.
"I love helping people and standing by as patrons piece together local history or their genealogy," Stock said.
Her deep appreciation for local history and desire to help educate future generations also helped her realize she could play a key role in a project aiming to increase patrons' accessibility to Hartland's past.
She spent the summer laying the groundwork to bring the community's past into the future, creating a strategic plan on how to digitize the library's entire local history and archives collection. "Creating the digitization plan was my first chance to start a program from the ground up," said Stock.
She worked with Nicholas Harvey, a senior history student from Hartland, to begin scanning, labeling and filing the journals, ledgers, manuscripts and personal book collection that belonged to library founder Robert Crouse. 
Then the team started work in the archives collection, which houses the library's first inventories and circulation reports, early editions of the local newspaper, Community Life, and notebooks filled with obituaries, unpublished cemetery records, census population schedules and other genealogical research materials including a list of surnames.
With much of the massive collection currently stored in filing cabinets, Stock said she realizes digging through the files will be daunting.
"Folks think that archives and local history collections require a lot of specialized knowledge, which is only half true," she said. "Though it might take specific skills to care for and preserve the records themselves, interacting with and interpreting the data is something anyone can do."
Stock believes digitizing the collection at the library will ease the research process for anyone wanting to dive into local history or genealogy while being able to offer them additional context about events and local figures.
In addition to helping Stock start the digitization process, Harvey began building an inventory list and conducted additional research about historic events and figures. He also visited the local music hall and cemetery to add context to the research files.
In addition, Harvey worked to establish metadata, or data that describes data, for both collections.  
"It felt like the work I was doing mattered. It was extremely fulfilling," said Harvey.
Stock said that Harvey's diligence in creating the datasets will help the library prepare for the forthcoming digital overhaul. "Being able to add that extra bit of context helps to carve new accessible pathways for patrons and the community researching their hometown," she said.
Stock is looking forward to the continuing digitization of the collection and to perhaps working with more UM-Flint students on the project.
"Our work here will never be complete, there will always be something that future students and I can work together on," said Stock.
Madeline Campbell
Madeline Campbell is the communications specialist for the College of Arts & Sciences. She can be reached at mciak@umich.edu.