UM-Flint alum puts the stars within reach at Longway Planetarium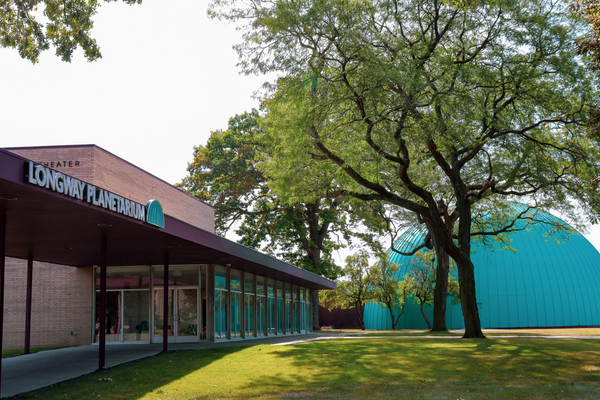 After enrolling in a special topics astronomy course offered at the University of Michigan-Flint, Patrick Ross, a 2015 graduate with a bachelor's degree in physics, found himself fascinated with the field of astrophysics. The combination of interesting coursework and strong faculty mentorship is what drove Ross to embark on a six-year journey from intern to manager at Flint's Longway Planetarium.
When Ross began his academic journey at UM-Flint, he started looking for ways to connect with faculty and immerse himself in research. He found those opportunities through Rajib Ganguly and James Alsup, both associate professors of physics. The pair were focused on the areas of quasars, which are massive celestial objects emitting large amounts of energy, and black holes.
"Being able to sit down directly with the faculty as an undergraduate student and have a research group to look at problems in astronomy was very unique and influential in where I chose to go with my degree," said Ross.
During his undergraduate work, Ross began an internship as a part-time presenter, introducing and talking about show content at Longway. The experience helped build his passion for astronomy and his interest in continuing education. That interest would propel Ross to earn a master's degree in physics from Texas A&M University-Commerce. While in graduate school, he worked at Ritter Planetarium in Toledo, Ohio, and later found himself back in Texas in a management position at the A&M Commerce Planetarium and Observatory.
While working in Texas, Ross got a tip from Ganguly – the planetarium manager position at Longway was available. Ross applied shortly after and was hired. He oversees a team of staff and educators, as well as the portable planetarium that travels from the main venue to schools outside the Flint area, thereby bringing the Longway experience to school-aged children throughout the region. Ross is also responsible for all new program content like the more recent James Webb Space Telescope images that he has included in their shows.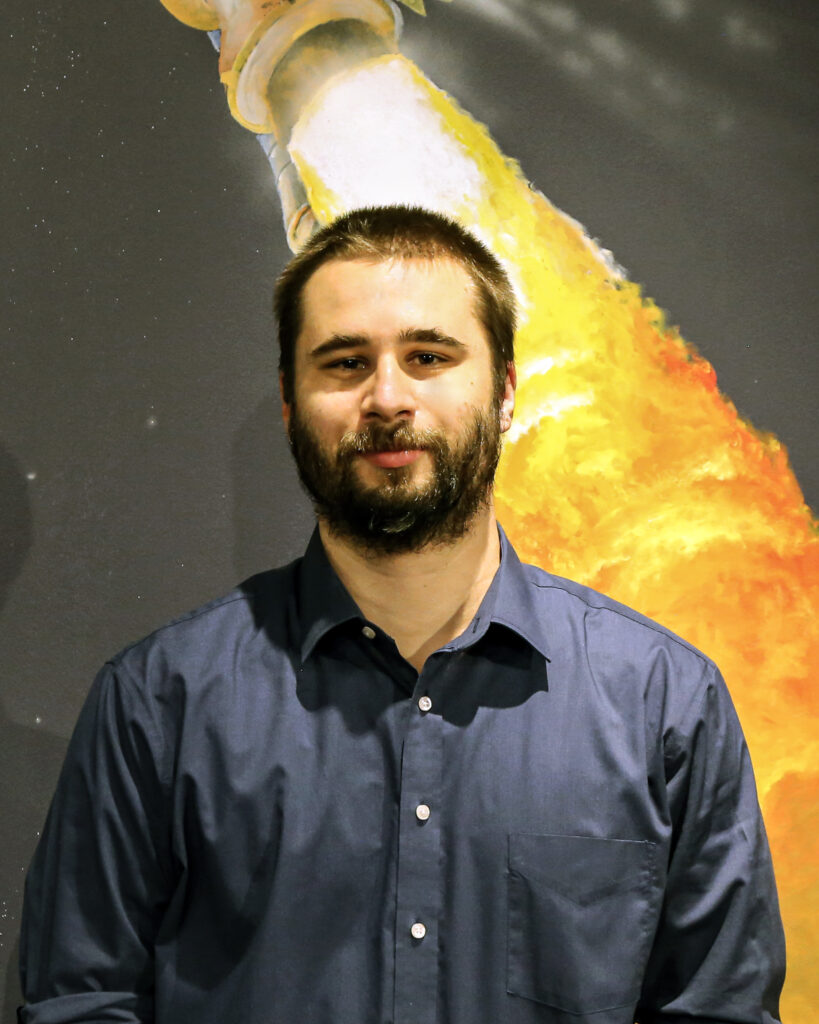 "Working at the planetarium is great," said Ross. "You have a very diverse group of people working together, from scientists who are published and well-known in the field, to educators with various backgrounds."
As for his time and experiences at UM-Flint, Ross believes that immersing himself in the opportunities presented by faculty is what made him successful and is an approach that current students could also benefit from.
"[Students should] find a research group or professors that will let [them] participate in a project that interests them so that they can not only learn more about the subject, but learn more about the workflow of research," he said. "It's a great experience to see what the other side of the degree looks like if you continue into the field. Diversify your research groups if you can in order to get different perspectives. Last but not least, learn computer science and learn how to code. It's becoming more important than ever in the field to have those types of skills." 
Ross attributes his success in graduate school to his coding skills so that he was able to dive right into the research, while many in his cohort were still learning the ropes.
He plans to continue his career in the planetarium field and hopes to find a PhD program that bridges the gap between science and public outreach in the future.
Dayne Hopkins
Dayne Hopkins is the communications specialist for the College of Innovation & Technology. Contact him at dayneh@umich.edu.