Father and sons thrive in UM-Flint nurse anesthesia program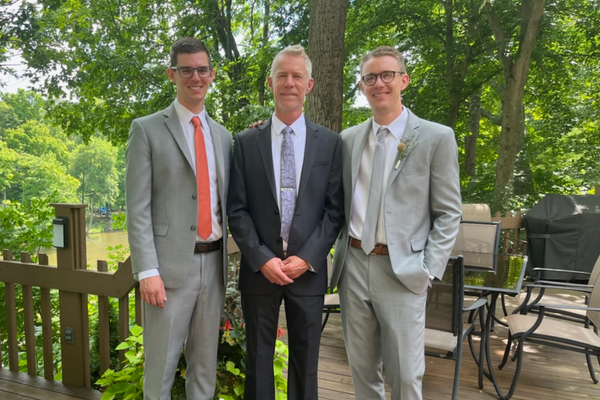 When Grand Rapids nurse Andy Cooper decided to return to college to pursue a graduate degree in nurse anesthesia practice at the University of Michigan-Flint, he knew he was starting the path to a fulfilling career. What he didn't know at the time was that he was also starting a family tradition.
Andy Cooper, a 2006 UM-Flint graduate, pursued the program when he was in his late 30s and his three children were in grade school. Fast forward years later, and when it came time to choose their own career paths, his sons, Drew and Ben Cooper, didn't have to look far for inspiration.
Drew Cooper graduated from UM-Flint's nurse anesthesia practice program in 2019. Ben is in his second year in the program (which was a master's and became a doctorate in 2021) and is on track to graduate in 2024.
"My dad always says that completing the program was the hardest time in his life but the most rewarding time of his life," Ben Cooper said. "He always told us it was the best job ever."
Drew Cooper shadowed his dad at work during high school and was immediately drawn to the hands-on aspects of the job. Ben entered college set on pursuing his own path but soon couldn't ignore the calling to help others.
Both Drew and Ben Cooper graduated with bachelor's degrees in nursing from Calvin College, worked in hospital ICUs (Drew Cooper in Grand Rapids and Ben Cooper in Utah) and then went on to UM-Flint's nurse anesthesia practice program, a very similar path as their dad.
"I am so proud of my boys," Andy Cooper said. "There is something that tugs on your heartstrings when you know that your kids are following in your footsteps."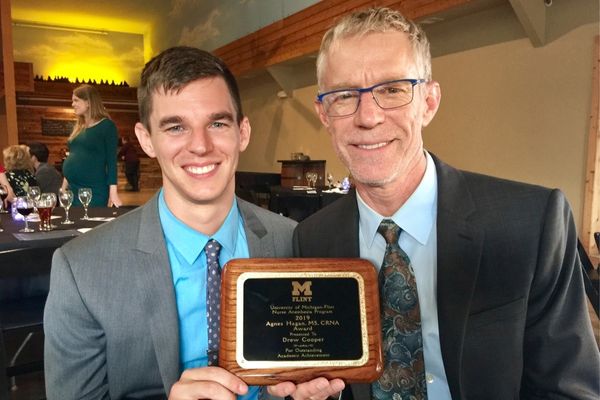 While he was completing the program, Andy Cooper would stay in Flint during the week and return to Grand Rapids on the weekends, doing homework in the bleachers at his son's basketball games. While it was a tough time, he always told his kids that the challenge made it rewarding.
Drew and Ben Cooper were both up to that same challenge. UM-Flint was their first choice and each moved to Flint with their families to pursue the program.
"It was a no-brainer," Ben Cooper said of choosing UM-Flint. "The faculty are incredibly student-oriented. They are really on your side and want you to succeed. It is really challenging but they try to make it as non-intimidating as possible."
The Cooper family is tight-knit and as a result, they model each other in other ways. Ben and Drew Cooper both met their future wives at Calvin College, just as Andy met their mom, Cheryl, there. A call to nursing also runs in the extended family. Drew's wife, Hilary, graduated from UM-Flint with a family nurse practitioner master's degree in 2018. Ben's wife, Megan, is a labor and delivery nurse.
When Drew graduated from the nurse anesthesia program in 2019, he was awarded the Agnes Hagan Award for graduating at the top of his class, the same award his dad won in 2006.
"We can all talk around the dinner table about things that no one else understands," Drew Cooper said.
Andy and Drew Cooper both work as nurse anesthetists. Andy Cooper works for Sparrow Ionia Hospital and Drew Cooper works for Kalamazoo Anesthesia, working in both Bronson Methodist Hospital and Ascension Borgess Hospital. All three Coopers believe they have found their calling.
"Anesthesia is not just a cognitive career where patients come to you and you order medicines and X-rays. You do those things but have to do all these hands-on tasks at the same time," Andy Cooper said. "I have to intubate them, manage their airway and hook them up to the ventilator. It is a mixture of doing all of these physical things and knowing how they interact with the patient. I get so much satisfaction out of mixing all of that together and at the end of the day waking them up, talking to them. You get them through a very anxious period."
"You get to take people's pain away," Drew Cooper added. "The surgeon couldn't operate if it wasn't for you."
To learn more about the doctor of nurse anesthesia practice program, visit its webpage.
Martha Pennington
Martha Pennington is the communications specialist for the College of Health Sciences. She can be reached at mkpennin@umich.edu.