UM-Flint's Genesee Historical Collections Center now home to 19th century documents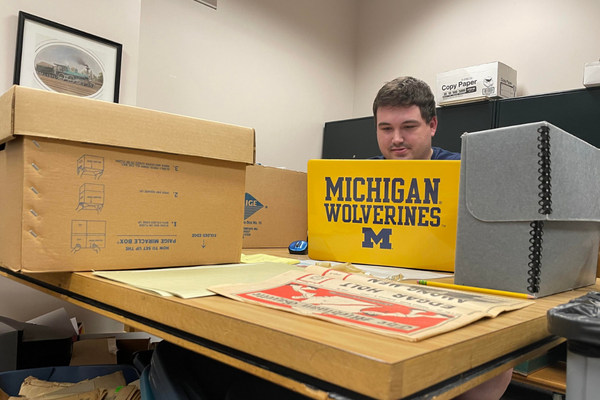 Thanks to a treasure trove of newly acquired materials by the University of Michigan-Flint, taking a trip back in time has never been easier. And it doesn't require the assistance of either a modified DeLorean or a Wayback Machine.
Courtesy of documents that were originally housed in the basement of St. Paul's Episcopal Church in Flint, the Genesee Historical Collections Center archives at UM-Flint is now home to marriage and baptismal records from the 19th century.
The items were donated to the university following the church's 150th anniversary celebration in May.
The process of including the items in the archives on campus involved the church entering into a transfer agreement with Deba Dutta, UM-Flint chancellor. Once the documents were signed, work got underway to bring the artifacts to campus.
Michael Laskowski, a senior history major from Fenton, played a part in transporting the records to campus and securing them in the climate-controlled archives located on the second floor of the Frances Willson Thompson Library.
He and Callum Carr, head archivist at the Genesee Historical Collections Center, worked with church staff to create a detailed inventory of what was being brought to campus from the church basement.
"It was fascinating to be able to work with such old documents," said Laskowski. "The archives vault offers a much safer environment than the basement they had been housed in where they had been exposed to some damaging moisture."
However, Laskowski pointed out, items don't have to be centuries old in order to be considered for an archives collection. "An item can be from 2022 as long as it has historical relevance," he said.
But it's also important to know when not to add to a collection.
"Getting rid of things is more important than knowing what to keep," said Laskowski. "You can't keep everything because there might not be enough space or an item may not be up to quality standards."
For example, the campus archives collection has stuck with a consistent theme and focuses on labor history and contains records about UAW Local 599, while also featuring oral histories of labor leaders and participants of the 1936-37 Sitdown Strike. It also boasts probate records from the 19th and early 20th century, as well as the City Planning collection, which outlines renewal efforts like the building of Riverfront Park.
"Spending time in the archives hardly counts as work," said Laskowski. "I've had the opportunity to uncover all sorts of hidden gems."
Much like a gem, Laskowski sees archive work as multi-faceted.
For instance, he learned that archivists can work remotely as long as the materials have been digitized.
However, the most surprising part of the internship for Laskowski is when he learned what not to do when it comes to preserving old documents.
"The trade secret that was shared with me was that the plastic sleeves that are typically used in binders to preserve documents or postcards can damage those items they are meant to protect," he said. "They can take the color finish off a photo and damage writing done in ink or pencil."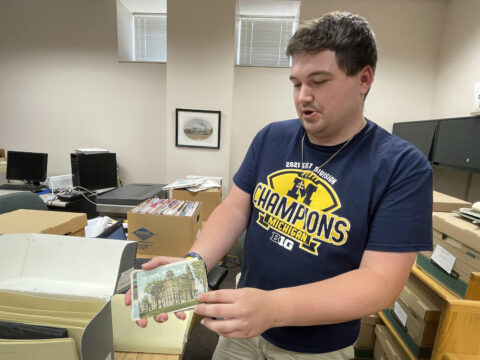 Laskowski, who has plans to attend graduate school at the University of Michigan-Ann Arbor's School of Information to become an archive preservationist, said that he's grateful for his hands-on internship experience because he had the opportunity to handle history and preserve it for future generations of researchers.
"I've always been appreciative and fascinated by history, I find preservation work to be exciting and rewarding," he said.
Madeline Campbell
Madeline Campbell is the communications specialist for the College of Arts & Sciences. She can be reached at mciak@umich.edu.