UM-Flint peer mentorship expands to grad students and veterans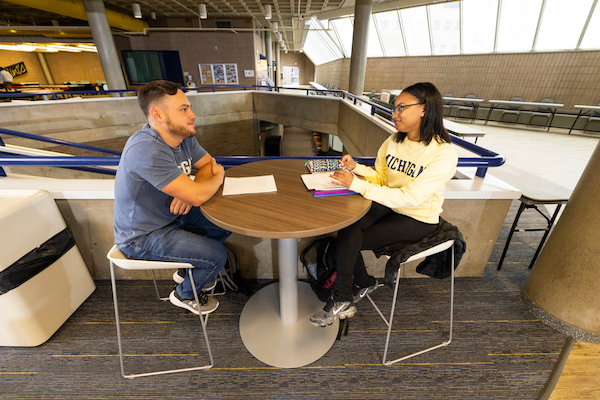 Nearly two years after the launch of UM-Flint's Success Mentorship program, it has grown by nearly 200 students and is expanding to graduate students and veterans.
The peer-to-peer program matches first-year and transfer students with more experienced student mentors. Mentees learn how to navigate the university and academic and life challenges as a new student, meet peers and find social outlets, become engaged on campus and develop communication and interpersonal skills. Mentors gain leadership and management skills and share and reflect attributes needed for academic and professional success.
"The Success Mentorship Program provides an exciting and wonderful opportunity for new and continuing students to build meaningful relationships and a culture of mentorship at UM-Flint," said Diamond Wilder, Success Mentorship support staff. "New students are able to easily access a support system and cultivate a social capital that encourages the pursuit of goals and dreams."
More than 570 students now benefit from the Success Mentorship program. In the 2021-22 academic year, there were 111 matched mentors and 300 matched mentees in the program. For fall 2022, a group of 160 new mentees have been matched with mentors. Students wanting to take part in the program can submit applications on an ongoing basis.
Starting this semester, UM-Flint graduate students will have ongoing access to a network of mentors trained to offer guidance and advice. Grad students will work with a personal mentor based on common academic interests, career goals, life challenges and experiences. Success Mentorship also offers a platform for discussion guides and goal-setting activities on topics ranging from time management and work-life balance to networking and job-seeking advice.
Student veterans can also receive a personal mentor for assistance in adapting to civilian life, learning new study and research skills, and preparing for new careers.
Data from the first year shows the program is already having a positive impact. During its first year, students in the program were more likely to continue on with their degree than students who were not, and students in the program indicated they felt an increased sense of belonging at UM-Flint.
Kelly Wahlers Parrott, a senior healthcare administration major and Master of Public Health student from Naples, Florida, started in the program as a mentee. "The program offers guidance on both college and personal life support from a peer who has experienced that same journey at UM-Flint," she said.
"I am also an Army veteran and an all online distance learning student, so having the guidance and being able to give that and leadership skills to another student is what drove me to be a mentor now. And as a mentor, I can learn both leadership skills and how to help other students bring out their own leadership skills," said Parrott. 
The Success Mentorship program is continuing to actively enroll students and mentors for the 2022-23 school year. To learn more, contact Chris DeEulis or Diamond Wilder at flint.successmentorship@umich.edu or visit the program website.
Lindsay Knake
Lindsay Knake is the Communications Coordinator for the UM-Flint Division of Student Affairs. Contact her with any questions, comments, or ideas about the DSA newsletter, social media, events, and communications.