Young adults can explore educational next steps at Oct. 4 College & Career Kickoff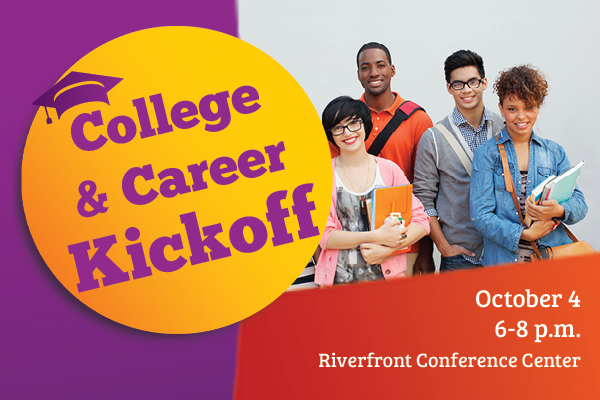 Sept. 8, 2022
Flint, MI – For young adults looking to learn more about continuing their education or identifying a career pathway, the College & Career Kickoff will offer a comprehensive slate of drop-in programming presented by a diverse team of experts.
The College & Career Kickoff will take place, 6-8 p.m., Oct. 4, at the University of Michigan-Flint's Riverfront Conference Center in downtown Flint. Refreshments and giveaways will be available, including door prizes for the first young adults who sign in at the event.
Attendees interested in taking the next step toward a college degree can discuss their needs with admissions and financial aid professionals from UM-Flint, Kettering University and Mott Community College. Topics covered will include choosing the right college, the application process, submitting the FAFSA and financing a college degree. Additional information will be shared regarding both local and state-level funding opportunities, including the Genesee Opportunity stipend.
Young adults can also explore careers in the trades thanks to MCC's certification programs while taking advantage of career coaching and resources offered through organizations such as GST Michigan Works! Success coaches from the Flint & Genesee Group will offer further career insights while military recruiters will also be available.
Patti Yorks, Genesee County Career and College Access Network coordinator, believes the event will be a difference-maker for those who attend.
"This event is a first for the area as we are bringing together such a vast array of organizations with the common goal of preparing the next generation for bright and successful futures," Yorks said. "There are many paths to success and our job is to equip learners with the tools they need to make informed decisions for life after high school."
Collaborations such as these are beneficial for both students and institutions, according to Lori Vedder, interim vice provost for enrollment management at UM-Flint.
"All of us, whether we represent university, college or career pathway support, share a single goal of creating better outcomes for young people beginning a new chapter in their lives," said Vedder. "Bringing these resources together in one event helps high school students compare and contrast their options, so they can find the best fit and flourish in whatever preparation they choose."
Those that are interested in attending are asked to RSVP online.
Logan McGrady
Logan McGrady is the marketing & digital communication manager for the Office of Marketing and Communication.