UM-Flint graduates state's first doctorally trained occupational therapists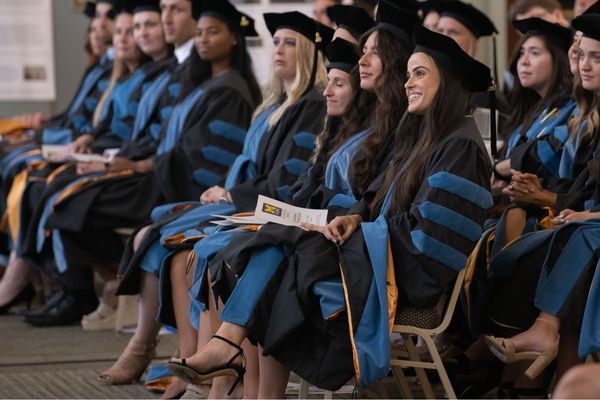 The 30 students who celebrated their graduation from the University of Michigan-Flint's Doctor of Occupational Therapy program Aug. 17 met a milestone in more than just their own education. They also made history as the first class to graduate with a doctorate in the field in the state of Michigan.
The program itself made history as the first of its kind in Michigan when it launched in fall 2019. It then became the first fully accredited occupational therapy doctoral program in the state earlier this year.
The inaugural class is tight-knit, having weathered COVID-19 and a pivot to online classes together and then a return to in-person labs, fieldwork and research.
"The professors made sure we grasped the fundamentals but also shared their contagious commitment and passion to the profession's core values," graduate Courtney Humphrey said. "The small cohort allowed me to make closer connections. We were all in this together and there was always someone to guide you."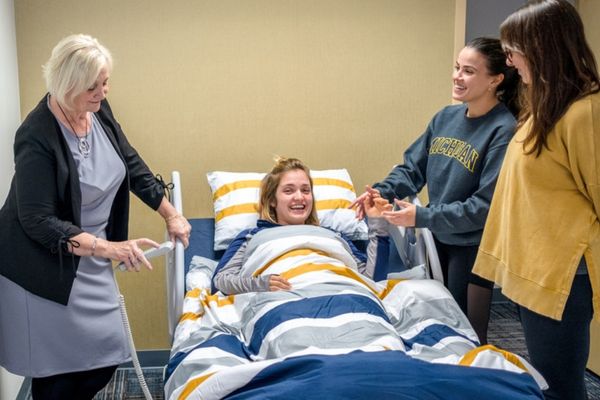 Brady Harbaugh knew she needed to be a part of the program's first class after graduating with a bachelor's degree in athletic training from the University of Michigan-Ann Arbor. Like many of her classmates, she chose a doctoral program to set herself apart in the field and gain greater experience in research.
"Our professors were all very kind and compassionate and really wanted us to succeed," she said. "Their passion made me fall even more in love with the field and made us all excited to enter the profession."
The program follows a lifespan approach that teaches students to work with patients from pediatrics to adulthood to geriatrics. Labs include a living space with a kitchen, bathroom and bedroom that provides students hands-on experience in helping patients of all ages with an injury or disability to perform daily activities.
"I really liked the interactive and pediatric labs," graduate Quinn Hanses said. "We were able to come up with treatments and interventions, and got patient care experience right from the beginning."
The program's third year consists of two fieldwork experiences and a capstone project that allows students to work with a community organization and research a specialty they are interested in. The capstone is unique to the doctoral program.
Students also have the opportunity to participate in HEART, a pro bono student-run PT and OT clinic for the uninsured and underinsured in Flint, though the clinic was temporarily closed due to COVID during much of the time this class was training.
"We are so proud of this first graduating class and to be the first school in Michigan to graduate doctorally trained occupational therapists," said Gerry Conti, interim program director. "With the combination of didactic and hands-on learning, as well as experiential learning in the community, we are training leaders who will make an impact in the field and in their communities for years to come."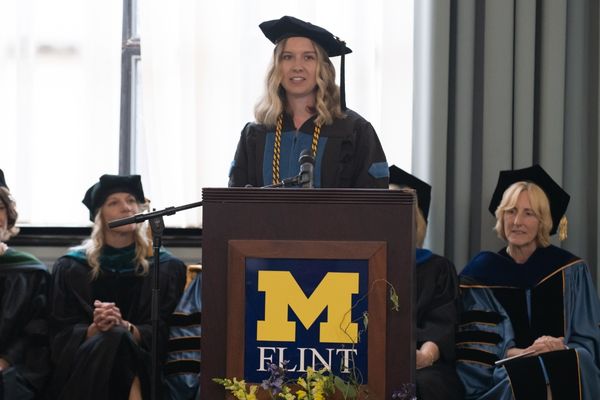 Several students said that their fieldwork and capstone gave them a new perspective on the specialty they want to work in. Some were offered jobs based on their fieldwork or capstone sites even before graduating.
Students match with a site mentor, complete a needs assessment and design their capstone project. The inaugural class took on a wide range of unique initiatives. Examples included equine therapy, implementing adaptive technology to allow kids with physical disabilities to play video games, and developing sensory-friendly programming for the Flint Institute of Arts.
"The capstone is a way to advocate for the benefits of occupational therapy," said Marra Cornelious, doctoral capstone coordinator. "Students gain leadership and advocacy skills so that they enter the profession as leaders in their field. This class set the bar really, really high."
Harbaugh is grateful for the hands-on experience. She completed fieldwork in an outpatient pediatric clinic and vocational rehabilitation center. Her capstone was in a hand therapy clinic, a specialty that she now hopes to pursue as her career. She interviewed clients about the barriers they had to complete home exercise requirements and developed solutions for the clinic.
"Having that additional 14 weeks made me fall in love with hand therapy," she said. "It helped me grow as an occupational therapist and see the importance of research, digging deeper and analyzing situations, and focusing on evidence-based practice. Helping people regain function in their hands really appealed to me. You see a lot of gains."
Quinn Hanses, who enrolled in UM-Flint's dual OTD/MBA program and graduated with both degrees, was immersed in research throughout the program due to a graduate assistantship in which she worked closely with UM-Flint professors on several research projects, including research on Parkinson's disease.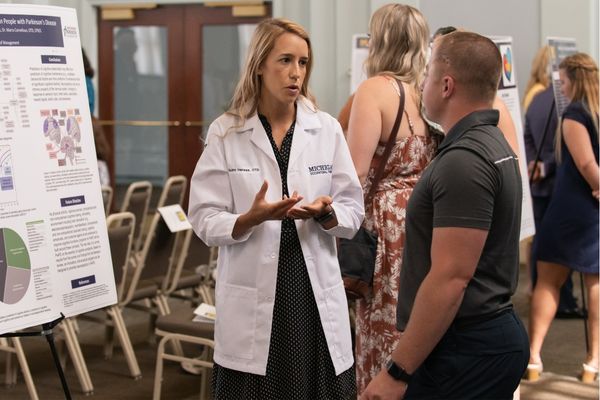 For her capstone, she worked with the Michigan Parkinson Foundation in Bingham Farms where she implemented a client survey to learn more about their specific cognitive impairments and develop personalized dual-task training to strengthen the brain/body connection.
"Evidence-based practice is everything," she said. "We, as a profession, can really add to the health care field. All of our classes were evidence-based and included innovative research. That is a huge asset."
Graduate Sandin Kekic originally intended to pursue physical therapy after earning a bachelor's degree in psychology but was interested in the holistic approach of occupational therapy.
"Our cohort has a lot of very smart and ambitious people and I am excited to see what we all do in the future," he said. "I hope we can advocate for occupational therapy. The field considers mind, body and soul. When treating a patient, there is a lot more than just their physical ailments."
To learn more about UM-Flint's doctor of occupational therapy program, visit its webpage.
Martha Pennington
Martha Pennington is the communications specialist for the College of Health Sciences. She can be reached at mkpennin@umich.edu.