UM-Flint fall 2022 enrollment highlighted by a variety of increases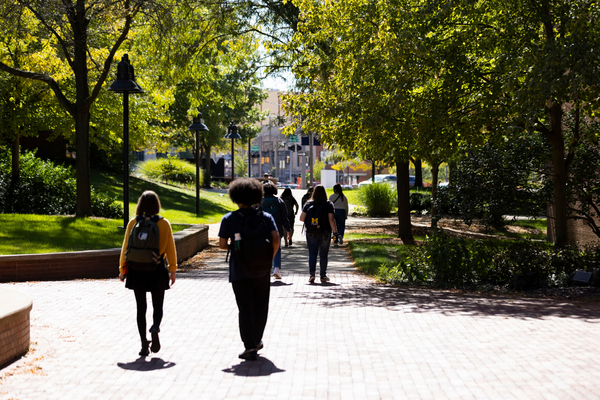 For the first time in five years, the University of Michigan-Flint has recorded an increase in its first-year student headcount with 521 students enrolled for the fall 2022 semester, a 6% increase over last year. The positive gain, the first since 2017, comes from UM-Flint's release of the official 10-day count of students that is used for national and state reporting purposes.
Additionally, the university also realized a 10% jump in new undergraduate transfer students (531 vs. 2021's 485), representing the first increase in 11 years. Coupled with the first-year student headcount, UM-Flint's total new student enrollment stands at 1,052, representing an 8% increase from last fall.
Other notable numbers from the report include:
New graduate student enrollment is up 6% (318 vs. 301).
International undergraduate enrollment increased by 37%, compared to 2021 (85 vs. 62).
International graduate student enrollment has increased by 60%, compared to 2021 (104 vs. 65).
Retention of first-year students from last year is strong with 76.64% having returned to the university, a five-year high, while 75.08% of UM-Flint's full-time transfer students and 83.39% of new graduate students were retained.
"This positive news is due to the incredible work by many, and it reflects curricular and programmatic innovations, robust financial aid packages strategically dispersed, and more," said UM-Flint Chancellor Deba Dutta. "With our university's tuition the third lowest amongst public universities in the state, UM-Flint is a regional best value institution.
"Additionally, the significance of this year's enrollment gains vastly increases when viewed within the regional context of fewer students graduating from high school and fewer of those graduates attending college."
Another positive indicator for the university is an almost a 30% increase in its residential students (330 vs. 232) from a year ago, a figure just 31 students short of the 2019 pre-pandemic total. This increase shows that its Residential Learning and Theme communities are providing students with living and learning experiences they want to be a part of.
"Our Residential Learning and Theme Communities provide students with a shared peer experience that allows for their living and learning together, which delivers another rich dynamic to their educational journey," said Christoper Giordano, vice chancellor for student affairs.
Each RLC is tied to common academic courses and focuses on a deeper exploration of the students' common interests. Faculty and staff work together to create meaningful activities and experiences designed to engage students in leadership, intellectual engagement, social justice, citizenship, connections and service.
The university's Theme Communities offer students additional opportunities to come together around shared passions and add a level of connection and support that creates a sense of belonging with residents. Themes include innovation and technology, gender and sexuality, and Honors.
Overall, UM-Flint's fall enrollment sits at 5,985, comprised of 4,609 undergraduates and 1,376 graduate students, compared to last year's figure of 6,418 (4,995/1,423), with 93% of students hailing from Michigan.
Robb King
Robb King is the director of marketing and communications at UM-Flint. He can be reached at rwking@umich.edu.