Student Research Spotlight: Matthew Thelen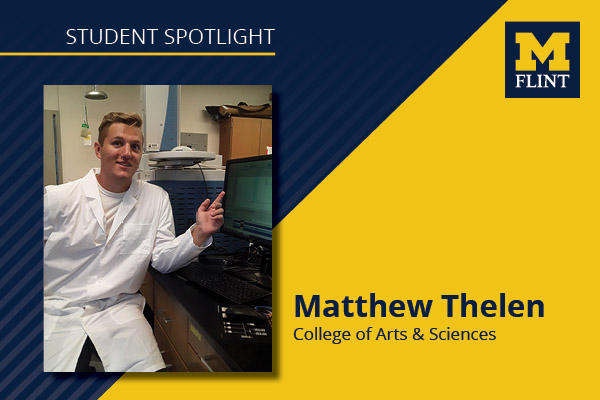 Matthew Thelen likes to get right to the core of a problem. And as a molecular biology major, that shouldn't come as a surprise. Why deal with things on the surface when the truth lies beneath? It's that curiosity to reveal the origin of an issue that has led the junior from Metamora to pursue his passion for problem solving at the University of Michigan-Flint
"I've been interested in diseases that are difficult to treat and involve the nervous system and believe there's a lot yet to be done in treating the root of a problem instead of just treating symptoms," said Thelen. As a result of that interest, he quickly got involved with undergraduate research when he arrived on campus three years ago.
The winter 2021 semester saw Thelen sign up for an Undergraduate Research Opportunity Program internship, joining a multidisciplinary project that seeks to create a mobile application to measure indicators of Parkinson's disease symptoms. He participated in many of the project's interviews, assisted heavily in data analysis and will be presenting the work at the International Mechanical Engineering Congress & Exposition this fall in Columbus, Ohio.
Thelen has been integral in conducting the user-centered design study for app, working directly with Charlotte Tang, associate professor of computer science and the human-computer interaction lead on the project.
"You have to consider multiple types of users in the design, interviewing persons with Parkinson's disease and health care providers," said Thelen. "Parkinson's is especially difficult because each patient is unique in the symptoms they have. One patient could have severe tremors, but another presents with cognition or speech problems, or gait instability and that is what's really interesting about Parkinson's. That experience was really great because I got to learn something new outside of my area of study."
Thelen then signed on with Matthew Fhaner, associate professor of analytical chemistry, for a research project aimed at finding new ways to monitor the quality of cooking oils. The project's goal is to find a reliable and more cost-effective way to monitor the quality of these oils, enabling more-frequent monitoring in our food systems and leading to better communal health. Fhaner guided Thelen in creating experiments to see what they could uncover.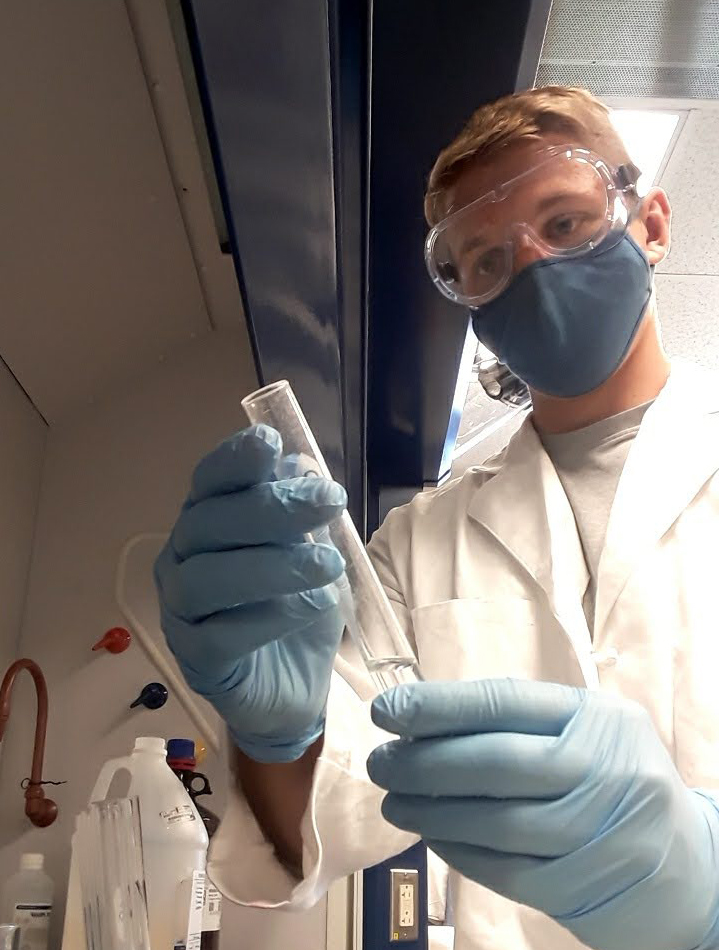 "We're working on an oil heating experiment, where we have cooking oils and heat them in an oven over a long period of time and pull samples every couple of hours," Thelen said. "We ran gas chromatograph mass spectrometry, IR and Square Wave Voltammetry tests to see if we could pick up how they were changing over time.
"We use these oils every day, but they break down and oxidize with heat. Once they break down, they can become any number of harmful things like free radicals."
Thelen added that his mentors in both projects supported him with their patience and readiness to answer any questions he had. "Not only are they awesome people to work with, I'm just grateful that, while they're doing this work, they're able to get students like me involved," he said.
While close partnership with professors is a difference-maker for Thelen, instructors like Fhaner believe the benefits are reciprocal.
"He may not realize it, but working with students like Matt is not just beneficial for him, but it is also extremely beneficial for myself. Sharing my experience as a scientist and helping to develop the critical thinking skills of our students genuinely brings me joy," Fhaner said.
In addition to learning how to use complex scientific instruments and conduct quantitative data analysis, Thelen points to learning how to design experiments as crucial for his future in the sciences. "I'll be in the lab, and Dr. Fhaner will say, 'come up with an experiment plan for this. Talk to me about it, and we'll run it,'" explained Thelen. "It's been a good experience with how to be a better scientist and has the added benefit of possibly improving the quality of the things we eat."
To learn more about UM-Flint's Undergraduate Research Opportunity Program, visit the program's webpage. To learn more about the university's biology programs, visit the College of Arts and Sciences webpage.
Rob McCullough
Rob McCullough is a communications intern with the Office of Research and Economic Development. He can be reached at romccull@umich.edu.