UM-Flint history student preserves Flint's past with Sloan Museum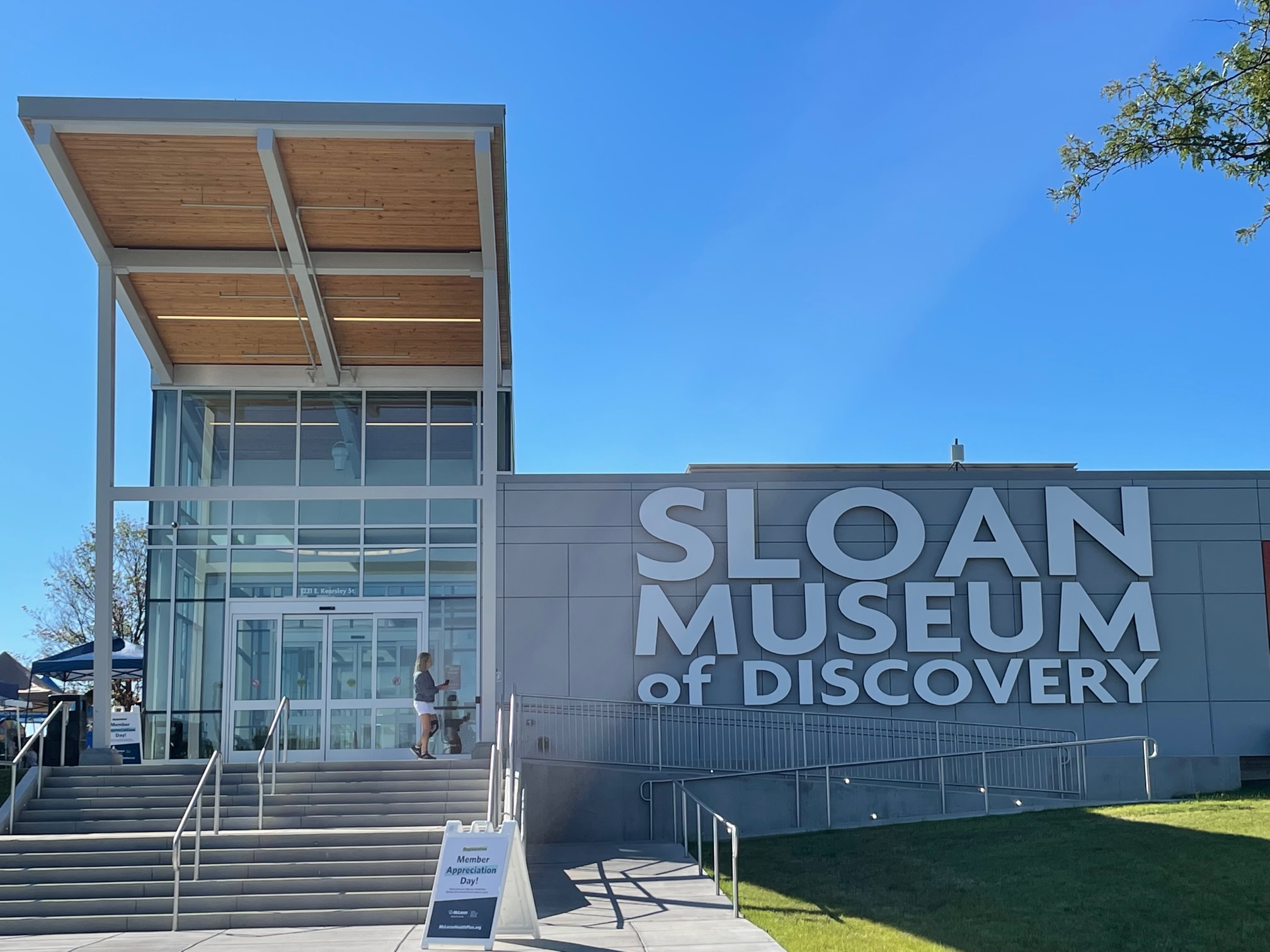 There was no cooler place for Rachelle Gonzalez to have worked this summer than in the archives department of the Sloan Museum of Discovery.
In order to preserve the thousands of postcards, letters, photos, scrapbooks and other documents included in the museum's collection, they are housed in a climate-controlled room between 67 and 68 degrees at 45% humidity.
That meant Gonzalez, a University of Michigan-Flint senior history major from Flint, had to bundle up – in the heat of the summer – before starting her workday.
In total, she spent about 100 hours thumbing through pieces of Flint's past and discovering a treasure trove of important historical items that could help future researchers learn more about the community.
Those hidden treasures include the female-led history project called the Flint Research Club Scrapbook. There are five volumes of the scrapbook, with entries that date as far back as 1903 and as recent as 1973. The scrapbooks were donated to the archives by a woman named Lotta MacIntosh in 1977.
"You don't typically see a lot of projects being led by women while working in the Flint archives," said Gonzalez. "Many of the other contributions were from men, but being able to work with this collection was amazing."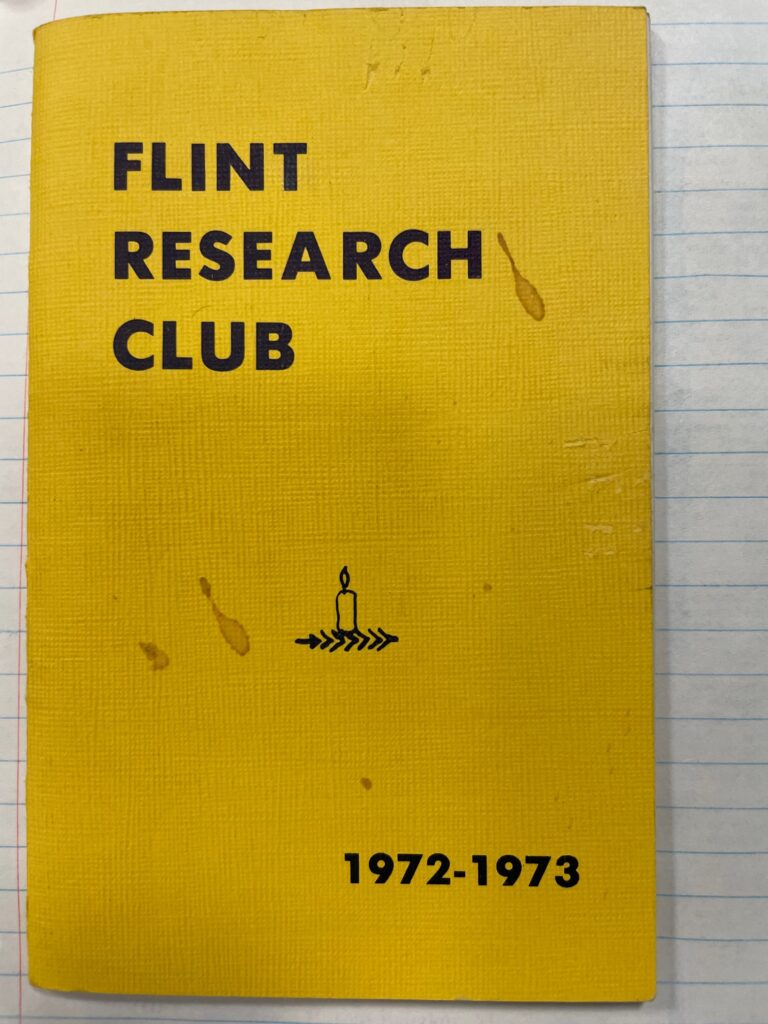 Gonzalez said another notable discovery was finding volumes of The Zimmerite, also known as the Zimmerman Junior High School Scrapbook. The collection, donated before the school closed its doors in the mid-1980s, features composition journal entries, photos and oil pastel paintings from students who attended the school during the 1930s.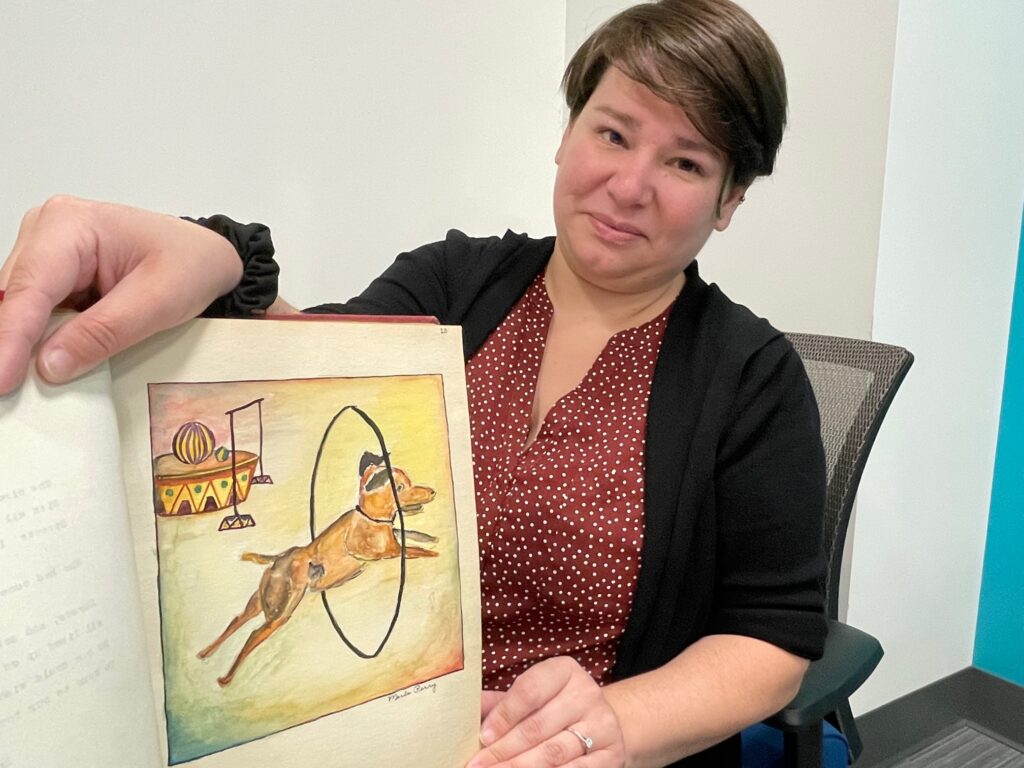 That discovery struck close to home for Gonzalez because she's currently employed with Flint Community Schools.
"It was amazing to see what the school held on to," she said.
In order to keep the volumes of The Zimmerite and the Flint Research Club Scrapbook safe and organized, she placed them in acid-free cardboard boxes, otherwise known as Hollinger boxes. Hollinger boxes were created in the 1940s for the Library of Congress and the National Archives for preserving photo or document collections on a long-term basis.
Gonzalez gained hands-on experience with more than 35,000 historical photos that make up the archives at Sloan Museum, but doing so required her to wear cloth or latex gloves to ensure she didn't transfer oils from skin onto the pictures before sorting and placing them into Hollinger boxes.
The spinning shelves housed in the archives add another layer of protection, plus an interesting way to sort through the collection itself. Gonzalez could quickly sort through rows of boxes and look at labels to gather what materials she needed with a quick turn of a crank.
"Using the shelves is also one of my favorite things about working in the archives," she said.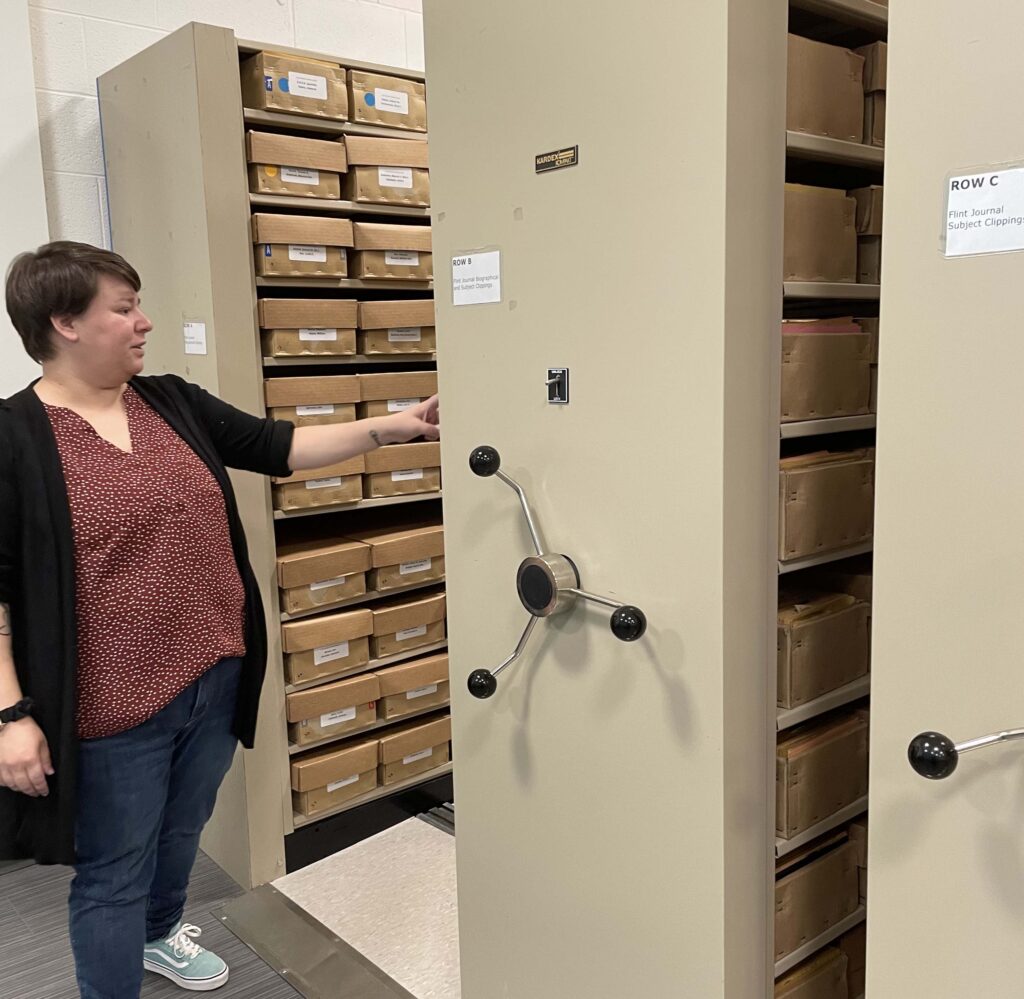 She adds that the shelves, along with the Hollinger boxes and use of latex or cloth gloves, ensure that nothing gets lost or destroyed over time, which is vital for those people who want to learn more about, or conduct research into, Flint and Genesee County's past.
"Unless there was some huge catastrophe, like a fire, flood or tornado, it would be hard to erase the history contained within the archive walls," said Gonzalez.
While any community member can donate items to the museum's archive, it's best to call ahead and speak with the collections department to share what is on hand for donation, Gonzalez said.
For more information about the archive, contact Sloan Museum at (810) 237-3421 or collections@sloanlongway.org.
Madeline Campbell
Madeline Campbell is the communications specialist for the College of Arts & Sciences. She can be reached at mciak@umich.edu.