UM-Flint student flees war in Ukraine for international experiences in US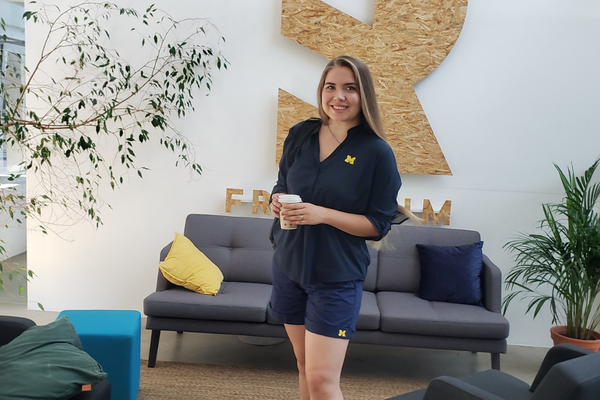 For most students, the first steps toward college are a celebration. There's the excitement of finding an admission letter in the mail, followed by joyful hugs with family and a flurry of text messages to friends.
But Yuliia Lane isn't most students. For her, the first step toward the University of Michigan-Flint was leaving a home that was ravaged by war. The senior international business major immigrated to Michigan from Ukraine in 2017, forced to escape the Donbas region after the initial Russian invasion of 2014. Lane was able to create a new life in Rochester Hills, thanks to support from her husband and in-laws. No amount of support, however, could remove the worry Lane felt for her mother, who was still in Ukraine. And although not yet reunited, Lane's mother was able to cross the border into Poland just a few months ago.
Lane's beginning in Michigan offered a unique set of challenges. She admits to experiencing a fair bit of culture shock and language difficulty when coming to the U.S., including a particularly embarrassing phone call for takeout in which she blurted out, "I'm a pizza!" But regardless of these growing pains, Lane managed to earn an associate degree from Oakland Community College and start a photography business while working full time.
Despite her success both in the classroom and out – the pizza incident aside – Lane was looking for more to take on. She found her next challenge, academically, at least, at UM-Flint thanks to the university's commitment to learners in all life circumstances.
"There is a great mix of people at UM-Flint, especially adult learners and nontraditional students like me," said Lane. "After being a student here for a year, I see that this campus has everything that I needed. UM-Flint has given me the flexibility I needed with my job and offered me countless opportunities to branch out and explore."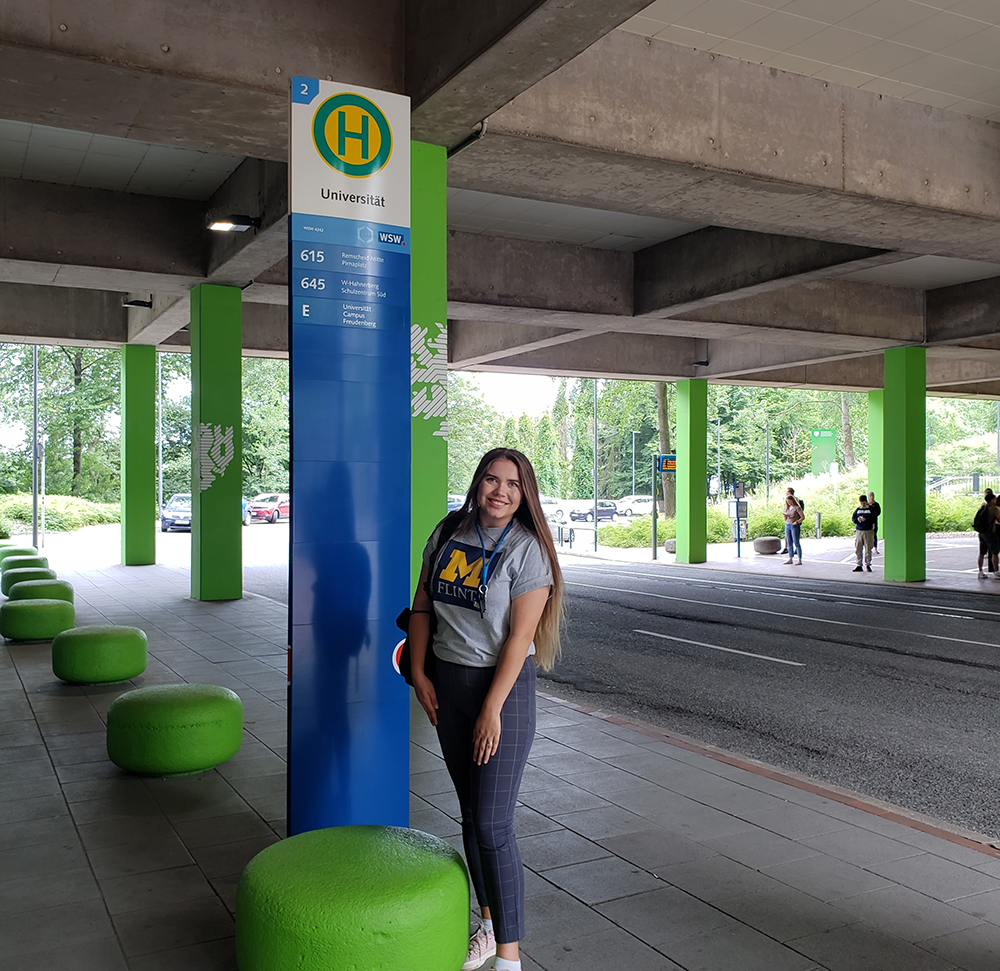 A big aspect of that exploration for Lane consisted of two study abroad opportunities offered this summer by UM-Flint's Center for Global Engagement. As part of the graduation requirements for her international business major, Lane explored EMAA Business School in Morocco and conducted research on business innovation at the University of Wuppertal in Germany.
In Morocco, Lane saw the business landscape being very much tied to family, with more than 90% of businesses being family owned. "If you are an underdog with a new idea, you will have a tough time breaking into the market (there)," she said. For 10 days, students from EMAA helped Lane understand the economic environment. Along with other UM-Flint students, Lane also volunteered her time at a local orphanage.
"I went into this experience, excited with an open mind of what Morocco would be like," said Lane. "During my time there, I found a welcoming culture, rich with traditions, delicious cuisine and warm hospitality. Plus I got to participate in the musical culture with the Moroccan students, and ride a camel for my very first time."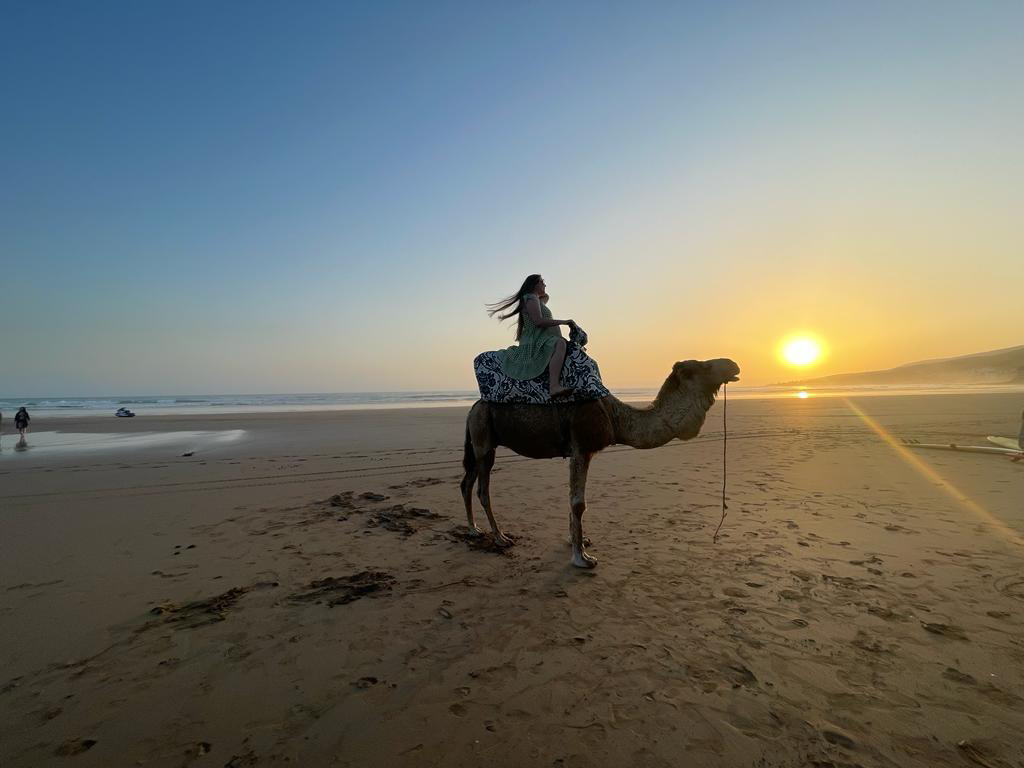 Lane then furthered her scholastic exploration in Wuppertal by spending two months researching business innovation alongside German PhD students at the University of Wuppertal. She investigated data on the personalities and entrepreneurship in different regions and how it pertains to generating innovation. Lane regards the skills she gained during these experiences as invaluable, but ranks the networking as most impactful for her future career.
"I never would have had these opportunities to connect on a global scale if it wasn't for UM-Flint," she said. "What better way to network than working alongside professionals already in your chosen field? I've never received better life advice than on these two trips. It seemed like they already knew the answers to my questions before I asked."
Like many students, Lane was excited at the prospect of studying abroad but was unsure of the costs for such an experience. With the help of professors and staff, she found several ways to fund these life-changing trips. In addition to study abroad scholarships open to all UM-Flint students, the School of Management offers its own funding, creating multiple opportunities for Lane to receive assistance. Students in the Honors program receive an additional $3,000 to complete off-campus research and those living on campus can join a global learning community, which offers a guaranteed $1,000 study abroad scholarship to residents.
Even with all that Lane has accomplished, she's not done yet. By taking advantage of UM-Flint's joint BBA/MBA program, she will continue her education as she moves along in pursuit of a master's after graduating this spring. She hopes more students will capitalize on the resources made available to them at UM-Flint.
"No matter what school you attend, if you just go to classes and leave, you're not getting much out of your education," said Lane. "There are so many great opportunities that UM-Flint offers its students. This is your best chance to take advantage of those resources to grow and find your passion."
To learn more about study abroad opportunities at UM-Flint, visit the Center for Global Engagement webpage. To learn more about studying international business, visit the School of Management's webpage.
Logan McGrady
Logan McGrady is the marketing & digital communication manager for the Office of Marketing and Communication.