UM-Flint Director's Cup award celebrates student engagement, academic excellence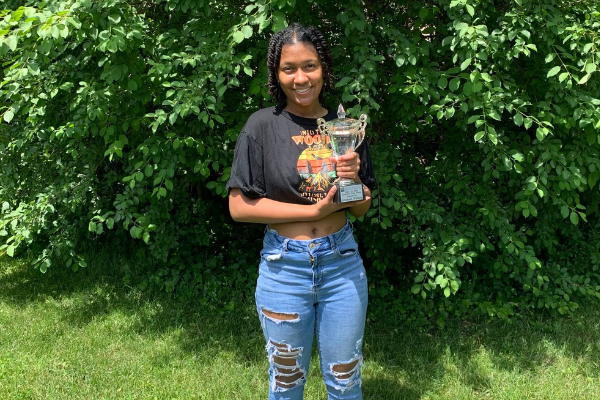 The University of Michigan-Flint celebrates student engagement, participation, and academic excellence through the new Director's Cup Award.
The Director's Cup is an award created to recognize students who have actively demonstrated the attributes of an emerging scholar and leader through participation in Educational Opportunity Initiatives (EOI). EOI provides students with academic support, leadership development, and community engagement opportunities.
The cup is awarded to the students who garner the most points from the prioritized components throughout the academic year for the following EOI programs; Committed to Excellence and Opportunity (CEO), Promise Scholar, and Mpowering My Success. Students earn points through attending coaching sessions, submitting assignments, attending workshops, participating in campus activities, community service hours, grade point average, and SAT test scores.
"I come from the world of intercollegiate athletics where competition fuels excellence, so I look for every opportunity to motivate and celebrate our students. They deserve that from leadership!" said Dr. Tiese Roxbury, EOI director. "Acknowledgment can motivate them to continue to engage and excel academically, so I implemented our very own Director's Cup competition for each program."
2021-2022 Director's Cup winners
Committed to Excellence & Opportunity
Savannah Williams
Promise Scholar
Joe Bishai & Chris Hartman
Mpowering My Success
Lance Uptain
2020-2021 Inaugural Director's Cup winners
Committed to Excellence & Opportunity
Ibrahim Abid & Savannah Williams
Promise Scholar
Kaitlyn Franz & Elizabeth Ashley
Mpowering My Success
Shannon Chamberlain
Lindsay Knake
Lindsay Knake is the Communications Coordinator for the UM-Flint Division of Student Affairs. Contact her with any questions, comments, or ideas about the DSA newsletter, social media, events, and communications.