Finishing Your Degree Online—5 Things You Should Know | UM-Flint NOW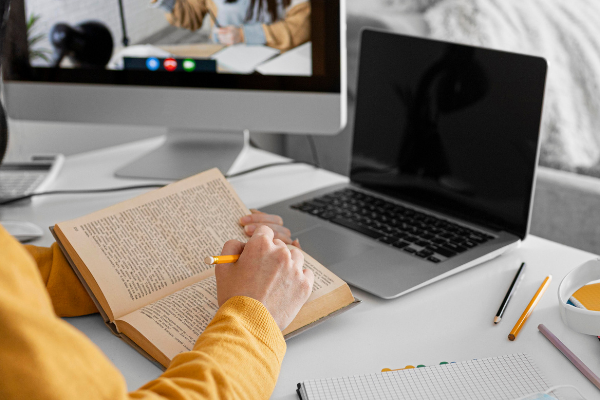 Should You Finish Your Degree Online? Five Things You Should Know
In recent years, an increasing number of non-traditional students aged over 25 decided to return to college with the aspiration to advance their careers, increase their competencies, or change their career paths.
For many adult learners who want to balance full-time work with going back to college, one of the best ways to achieve their educational goals is through online programs. Indeed, online degree completion programs offer the flexibility for students to study around their busy schedules. If you are also interested in finishing your degree online but want to have a comprehensive understanding before committing to it, here are five things you should know.
1. Studying Online Doesn't Mean That You Are Alone
While enjoying the flexible course schedule, you may think that the downside of online learning is the lack of support and interaction. The truth is online learning has evolved so much in the last decade that it no longer means just watching lectures on your laptop. Online learning nowadays incorporates a variety of teaching formats enabling you to interact with peers and professors through different digital channels.
For example, while offering courses in an asynchronous format, the University of Michigan-Flint's Accelerated Online Degree Completion (AODC) program creates an uplifting and collaborative learning community. Besides online lectures, you are able to meet with your professors for one-on-one feedback through virtual appointments. Discussion boards and group projects are also integrated into the coursework.
In addition to the diverse learning opportunities, many institutions also offer comprehensive academic support to online students. At UM-Flint, we provide a dedicated academic advisor to steward your path to successful degree completion.
2. Online Degree Programs Are as Challenging as Traditional Programs
When you are debating if you should complete your degree online, one of your concerns might be the quality of online education. You may ask, "Is it going to be too easy?" or "Will I learn anything from the program?"
In fact, most accredited online degree completion programs from reputable universities are as rigorous as traditional in-person programs. You have the same course content, study materials, and grading standard as on-campus students. You will be taught by experienced faculty who also lead in-person programs.
At UM-Flint, our online degree programs challenge students to strengthen their skills and knowledge through self-guided learning, proctored exams, online discussions, and other innovative teaching methods.
3. Online Learning Requires Time-Management Skills
Unlike traditional in-person learning in which you are required to be at a specific location and stick to a course schedule, asynchronous online programs empower you to control your own pace. You can study on a flexible schedule and at any location, whether it's 6 o'clock in the morning before your regular 9-5 or 10 o'clock at night after putting your kids to bed.
However, the greater flexibility also comes with the challenge of allocating dedicated study time amid all your other obligations. You will need to be self-driven and accountable to your studies. Without strong time-management skills, it could be easy to miss assignment due dates or get behind on your learning goals which can delay your graduation.
4. Online Degrees Are Respected by Employers
When it comes to finishing your degree online, you might have such questions as "Are online degrees respected by employers?" or "Are online degrees worth anything?" In general, as online learning has become so common, employers do recognize online degrees. However, it is also true that not all online degree programs are equal. The ones from reputable and accredited institutions are more favorable to employers.
According to U.S. News & World Report, although most employers accept online degrees, accreditation is particularly important. The accreditation from a third-party agency can prove that the online degree program is vetted to meet a satisfactory level of education standard. Therefore, when choosing an online program, steer away from diploma mills and be sure to verify the accreditation information of the higher education institution.
The University of Michigan-Flint is fully accredited by the Higher Learning Commission (HLC), providing leading-edge education to help our online degree completion students achieve a world-respected University of Michigan degree. 
5. You Are Eligible for Financial Aid
One of the most common reasons why people hesitate to finish their degrees is financial stress. If that's also your concern, the good news is that online students are eligible to apply for financial aid, including grants, scholarships, and loans. Depending on the institution, the requirements for financial aid eligibility can vary. Some institutions might require you to enroll full-time to receive financial aid.
At the University of Michigan-Flint, our Office of Financial Aid is here to assist you with the financial aid process. If you are enrolled in our Accelerated Online Degree Completion program, you may be eligible for a generous scholarship of up to $8,000 in your first year!
Learn More About Online Degree Completion
We hope this article helps you get a better understanding of online degree completion programs. Do you have more questions about finishing your degree online? Do you want to learn more about UM-Flint's AODC program? Read our FAQs page or contact us today! 
Logan McGrady
Logan McGrady is the marketing & digital communication manager for the Office of Marketing and Communication.