From stargazing to supporting positive change on Earth: Dr. Jessica Tischler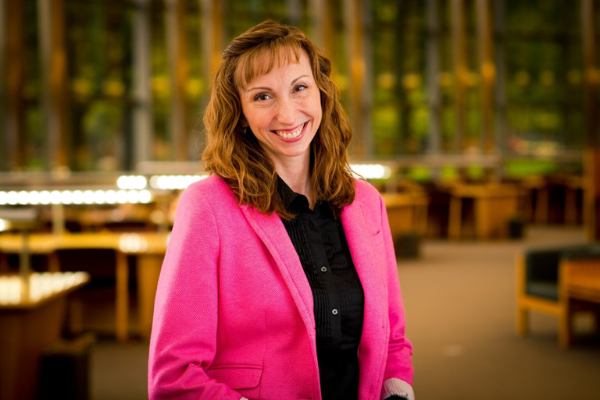 In second grade, Jessica Tischler was given a set of cardboard planets by her teacher. She put them on her bedroom ceiling and added new celestial bodies as the Voyager mission expanded our knowledge about the moons in our solar system. She began to stargaze in her backyard and began following the NASA shuttle launches, inspired especially by scientist and astronaut Sally Ride.
After developing those early interests in science, Tischler's undergraduate chemistry professor at Saginaw Valley State University, George Eastland, helped cement her scientific career path with an experiential introduction to the world of chemistry. Eastland made a lasting impression with lively lectures and visually striking in-class demonstrations. Recognizing her interest, Eastman offered Tischler the opportunity to participate in an independent research lab on campus, where veteran chemist Tom Vivian introduced her to laboratory research and how to present the findings. That early undergraduate experience inspired her to become a chemist.
In graduate school, her interest narrowed in focus to organic chemistry and the emerging field of green chemistry. While earning a Ph.D. in organic chemistry specializing in biocatalysis at Michigan State University, Tischler started to see how chemistry is a tool that can make this world a better place only if properly wielded. In her research, she genetically modified a strain of E.Coli to convert glucose to para-hydroxybenzoic acid, a chemical used to make preservatives and polymers like Kevlar.  This is just one example of how biocatalysis can unlock renewable, plant-based chemicals and use them to make chemicals previously derived from petroleum feedstocks.  As more chemical and fuel production is converted to bio-based feedstocks, sustainable manufacturing practices will help reduce the global environmental impact of petroleum-derived products.
All of these experiences led to a passion for the field of green chemistry that Tischler incorporates into research and teaching. This integration of research and teaching through a sustainability lens helps students think in an interdisciplinary way about how research questions are addressed.  Her current research focuses on applying the 12 principles of green chemistry to traditional organic reactions. Specifically, she and her students are trying to replace flammable solvents and hazardous reagents with greener reaction conditions. For example, water at higher temperatures and pressures takes on unique properties that can eliminate the need for organic solvents like ether.
In her courses, Tischler has worked to incorporate green and sustainable chemistry topics so that the next generation of scientists are equipped with the knowledge and tools they need to address global issues like environmental justice and global warming. Through involvement in Beyond Benign, the parent organization for the green chemistry movement, Tischler has also gotten involved in making more teachers at the K-12 range aware of the tools and resources available for incorporating green chemistry principles into their pedagogical practices as well.
"That vision is to build a pipeline all the way through elementary, middle, and high school encouraging students to ask questions, 'Is this way better for the planet? What are all the consequences upstream and downstream from any of these methods?''' she said. "They may not be easy answers, but at least they're asking the questions."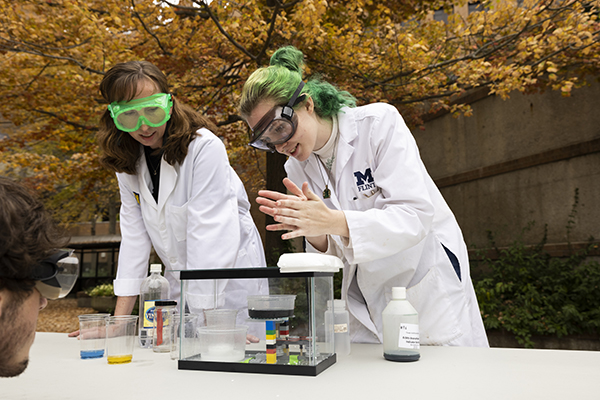 She has been a long-term co-advisor of the award-winning UM-Flint Chemistry Club, which provides students the opportunity to demonstrate green chemistry concepts to community schools and creates a sense of connectedness and support for members. The club has won a chapter award every year since its inception in 2002 from the American Chemical Society. Tischler has also spent many years serving as chair of the Department of Chemistry and Biochemistry (now a part of the Department of Natural Sciences) and was the founding faculty co-chair of the UM-Flint Women's Commission.
Despite all she has accomplished in the field, Tischler is a humble person. When asked about her greatest accomplishment, she said, "Personally it is my family. I have two kids (15 and 12 years old) and I am amazed at the people they are becoming. Professionally, it has been my role as an advisor for the UM-Flint Chemistry Club. For the last 21 years, it has been such a joy working with all my Chem Club students and helping them accomplish their goals."
With her own scientific inspiration beginning at a young age, it makes sense that Tischler would be gratified by passing that passion on to her students. Tischler hopes that her legacy is that she makes a difference in their lives.
Rob McCullough
Rob McCullough is a communications intern with the Office of Research and Economic Development. He can be reached at romccull@umich.edu.