How Stacey Guigear brings her UM-Flint experience to the classroom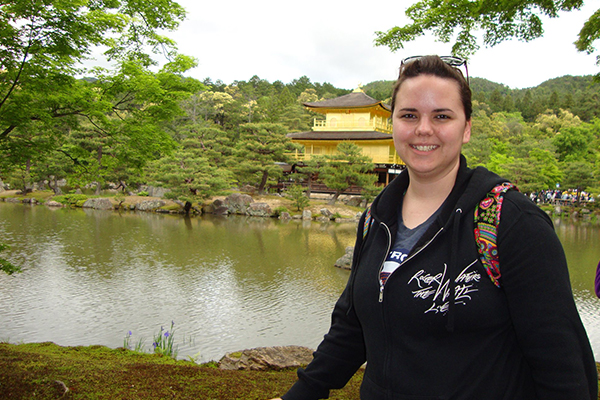 Stacey Guigear, a 2014 University of Michigan-Flint history graduate and social studies teacher at Swartz Creek Middle School, is getting ready to teach her seventh graders about Buddhism. Her students are in for quite the immersive experience.
In her time at UM-Flint, Guigear participated in the Wyatt Travel Expedition. The Wyatt Travel Expedition allows for history majors and minors to participate in a trip led by a faculty member. During Guigear's trip, students visited locations in Japan, including a 16th-century Buddhist monastery. For her social studies lesson on Buddhism, Guigear is equipped with a Google Drive folder filled with personal stories and photos.
"I reference my trip all the time to students," Guigear said. "I have stories about how I talked with monks and the things I saw and did while I was there. It's so helpful."
One story of a shared mountain meal in Kyoto is a lesson of cultural conversation and religious understanding, making it perfect for the classroom.
"The monks fed us food that they had grown on the mountain themselves. They asked us questions about how we viewed them and their religion, and we asked the same questions to them (about how they viewed western religion and spiritualism)," Guigear said. "There was an honest and pure back and forth that you don't get a whole lot of places. It was really cool to sit down with these people and just have honest conversations. We were genuinely curious about each other and our beliefs."
The "Mama Bear"
On the trip to Japan, Guigear was nicknamed "Mama Bear." As the oldest student on the trip, Guigear helped the younger participants navigate the country. The nickname is also fitting for Guigear's non-traditional college experience.
"I was an older student when I finally transferred to UM-Flint. My brain was in a different place. I had a daughter at that point," Guigear said. "I went in there knowing that I was paying for the classes and I wanted to do well. Having that mindset that I wanted to learn helped me a lot."
Guigear credits the support from history faculty for helping her complete her degree.
"These professors that I had were integral to me being successful at UM-Flint. UM-Flint was the perfect school for me as a young mother. I worked full-time and I went to school full-time. My professors were always very understanding of things that might pop up in my personal life," Guigear said. "These professors helped me to be successful and learn the ropes of college."
Getting Immersed in History
Guigear was ready to apply for a dental hygiene program when she realized her true passion: history.
"I always liked talking to my grandparents and hearing all of the old stories of people in my family that were in World War II and historical events like that. I knew I liked history and I knew I could be a good teacher," Guigear said.
From there, Guigear set out to be the history teacher she always wanted. Instead of traditional textbook reading, Guigear's students take part in engaging, yet educational activities. One year, Guigear taught the Declaration of Independence through an activity where students wrote "break up" text messages between the colonists and King George III.
Guigear credits the history program for making her fully immersed in her craft.
"I took all of the classes in history that I could possibly want," Guigear said. "I love my history degree. I love the opportunities that it gave me to learn different things. I loved all of the professors that I got to know and respect. I think it's made me a stronger history teacher."
Interested in having transformational experiences like Guigear did with UM-Flint History? Apply now or request more information.
Contact University Communications & Marketing with comments, questions, or story ideas.