UM-Flint Occupational Therapy Doctorate is first fully accredited program in Michigan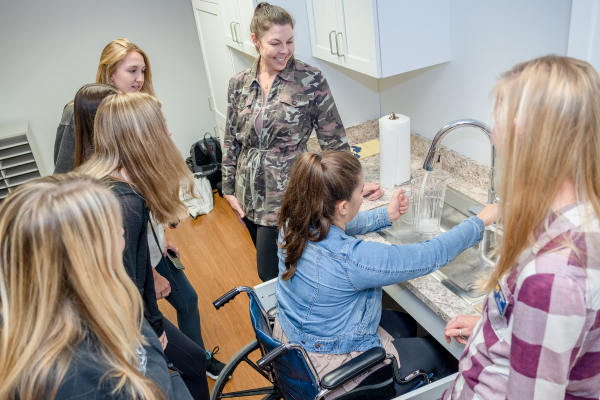 The University of Michigan-Flint Occupational Therapy Doctorate program has been granted full accreditation by the Accreditation Council for Occupational Therapy Education (ACOTE) of the American Occupational Therapy Association (AOTA). This makes the UM-Flint OT program the first fully accredited doctoral program for occupational therapy in the state of Michigan. Granted the maximum seven-year initial accreditation, UM-Flint OT was found to be in full compliance with ACOTE standards.
Graduates of the program are eligible to sit for the national certification examination for occupational therapists administered by the National Board for Certification in Occupational Therapy (NBCOT). After successful completion of this exam, the individual will be an Occupational Therapist, Registered (OTR).
Susan Murphy, Associate Professor in the Department of Physical Medicine and Rehabilitation at the University of Michigan, offered her sincere congratulations to the Flint OTD Program stating that the news was "not surprising given the dedication of this team to top-notch education."
UM-Flint OT supports non-traditional capstone experiences that propel graduates into the future of occupational therapy. The students' varied experiences have included developing a sensory-friendly program at the Flint Institute of Arts and examining the psychological and physiological benefits of Adaptive Sailing in the Baltimore area.
Applications for the Occupational Therapy Doctorate program are now open and close on June 10, 2022.
About the OTD program: OT students experience interdisciplinary learning with physical therapy, nursing, and other health professions programs. A vital partnership with Michigan Medicine creates further opportunities for hands-on learning as well as world-renowned guest lecturers. A joint OTD/MBA degree pathway prepares graduates to open their own practice or further their leadership skills in the profession.
Logan McGrady
Logan McGrady is the marketing & digital communication manager for the Office of Marketing and Communication.