Graduate scholarship continues to recognize emerging leaders in Flint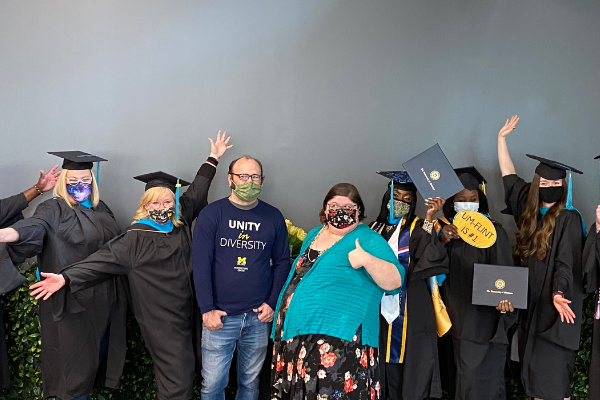 The Greater Flint Community Leadership Scholarship at UM-Flint was created in 2018 to recognize, reward, and develop the region's next generation of leadership talent.
Since its inception, six visionary graduate students have received the award, which covers up to two full academic years of tuition and mandatory fees. It requires a nomination from the applicant's employer and covers up to two full academic years of tuition and mandatory fees. Applicants must also reside in Genesee County. For students like Matthew Trevithick, the award has allowed him to elevate his work at the Crim Fitness Foundation, increasing the well-being of his community.
Teachers, social entrepreneurs, and business professionals have benefitted from the transformative opportunities the GCFL Scholarship offers.
Becky Gaskin and Brandy Jones, two students in the Master of Public Administration program at UM-Flint, are utilizing the GCFL scholarship to open new avenues in non-profit administration and education. Keep reading to learn more about their experience at UM-Flint and plans for the future.
Becky Gaskin
Becky Gaskin originally graduated from UM-Flint in 1994 with an undergraduate degree in business communications. She then attended Mott Community College to earn an Associate in Child Development. With these degrees, she opened a childhood center while trying to balance her life as a single mom and find a field she was passionate about.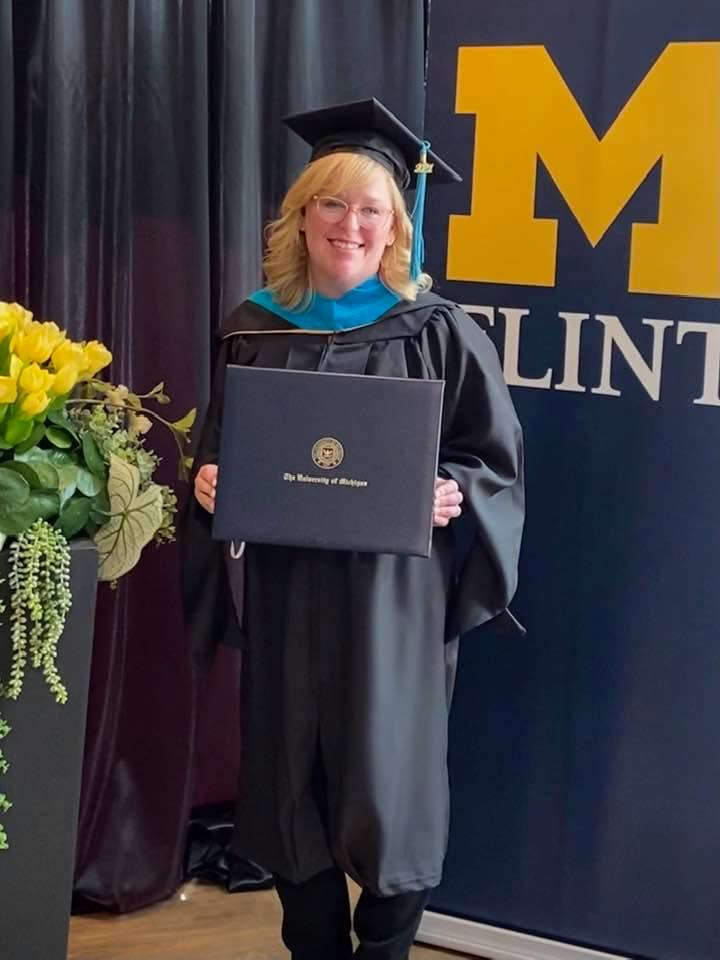 This scholarship gave Gaskin the opportunity to pursue a Master of Public Administration with a concentration in non-profit organizations, something that she had been putting off due to her busy life.
Gaskin has recently accepted a job as the Executive Director of the East Central Bay Chapter of the American Red Cross, something she couldn't have done without completing her master's degree.
"I've always been mission-driven, and I feel that this degree has set me up to do that with the Red Cross."
Family, faculty, community support
Gaskin would like to thank her husband, Jamie Gaskin: "His encouragement helped me finish despite the times I wanted to throw my computer through a window! I am so appreciative to him and our combined five kids, who never let me give up!"
UM-Flint faculty members have also been integral to her success. She would like to thank Derwin Monroe and Kim Saks McManaway, both lecturer IVs in political science, for always being available to help her, as well as former UM-Flint Chancellor Sue Borrego, for believing in her and encouraging her to apply for the scholarship.
She would also like to thank Phil and Jocelyn Hagerman of the Hagerman Foundation, who wrote her nomination letter.
Brandy Jones
Brandy Jones, another Greater Flint Community Leadership Scholarship recipient, was able to return to her alma mater to complete a Master of Public Administration in Education Leadership. She originally graduated from UM-Flint with undergraduate majors in criminal justice and sociology.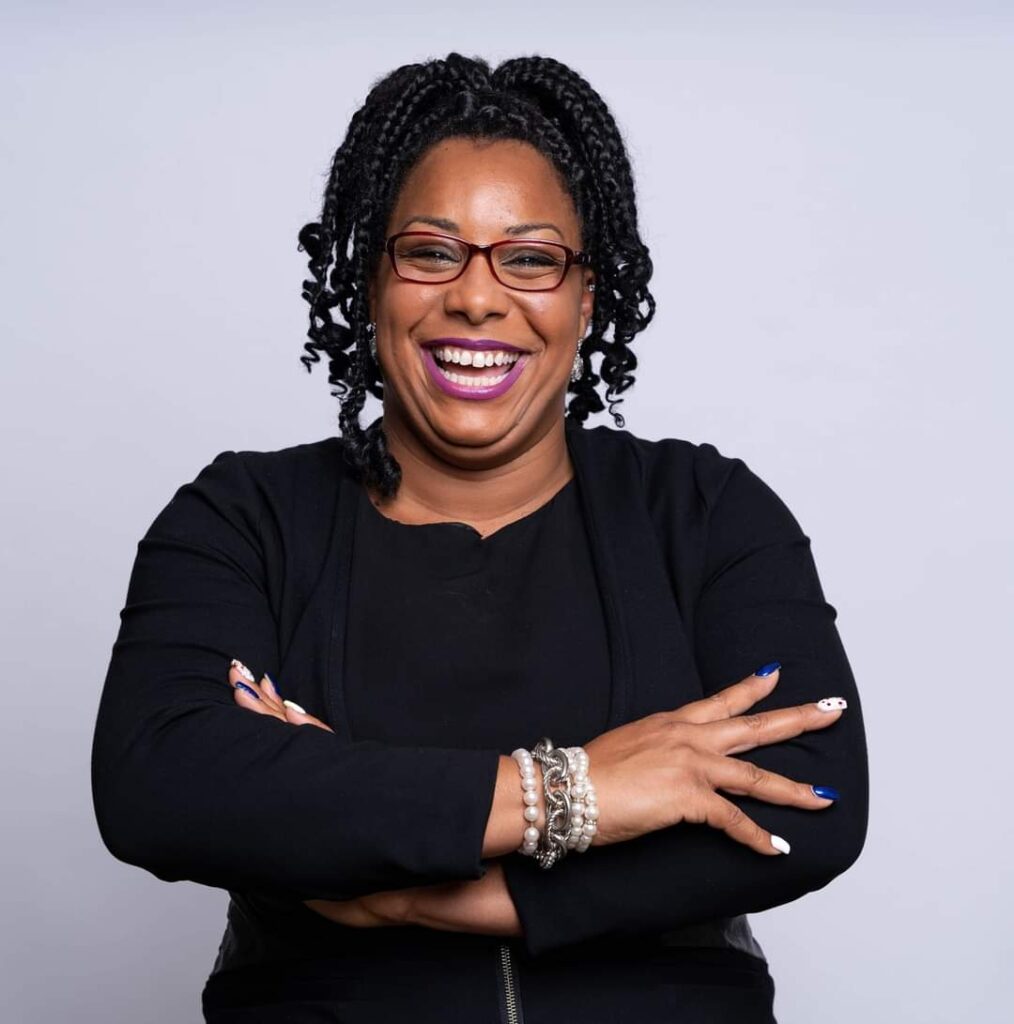 Jones planned on entering the legal profession, focusing on working with juveniles in the justice field. However, she received the opportunity to work at Dye Elementary, a Carman Ainsworth Community School, through her former basketball coach who was an assistant principal at the time. It was here she realized her passion for helping youth would be better served in schools.
Jones is now the dean of students at Carman Ainsworth Middle School, where she focuses on "supporting students with behavior and discipline and supporting teachers to keep kids in school."
With an advanced degree, Jones has expanded her skillset as an educator and opened new doors for career advancement; both were made possible thanks to the GFCL Scholarship.
A message for potential grad students
Jones would like to thank her two mentors, Greta McHaney-Trice, a former educator, and Detra Fields, the director of curriculum and instruction at Carman Ainsworth Middle School. Fields encouraged her to apply for the scholarship and wrote her recommendation letter. She would also like to thank her close family and friends who have been rooting for her through everything.
Jones also has a message for all those thinking about going to graduate school: "I just want to encourage anyone who is wanting to pursue further education to apply. We get in our own way and we have our own doubts, but you just have to take the first step and apply."
UM-Flint graduate students can learn more about the GFCL Scholarship and apply now.
Contact University Communications & Marketing with comments, questions, or story ideas.