UM-Flint Awarded Prestigious LEED Green Building Certification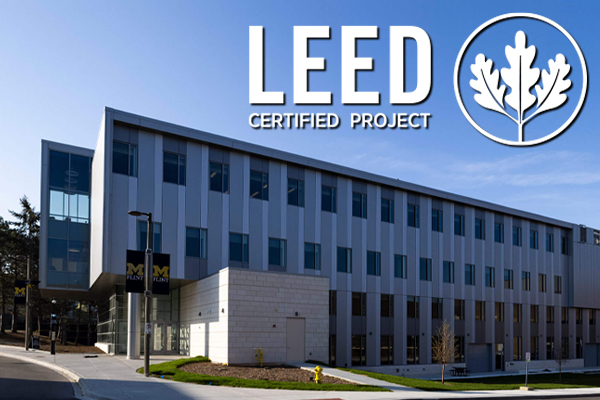 The University of Michigan-Flint announced today that it has been awarded LEED Silver status for its Murchie Science Building Expansion. LEED (Leadership in Energy and Environmental Design), developed by the U.S. Green Building Council (USGBC), is the most widely used green building rating system in the world and an international symbol of excellence. Through design, construction, and operations practices that improve environmental and human health, LEED-certified buildings are helping to make the world more sustainable.
"Having the opportunity to develop a LEED-certified building is a giant step forward for the Flint campus. We have had long-standing commitments to reducing energy consumption and emissions, as well as transitioning to more sustainable maintenance methods," explains Ryan Craven, UM-Flint architect. "The decision to incorporate these same principles at a larger scale through construction and continued operations was an easy choice, and one that will set a foundation for design and construction moving forward."
The MSB Expansion achieved LEED certification through sustainable site development, water savings, energy efficiency, materials selection, and indoor environmental quality. This sustainable space is home to UM-Flint's College of Innovation & Technology (CIT), which utilizes its flexible classrooms and state-of-the-art equipment to provide a cutting-edge education for students. 
CIT Dean Christopher Pearson explains that the design of the MSB Expansion reflects UM-Flint's forward-thinking academic approach.
"Having LEED-certified spaces for students to learn and grow in goes hand-in-hand with the programs and curriculum offered through the College of Innovation & Technology. Considering our new program in Sustainability & Energy Technology, this type of sustainable design is at the core of the curriculum," Pearson says. "The LEED certification helps showcase our entire campus' focus on the importance of sustainability, proving that we do more than just teach about it, we put it into practice."
LEED certification is proof that buildings are going above and beyond to ensure the space is constructed and operated to the highest level of sustainability.
Campus expansion will continue with the Innovation and Technology Center, a space that will serve the UM-Flint community as a nexus for technology, education, and industry partnership.
Logan McGrady
Logan McGrady is the marketing & digital communication manager for the Office of Marketing and Communication.