EDA Grant Supports New Innovation and Technology Center at the University of Michigan-Flint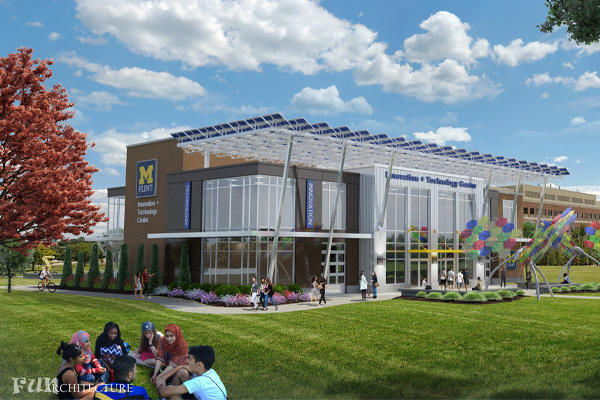 A building designed for teaching, collaborating, and inspiring the innovators of the 21st century will be built at the University of Michigan-Flint.
The U.S. Economic Development Administration awarded a $3.8 million CARES Act Recovery Assistance grant to build the Innovation and Technology Center at UM-Flint. The grant will be matched with $4.9 million in additional funds from university donors. The site of the new space will be on the northwest side of the campus, near the William S. White Building.
"Thanks to this grant, the new facility will have laboratories and classrooms designed for learning and creativity that are necessary for the future workforce of the state and region," said Chancellor Deba Dutta. "UM-Flint takes pride in its mission as a regional public university, and as such, this building will serve as a nexus for technology, education, and industry partnership, where community members and businesses are encouraged to be active participants in the innovation ecosystem."
The center will also provide a base for the College of Innovation & Technology (CIT). CIT launched in fall 2021, welcoming students who are pursuing degrees in digital manufacturing technology and information technology and informatics. A new cybersecurity program will be added for the winter 2022 semester. Christopher Pearson, dean of CIT, applauded the move and how it will quickly advance the mission of the new academic unit.
"The Innovation and Technology Center, an investment in workforce development, will promote additional collaboration among academic, business, and community partners and will be used to connect job-ready graduates with professional opportunities while helping local industries thrive," said Pearson. "The facility is going to provide our students and faculty with the tools and technology to invent, solve, and pursue new knowledge that can be directly applied to Industry 4.0 and the global challenges of the future. It is an exciting development, and it will be a centerpiece for the campus and the city of Flint."
The investment in the building is expected to create over 120 jobs, retain 175 jobs, and generate $10.4 million in private investment. The Charles Stewart Mott Foundation has granted $2.2 million for construction, adding to their original $10 million grant awarded in September 2020 to help develop and launch CIT.
"The Mott Foundation continues its ongoing commitment to UM-Flint and CIT with their support of this project, knowing that it will deliver new opportunities to this community," said Dutta. "We are appreciative of their support in a project that will show that education and ingenuity are imperative for the growth of this region."
Logan McGrady
Logan McGrady is the marketing & digital communication manager for the Office of Marketing and Communication.