Building a Stronger Community Through Leadership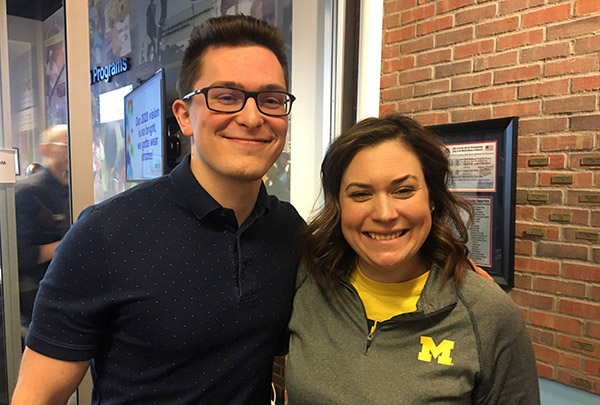 Matt Trevithick has been awarded the University of Michigan-Flint's Greater Flint Community Leadership Scholarship, which was created in 2018 to recognize and support up-and-coming leaders within the community.
This graduate-level scholarship requires nomination by the applicant's employer (supervisor or higher administration only) and covers up to two full academic years of tuition and mandatory fees. Applicants must also reside in Genesee County, MI.
Beginning in January 2019, Trevithick took over the role of Program Coordinator of Special Projects at the Crim Fitness Foundation. In his work with the Flint Community Education Initiative, Trevithick focuses on grant management, communications, evaluations, and general operations.
After earning his undergraduate degree in Political Science from the University of Michigan in 2018, Trevithick was considering law school and performed well on the LSAT, but he "didn't really have the passion for it anymore after undergrad." This is when Trevithick found the opening at the Crim Fitness Foundation. Trevithick applied due to the foundation's excellent reputation, leading him to a fulfilling career in the non-profit world.
"My time here really solidified my decision to transition from a law school track to a non-profit management track," Trevithick says.
The Crim Fitness Foundation supported Trevithick in professional development within his current position, even providing him the opportunity to complete a non-profit management certificate program. Through these experiences, he knew that more formal education in a relevant field was what he needed to continue excelling in his chosen field. The Master of Science in Leadership & Organizational Dynamics program at UM-Flint was the right choice for Trevithick to advance his education and gain professional skills.
In the fall of 2021, Trevithick will continue working toward his goals without having to think about how he will pay for his graduate studies over the next two academic years.
"It's everything to me. It was a huge factor in my decision to go back to grad school at this point."
Trevithick noted how grateful he is for Crim CEO Lauren Holaly Zembo, Director Kerry Downs, and Program Manager Jennifer Halliday who wrote recommendations to help him get into the program and especially for the nomination letter from the CEO that helped him get the scholarship. He was surprised to get the news of receiving the scholarship during a staff Zoom call when his colleagues broke the news.
Trevithick is excited to begin his graduate studies at UM-Flint this fall, and looks forward to his future in non-profit management.
Dayne Hopkins
Dayne Hopkins is the communications specialist for the College of Innovation & Technology. Contact him at dayneh@umich.edu.