UM-Flint announces master's-level Greater Flint Community Leadership Scholarship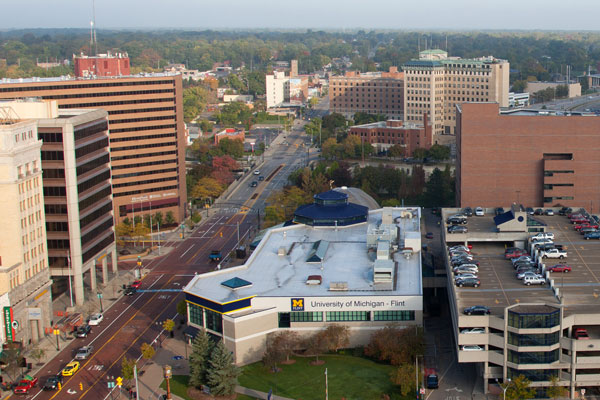 The University of Michigan-Flint has announced the creation of a new master's-level scholarship to recognize, reward, and develop the region's next generation of leadership talent.
The scholarship will cover the costs of up to two consecutive, full academic years of tuition and mandatory fees. Eligible applicants must reside in and be employed by an organization that has a physical location in Genesee County.
"The Genesee County region is a center of new and emerging businesses, non-profits, and associations. In order for these organizations to grow and thrive, new leadership must be cultivated," said Kristi N. Hottenstein, PhD, UM-Flint Vice Chancellor for Enrollment Management.
"Those new leaders will need advanced educational tools to support their organizations," said Hottenstein. "The University of Michigan-Flint recognizes this need and has created the Greater Flint Community Leadership Scholarship to assist in the advancement of the county's next generation of leaders."
Applicants must be nominated by their supervisor or higher administration personnel at their place of employment.
The scholarship is not tied to a specific master's degree program at UM-Flint, as a number of program offerings advance leadership knowledge and skills. However, Hottenstein said a few programs were likely to be particularly attractive to scholarship candidates.
"While applicants can choose from a variety of programs the university has to offer, we anticipate the Masters of Business Administration and the Masters of Public Administration will draw the largest applicant pools," she said.
The number of Greater Flint Community Leadership Scholarships offered per year will depend on the number of qualified applicants and available funding.
One unique requirement of scholarship recipients is their commitment to fulfill at least one "engagement activity" on campus, which may consist of serving as a guest lecturer, mentor, or participating in a recruitment event.
July 1, 2018 is the deadline to apply for the Greater Flint Community Leadership Scholarship this year.  For more information or to apply please visit umflint.edu/financialaid.
Contact University Communications & Marketing with comments, questions, or story ideas.