UM-Flint Spring Commencement ceremonies celebrate and inspire new grads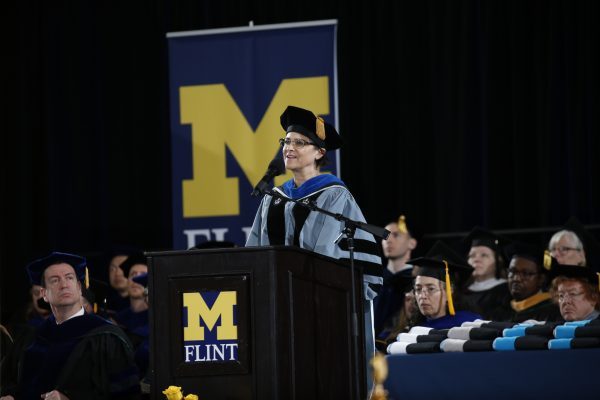 Nearly 700 University of Michigan-Flint students celebrated their graduation Sunday at the 2018 Spring Commencement.
Their talents, compassion, and achievements were honored at two ceremonies April 29 held at the Dort Federal Credit Union Event Center.
Chancellor Susan E. Borrego congratulated the graduates for their successes at UM-Flint, and for being difference makers in the community as curious and talented individuals.
"You have made an impact in the community and I know you will enhance our legacy," Borrego said.
Keynote speaker Professor Martha S. Jones, a legal and cultural historian, told the graduates that their earned degrees are "badges of belonging you will always share."
Jones is a Professor of History, and the Society of Black Alumni Professor at Johns Hopkins University. She was a faculty member at the University of Michigan in Ann Arbor from 2001 to 2017.
Before these achievements, Jones told Sunday's crowd she quit her university studies twice, partly due to fear of failure and having doubts. It was her third try in which she developed a sense of belonging and purpose.
"Each of you has your own story, that moment when you knew you belonged here."
Professor Jones urged the graduates to ignore any doubts and resistance others try to place on them.
"Make your places in the world. We need you."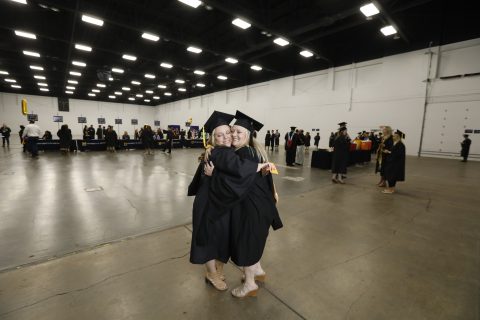 Morning student speaker Noor Abdalla, graduating with a Bachelor of Science in Biology, urged her fellow graduates to use their opportunities for good. Abdalla, from Flint, has several family members from Syria who are now refugees around the world.
"We must embrace our privilege and channel it into something greater," Abdalla said. "Channel it to help those that may not have access to an education, those that are prohibited to learn, those that have to travel miles and miles to get to school, and those that cannot read or write."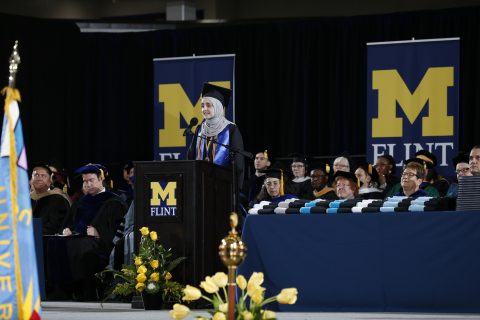 Abdalla celebrated UM-Flint's campus culture.
"Our diverse campus brews acceptance, self love, and love for others. And we should all be so thankful to be part of this community of great leaders. Acceptance of others is the first and most important step that will allow us to come together and create a safer world for our children."
Afternoon student speaker Danielle B. Emerson, graduating with a Bachelor of Science in Nursing, encouraged her fellow graduates to learn from failures.
"Do not be afraid to fail, for there is always something to gain from a failure. We all will be or have been unsuccessful at some point in our lives, whether it is on a university assignment or a personal endeavor," Emerson said. "That's okay. Failure is not a flaw, it's an opportunity."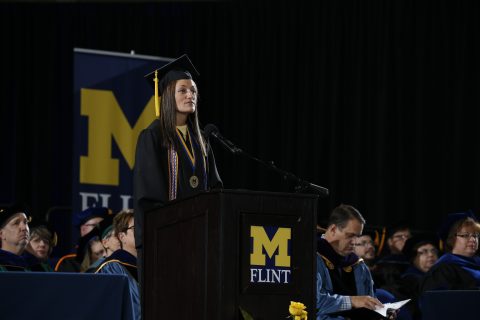 Emerson also encouraged graduates to embrace the opportunity to step outside of their comfort zone.
"To achieve something you have never had, you have to do something you have never done."
At the afternoon ceremony, the university awarded Philip R. Hagerman with the Medal of Excellence for Leadership and Service. Hagerman co-founded Diplomat Pharmacy Inc. with his father in 1975, a company which grew to be the nation's largest independent specialty pharmacy, and, in 2014, a publicly traded company on the NYSE. He founded SkyPoint Ventures in 2013 and remains its CEO.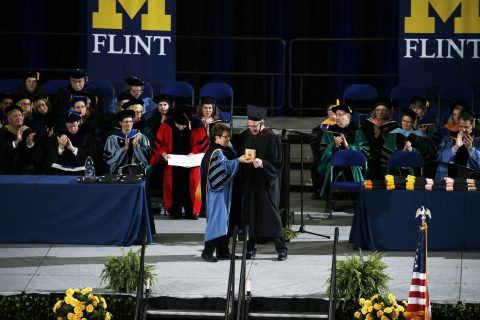 "His commitment to entrepreneurship in Flint and the surrounding region extends to the University of Michigan-Flint," said UM-Flint Provost Douglas Knerr. "Initiatives such as the Hagerman Center for Entrepreneurship & Innovation, Hagerman Student Scholars, and numerous other initiatives in the area are enabling the change and opportunities that will allow Flint and its citizens to thrive."
Hagerman said he is looking forward to even more collaborations with the university.
"I am excited about the future. As University of Michigan-Flint continues to thrive, we are looking for new projects and ideas."
The day was filled with great enthusiasm.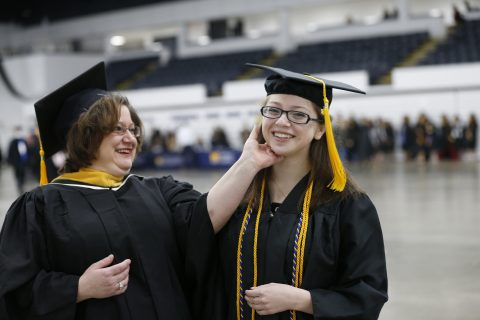 Jamie Trussell, who earned her education specialist degree, said it was special to graduate with her peers in the program. After the morning ceremony, she summed up the energy and excitement of the day.
"It was wonderful. It was overwhelming."
Contact University Communications & Marketing with comments, questions, or story ideas.