U.S. Senator Gary Peters highlights cybersecurity at UM-Flint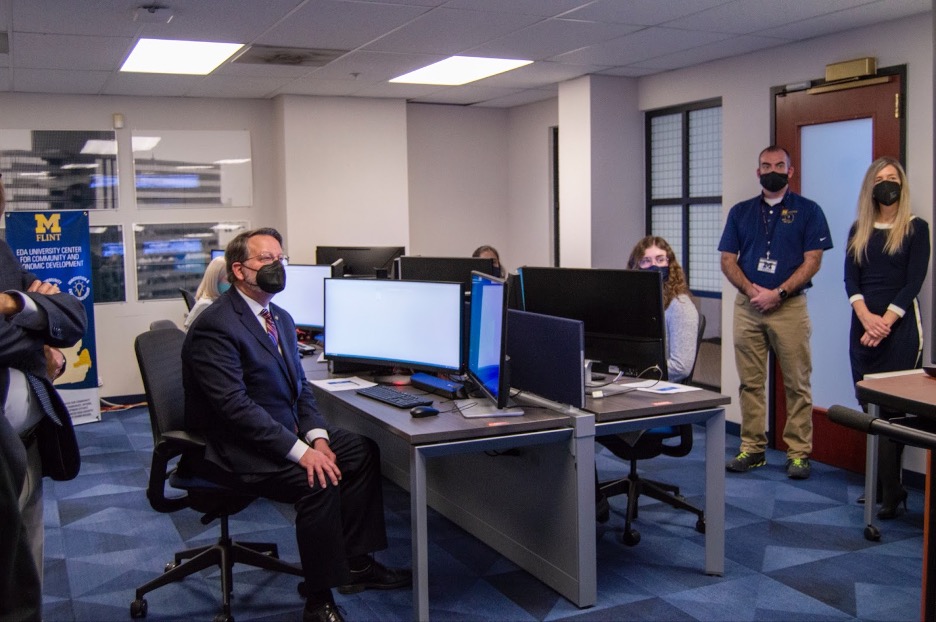 On February 14, U.S. Senator Gary Peters, Chairman of the Homeland Security and Governmental Affairs Committee, visited the Cybersecurity Training Center (CTC) at UM-Flint in his tour of cyber hubs in Michigan. The visit included a roundtable discussion regarding cybersecurity and workforce development, a cybersecurity training demonstration, and a presentation to highlight the importance of building a qualified cybersecurity workforce. 
The event was hosted at UM-Flint's Cybersecurity Training Center (CTC). The CTC is a program within the Office of Economic Development, offering the I-69 Thumb region opportunities for non-degree and industry-recognized credentials to prepare individuals for the dynamic digital challenges of the 21st century. The CTC is one of six Cyber Range Hubs in Michigan as part of the Merit Network. The center hosts events, exercises, and training classes to prepare individuals for cybersecurity. 
Degree Options, Community Partnerships
While the CTC prepares industry and community members to deter cyberattacks, academic programs at UM-Flint equip students to enter a workforce that is in high demand for cybersecurity professionals. The employment of information security analysts is expected to grow 33 percent from 2020 to 2030, making cybersecurity one of the most in-demand job sectors for students. Beginning in Fall 2022, students can obtain a Bachelor of Science in Cybersecurity from the College of Innovation & Technology. Also available this fall, the Cybersecurity Fundamentals certificate is an option in UM-Flint's Accelerated Online Degree Completion (AODC) program, so that busy degree seekers can become competitive candidates. 
According to UM-Flint Chancellor Deba Dutta, the efforts of UM-Flint and legislative measures by Senator Peters are key to ensuring that professionals can combat national threats. 
"The hacking demonstration this morning highlights how the University of Michigan-Flint, in collaboration with organizations like Merit, MEDC, Michigan Works!, and the Cyber Hub program, are providing our students a chance to develop skills they learned in the classroom and apply them to real-world situations they will face in the workforce. I know that the students here have taken away several tools and resources to help them deter future cyberattacks and defend our networks. I support Senator Peters' significant efforts to support and train the cybersecurity professionals of the future in the state," said Dutta.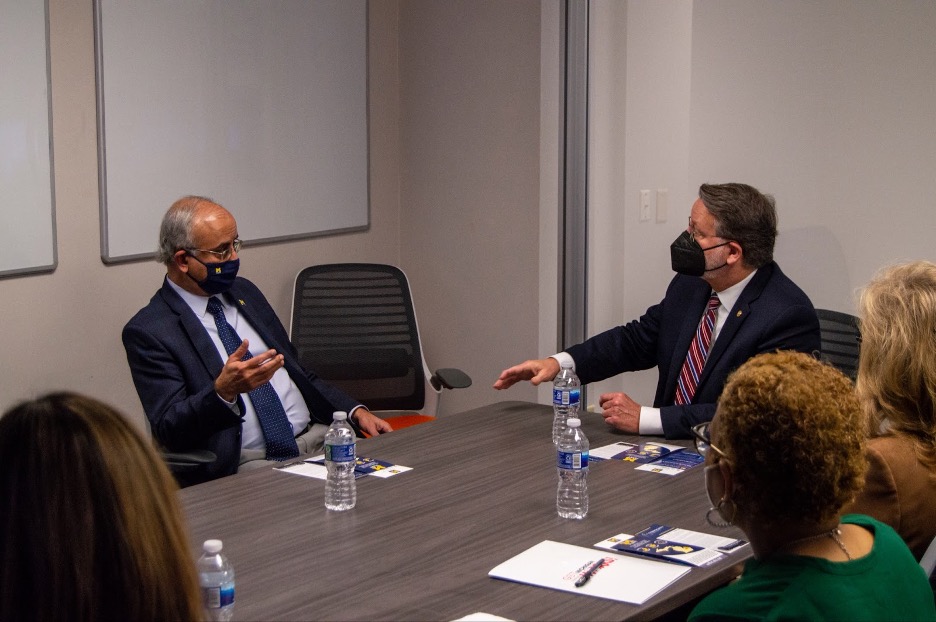 Roundtable Discussion
Dutta, along with other community leaders, highlighted UM-Flint's efforts toward cybersecurity and workforce development in a roundtable discussion with Peters. The team showcased the value of UM-Flint's Cybersecurity Training Center and how UM-Flint is offering accessible degree opportunities in cybersecurity.
The discussion featured the following community leaders:
Chancellor Deba Dutta
Phil Francis, Cybersecurity Training Center Manager, UM-Flint Office of Economic Development
Jody Kerbyson, CEO, GST Michigan Works!
Jasmine McKenney, Region 6 PTAC (Procurement Technical Assistance Center) Program Director
Paula Nas, Director, UM-Flint Office of Economic Development
In the discussion, GST Michigan Works! CEO Jody Kerbyson said that a highly skilled workforce is necessary to combat cybersecurity threats. 
"As we're developing Michigan's workforce, we are just so thrilled to have the University of Michigan-Flint bringing opportunities to students right here in our own backyard," said Kerbyson. "To keep Michigan and its communities prosperous, we must have a diverse and qualified pipeline of employees ready to tackle the many challenges that are facing our country."
Hacking into Alphaville
Following the discussion, Peters participated in a cyber-training exercise with the Office of Economic Development and UM-Flint students. This exercise demonstrated how cybercriminals can disrupt entire communities. Participants attempted to "hack" into "Alphaville," a simulated city that features a power plant, school, city hall, library, and small businesses. In order to prevent data leaks like those shown in the exercise, cybersecurity professionals are of critical importance.
After the exercise, Peters reflected on the work being conducted by UM-Flint, which will ensure that students have the tools to become leaders in the field of cybersecurity.
"I was very impressed with the extra exercise to give students a hands-on opportunity to work through a problem set and figure out exactly how hackers get into information," said Peters. "In order for us to truly protect ourselves from cyberattacks, we need highly trained professionals. That's why I'm just so proud of the work being done here at the University of Michigan-Flint to train generations of cyber professionals that are going to protect us."
To become involved with the Cybersecurity Training Center at UM-Flint, visit umflint.edu/cyber. Learn more about how to earn a cybersecurity degree that fits your needs at umflint.edu/cit. 
Contact University Communications & Marketing with comments, questions, or story ideas.