Intergenerational living experience: OT, PT students move into Court Street Commons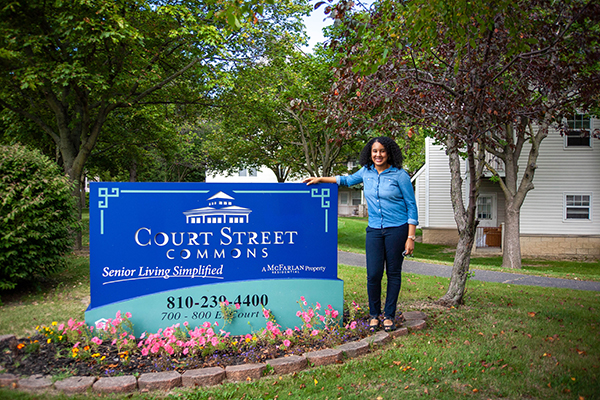 The number of Americans aged 65 and older will more than double over the next 40 years, projected to reach 80 million in 2040. With this increase in older adults comes a greater need for those who will treat and care for this population. Doctors, nurses, and physical & occupational therapists with expertise on the specific needs of these patients will be key.
To help prepare students for this future, the College of Health Sciences (CHS) at UM-Flint has launched an Intergenerational Living Experience program in conjunction with the McFarlan Charitable Corporation. Through this program, four students will spend the next two years living in Court Street Commons among the older population that resides there.
Clinical Associate Professor of Occupational Therapy and OT Department Director Nancy Milligan says, "The goal of the program is to provide students with a rich learning experience regarding the aging process and the challenges that older individuals experience in an urban environment."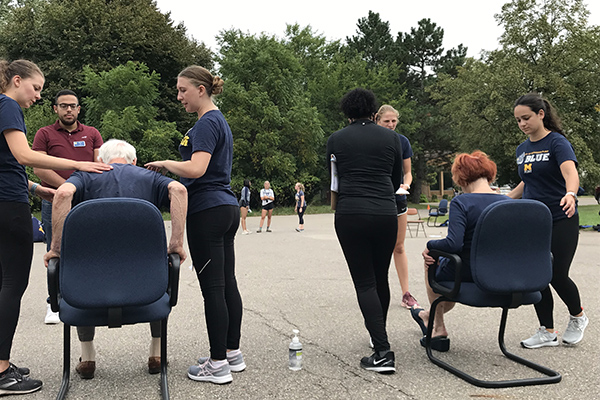 CHS has had a lasting relationship with Court Street Commons, working together to support student internships, research, and community projects. What sets this new program apart from past efforts is the scale and depth to which students will engage with the population. Unlike past internships and research projects, these students are fully immersed in the lifestyle and experience that comes along with living in one of these facilities.
There are currently four students living at Court Street Commons: Occupational Therapy Doctorate students Shalini Augenstein and Elizabeth Mansfield, and Doctor of Physical Therapy students Molly Booms and Jasmine Minor. All four students are excited to get "a deeper understanding of what life is like for people as they age," according to Mansfield.
The students are looking forward to seeing where this program takes them, and what knowledge they will be able to use in the future. For Booms, it is an opportunity to gain an understanding that she will use throughout her career.
"I want to learn how this population lives so I can have a better understanding of how I might be able to treat them later on," Booms states.
Minor is also looking at the relational aspects of this program, as "you have to be able to understand what patients are going through." By being immersed in the lives of the elderly, these students become closer with them and develop meaningful connections.
You can learn more about the Integrated Living Experience and follow Shalini, Elizabeth, Molly, and Jasmine on their two-year journey. Visit https://mailchi.mp/umich/intergenerational-living-experience for more.
Contact University Communications & Marketing with comments, questions, or story ideas.