UM-Flint Alumni Gift Guide 2021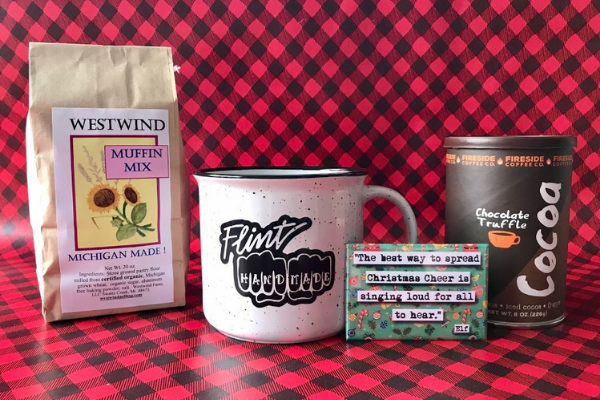 Tis' the season of giving! Are you struggling to come up with gift ideas for your loved ones? Is your package taking forever to arrive? We've got you covered. Check out this list of gift ideas from organizations owned by UM-Flint alumni. Support small businesses and UM-Flint graduates this year!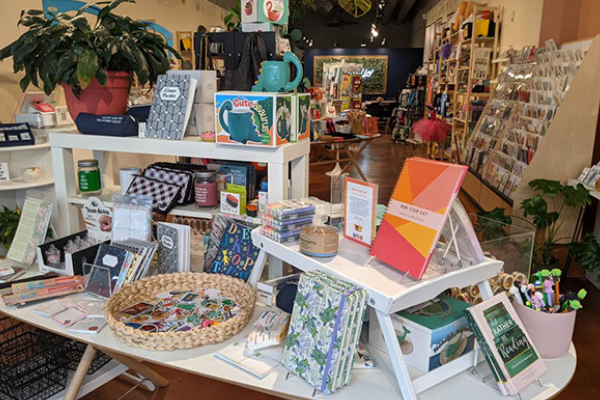 Oh, Hello Co.
Oh, Hello Co., owned by UM-Flint alumni Alex Benda '14 and Kayla Benda '13, is your first stop for all things stationery and home decor. This unique store truly has something for everyone. Shop their website and find a wide range of planners, tote bags, mugs, enamel pins, stickers, and other trinkets! If you're ever in downtown Grand Rapids, you can also visit their retail store, Oh, Hello Paper & Gifts.
"Oh, Hello prides itself in being a mirror reflecting back on Grand Rapids. The city is a city of craftspeople (Beer City, Furniture City, Artprize, etc.) and with over 40 different local artists and vendors, we wanted a place where people could find local wares," Kayla Benda said. "Our store has something for everyone. From the traveler, to the teacher, to the writer."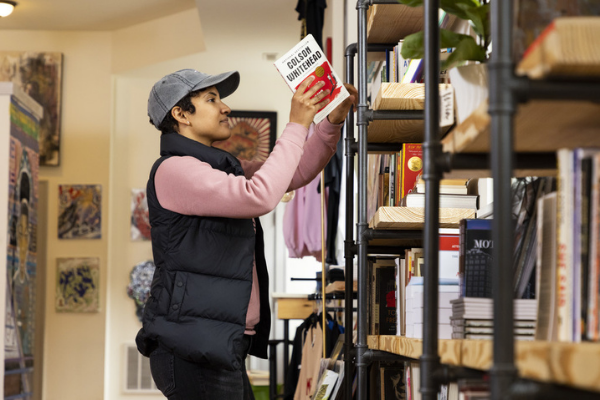 Comma Bookstore & Social Hub
By shopping at Comma Bookstore & Social Hub, you'll give your loved one a gift with a purpose, while supporting UM-Flint graduate Egypt Otis '20. This bookstore specializes in BIPOC books, art, and products. You also might find some books by other UM-Flint graduates, such as Christopher Paul Curtis. If you're not in Flint, you can also support the business online this holiday season.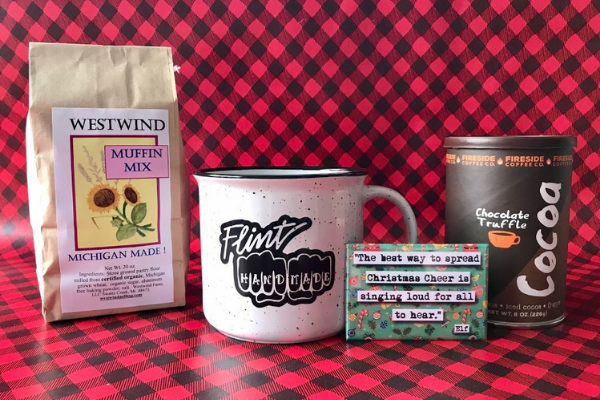 Flint Handmade
Handmade gifts are extra special this time of year. But what about gifts that are handmade in Flint? Check out Flint Handmade, an organization founded by Crystal Pepperdine '03, MPA '05. Flint Handmade is a nonprofit organization that encourages creative expression and artistic entrepreneurship through handcrafting in Flint and Genesee County. They offer various events and craft markets this time of year, which are perfect for holiday shopping. Mystery Care Packages are also a great way to get a variety of gifts sent right to your door.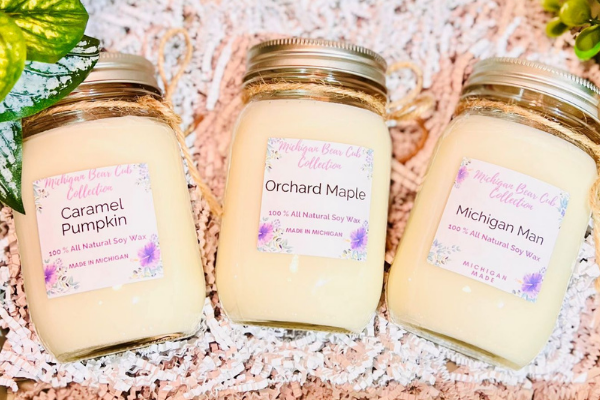 Michigan Bear Club Collection
You might not be able to wrap up Michigan memories like blueberry festivals, orchard trips, and the Great Lakes as gifts, but candles from the Michigan Bear Club Collection are the next best thing. The Michigan Bear Club Collection, owned by Carrie Newman '17, specializes in candles that mimic vibrant Michigan scents. These aren't your ordinary candles, either. Michigan Bear Club Collection candles come packaged in mason jars or wooden bowls, making them a great addition to home decor.
"We take pride in handcrafting high-quality, all-natural soy candles for each of our amazing customers," Carrie Newman said. "We are grateful for the support from our family, friends, peers, and our honorable Alma Mater. Gift a gift of love in scent form this season, shop small with Michigan Bear Club Collection!"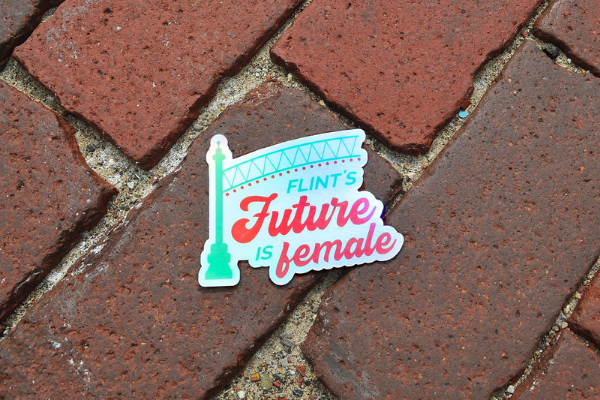 Flint's Future is Female
Flint's Future is Female offers trendy gifts that inspire. Owned by Makayla Phillips '20, Flint's Future is Female promotes connectivity and empowerment to female leaders, founders, and entrepreneurs in Flint & Genesee County. Their website sells wine glasses, travel mugs, tote bags, and stickers that advocate female empowerment in the community. And can we take a second to appreciate the sparkly iridescent sticker?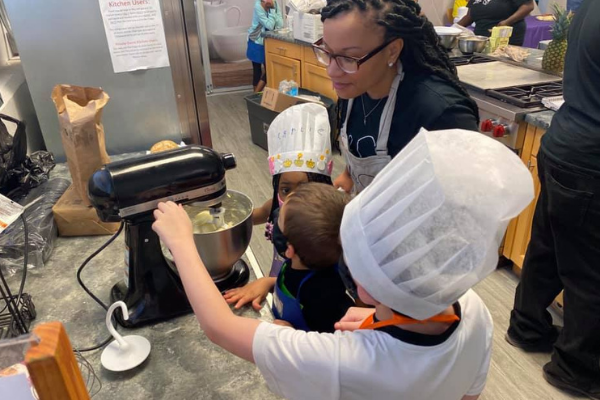 Little Suga's
Sweet treats are a holiday staple for many families. To give the gift of holiday baking memories this holiday season, check out Little Suga's, a Flint-based baking brand owned by Jaszmane Sisco '17. A unique gift for a loved one could be one of the cooking classes the brand hosts for both children and adults, found on their Facebook page. Custom orders can also be made.
"Little Suga's is connected to people coming together, learning, loving, and really making a memorable experience," Sisco said. "Especially during the holidays, when people go home after a class, they'll be able to teach their families what they've learned. You get the memories, you get the experience, and you get something you'll have forever."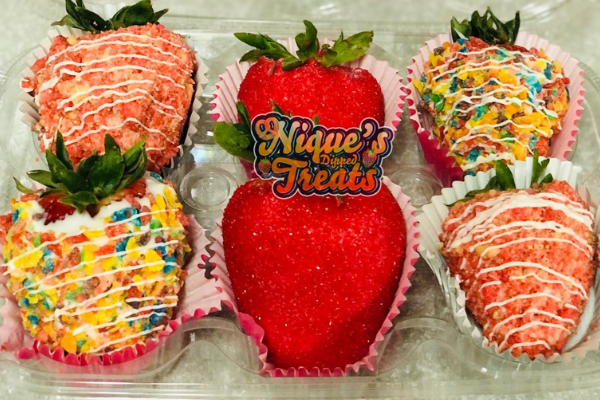 Nique's Dipped Treats
Are you hosting a holiday party, or want to give a unique sweet gift to a loved one? Nique's Dipped Treats, owned by Dominique Person '17, puts a twist to chocolate-covered treats. The business can be booked for chocolate-covered strawberries, pretzels, Oreos, Rice Krispie Treats, and apples. The treats are decorated and dipped to perfection, making them the ultimate thing to splurge on this holiday season. The six-count variety treat boxes are a great gift, because your recipient can have a small taste of everything Nique's Dipped Treats has to offer. To place an order, customers can head to the company's Facebook and Instagram pages, or call (810) 447-0105.
"People should support Nique's Dipped Treats this holiday season because they'll be able to put money back into their communities, which gives our local economy a chance to thrive," Dominique Person said.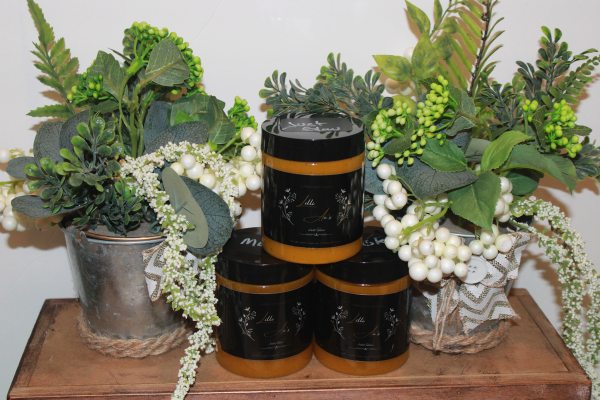 Lilli An's
Self-care and wellness are a year-round priority for many. They might even be a New Year's resolution for someone in your life. For various self-care gifts, check out Lilli An's, owned by Shanelle Johnson '17. The store offers tea, face wash, soaps, face masks, and more. You can shop for their gifts online.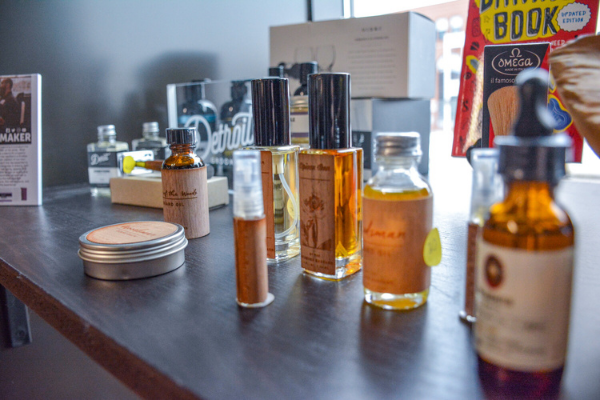 The Roman
By shopping at The Roman this season, you or your loved ones can take their facial hair to the next level. The Roman is owned by Casey Lester '19. Items can be purchased at the Shops on Saginaw and online. As a men's accessories store, shoppers can find beard oil, beard wash, beard butter, and much more. The store also offers holiday-themed gift sets, like the Miracle on 34 Beardth St., as easy items to give the beard enthusiast in your life.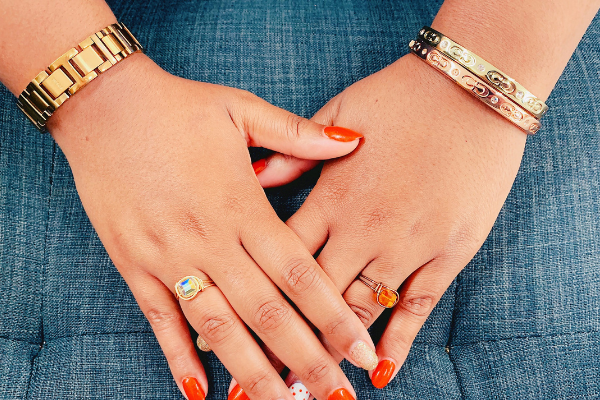 Queen Netzo Jewelry Co.
Queen Netzo Jewelry Co., owned by Kayla Laird '20, crafts one-of-a-kind jewelry with a heartfelt message. Each ring is uniquely handmade with wire and real Swarovski crystals. Rings with birthstones can customize the gift for your recipient. The story of the business is extra special: Queen Netzo is named after Kayla's mother, who passed away from cancer. By buying these rings for your loved ones this holiday season, you'll also support the story behind the brand. Rings can be ordered online.
Contact University Communications & Marketing with comments, questions, or story ideas.