12 Students Named Maize & Blue Scholars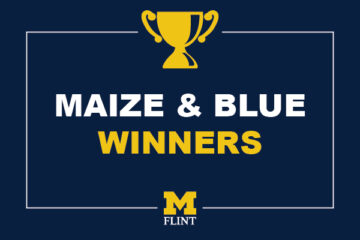 The University of Michigan-Flint is proud to announce the summer and fall 2021 Maize and Blue Distinguished Scholar Award recipients.
The Maize & Blue Award is the highest academic recognition given to undergraduate students during commencement season. The award is presented to no more than 26 students per year who excel academically and exemplify intellectual maturity and depth, character, talent, and service to the university and the community. The recipients are selected by a faculty committee, with both faculty and staff writing letters of recommendation for students who apply for the award.
Commencement speakers are chosen from among the group of Maize & Blue Award honorees. For the December 2021 commencement, Nicole Hunt, Samantha Kohalisky, and Sharvari Pathak were selected as commencement speakers. Their speeches will be available online for viewing in December.
Summer & Fall 2021 Maize & Blue Distinguished Scholars
Leila Almounajed
Bachelor of Science in Chemistry
College of Arts & Sciences
Josie M. Bitterman
Bachelor of Business Administration in Accounting
Bachelor of Business Administration in Finance
School of Management
Brianne J. Hoyt
Bachelor of Science in Psychology
College of Arts & Sciences
Nicole K. Hunt
Bachelor of Science in Psychology
College of Arts & Sciences
Samantha I. Kohalisky
Bachelor of Science in Psychology
College of Arts & Sciences
Brandon Lesner
Bachelor of Science in Psychology
College of Arts & Sciences
Teryn L. LeVoy
Bachelor of Science in Nursing
School of Nursing
Kayla Neal
Bachelor of Arts in Political Science
College of Arts & Sciences
Azin B. Parsian
Bachelor of Science in Nursing
School of Nursing
Sharvari S. Pathak
Bachelor of Science in Molecular Biology and Biotechnology
College of Arts & Sciences
Whitney L. Taylor
Bachelor of Science in Health Care Administration
College of Health Sciences
Kaylee M. Treiger
Bachelor of Science in Elementary Education
School of Education & Human Services