New device promoting women's health invented at UM-Flint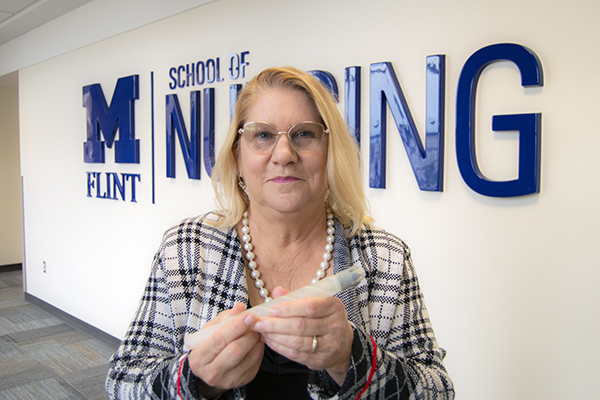 Every year, millions of women undergo pap smears and other vaginal exams to screen for cervical cancer, HPV, and infections. To perform these exams, medical professionals use a two-century-old device: the speculum. Since its creation, the speculum hasn't changed much in terms of design, despite many women finding these exams uncomfortable and even refusing to have them as a result.
For Marilyn Filter, Associate Professor in UM-Flint's School of Nursing, women's health and improving patient outcomes has always been a priority. After working as a certified nurse-midwife for many years, Filter could easily see where the healthcare field was failing women.
"Nurses are by nature innovators. We always find what's wrong with the current instruments, devices, and everything that we use. We're always updating and personalizing things to make them work for patients. Because of this, I've always been thinking about how we can improve different screening tests, such as the pap smear," Filter said. "After seeing a couple of scopes being done on other parts of the body, I thought to myself, 'Why can't we utilize this technology for women's health?'"
The prototype Filter and Assistant Professor of Nursing Lyn Behnke created is roughly the size of a pencil, has a light attached, and collects the same cells that are collected for cervical cancer and HPV testing. In order to use the current speculum, women must lay on their back with their legs in stirrups. Filter's device would eliminate the need to put patients in stirrups; instead, patients could lay in a more comfortable position, such as on their side.
Removing the need for stirrups allows these exams to become more accessible. For people in wheelchairs or with hip mobility issues, placing legs into stirrups is extremely difficult or impossible. As a result, patients would have to forego these necessary exams and potentially miss out on early cancer detection. Eliminating stirrups and giving the patient the ability to choose their position is also beneficial to victims of sexual abuse, who will no longer be forced into a vulnerable and traumatizing position.
In addition to pelvic exams, there's potential for the device to be used to make rectal exams more gentle. In recent years, there has been a rise in rectal exam screenings to account for the increase in rectal cancers. Since this device is smaller than what's currently used, it makes the exam more comfortable for the patient and easier for the healthcare provider.
"Whether it be males or females, the tissues in the body are not as pliable or stretchable when the person ages. So, this prototype would allow you to go in and collect those necessary cells for pathology, whether it's vaginally or rectally," Filter said.
Since its inception, Filter's scope has gone through many design phases. First consisting of miscellaneous parts from hardware and retail stores, Filter and Behnke were then able to connect with two U-M engineers who helped her create a model using a 3D printer. Along the way, Filter has been working with Senior Manager for Research Development & Technology Transfer Mary Auge at UM-Flint and the team at U-M Innovation Partnerships, who assist U-M faculty in navigating the commercialization of research discoveries and licensing. With Innovation Partnership support, Filter was able to submit a provisional patent in January 2021, a first for UM-Flint's School of Nursing. At the same time, Filter and her team began working with biomedical engineers at the Grand Valley State University's Applied Medical Device Institute (aMDI) to develop a working prototype, a project made possible by matching funding from the Michigan Economic Development Corporation's ADVANCE grant program. The next step in the commercialization process will be to put the working prototype through a testing phase with human subjects. Eventually, Filter plans to fully patent her device and license it to a medical device manufacturing company.
"It's been really exciting working with Marilyn because she's so determined and passionate about getting it onto the market to help women. Over the past two and a half years, I've seen it go from an idea, to putting together a team, to working on an initial prototype with our engineers on campus, getting funding and working with an outside firm to build the prototype, and now we're starting to look at clinical trials. They keep moving ahead and they've included me in the process the entire time, which I appreciate," Auge said.
If you're a UM-Flint faculty member with an idea and want to know how to move it forward, contact Ken Sylvester, Director of the Office of Research, at kenms@umich.edu.
Makayla Phillips is a Communications Assistant with the Office of Research and Economic Development.