UM-Flint EDA Center Awarded Five-Year Grant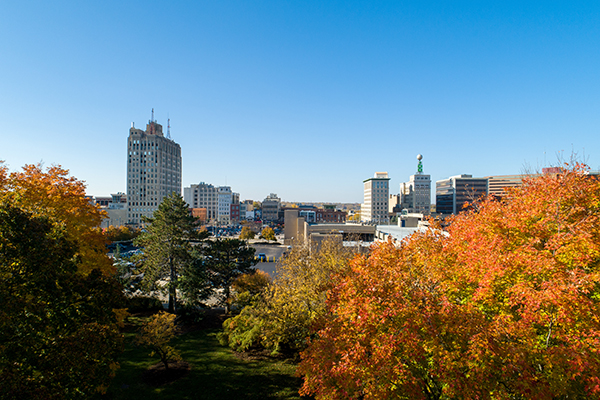 UM-Flint's EDA University Center for Community & Economic Development was granted $400,000 over a five-year period as part of the U.S. Economic Development Administration's (EDA) 2021 University Center Economic Development Program Competition.
UM-Flint is one of 25 colleges and universities selected to receive the grant, which is intended to support regional economic development ecosystems by providing expertise, applied research, and technical assistance.
UM-Flint's EDA University Center for Community & Economic Development, housed in the Office of Research and Economic Development (ORED), works with businesses, municipalities, educational institutions, and non-profits in the seven-county I-69 Thumb Region (Genesee, Huron, Lapeer, St. Clair, Shiawassee, Sanilac, Tuscola counties) to support economic growth for the region.
"We are grateful for this opportunity to continue to work closely with our regional partners to expand the initiatives of our EDA University Center in the areas of community development, economic development, and innovation and entrepreneurship," said Paula Nas, Director of UM-Flint's Office of Economic Development.
According to David Merot, who directs the UM-Flint EDA University Center, the grant is pivotal for all universities who received the award.
"This is instrumental to how universities can be involved in economic development and can diversify the approach of leveraging their knowledge and innovation," said Merot.
For the EDA University Center, the grant is a continuation of the wider mission to cultivate innovation and sustain a resilient and inclusive economy in the region. The center has already contributed with initiatives such as the Innovation Incubator, which provides programming for youth and adult entrepreneurs, and the Michigan Wolverine Innovation Network (MWIN), which enhances a culture of innovation across campus.
With the grant, the EDA University Center hopes to help train workers in new 21st-century workforce skills through the Cybersecurity Training Center (CTC), implementing certificate programs and curriculum development. Additionally, they will continue to work collaboratively to establish a foundation for education leaders, economic development professionals, and businesses recovering from the COVID-19 pandemic.
"The grant funding will give the EDA University Center the tools it needs to inspire innovation and entrepreneurship in our region," said Chancellor Deba Dutta. "We look forward to seeing how the EDA University Center will continue to positively impact the UM-Flint community and beyond."
Contact University Communications & Marketing with comments, questions, or story ideas.