UM-Flint Remembers Congressman Dale Kildee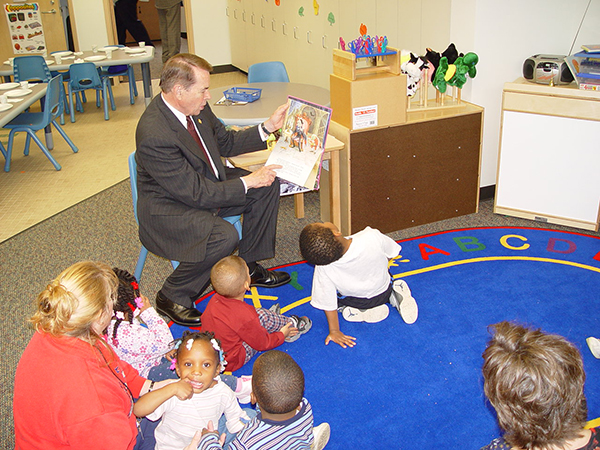 The University of Michigan-Flint campus community is recalling the legacy of advocacy and support of former Congressman Dale E. Kildee. Kildee passed away on October 13, 2021 at the age of 92.
Kildee had a long relationship with the University of Michigan. He earned a Master of Arts degree in education in 1961, and he received an honorary Doctor of Laws degree from the university in 2014.
A lifelong resident of Flint, Kildee had a legendary career in politics. His political career began with his 1964 election to the state House of Representatives, where he served until 1974. He was elected to the state Senate in 1974 and the U.S. House of Representatives in 1976. After 36 years in Congress, he chose not to run for reelection in Michigan's 5th Congressional District in 2012.
Throughout a long career in the state Legislature and the U.S. House of Representatives, Kildee was committed to bipartisanship. Always conscientious of his voting responsibilities, Kildee rarely missed a roll call vote. He maintained a 99.9 percent voting attendance record, the highest of anyone in the House of Representatives. He advanced educational reform, stood up for the domestic automobile industry and Native Americans and championed the rights of American workers.
Among Kildee's many accomplishments during his time in public office was his persistence in making educational opportunities accessible. His legislative priorities centered around early education and secondary education. The impact his work had on Flint and UM-Flint was profound. He was instrumental in many initiatives that strengthened the effectiveness and accessibility of local higher education such as the creation of the University Research Corridor and the reopening of Kearsley Street through the UM-Flint campus in coordination with the opening of the First Street Residence Hall in 2008.
In 2009, thanks to Kildee's work, UM-Flint received a Health Career Opportunities Program federal grant worth $354,050 to aid in increased access to preliminary education and health research training, mentoring and counseling. That same year, Kildee chaired a congressional hearing on early childhood education and early colleges on campus. Kildee also had several students as interns during his time in office to give them professional experiences.
In 2014, Kildee donated key items from his decades of work in Washington, D.C. to the University of Michigan-Flint's Frances Willson Thompson Library archive. Among the items are historical documents and numerous photos taken over the years of bill signings with Presidents, as well as photos with foreign leaders. One of the highlights of the donation is a gavel that Congressman Kildee used when he was Speaker Pro Tem of the United States House of Representatives in May 1983. A vote occurred to override a veto on a nuclear freeze resolution issued by former President Reagan. The Speaker of the U.S. House at the time, Representative Tip O'Neil, personally signed the gavel. The gavel also includes the bill number of the legislation that was formally overridden.
That same year, an endowed scholarship fund was established to honor his service to UM-Flint and the community. The Dale Edward Kildee Education Scholarship provides assistance for students pursuing their degrees in education. In fall 2021, seven students received scholarships from that fund. His legacy will continue on through the recipients of his scholarship and his steadfast advocacy of education.
Contact University Communications & Marketing with comments, questions, or story ideas.