Meet the CIT Faculty: Shirl Donaldson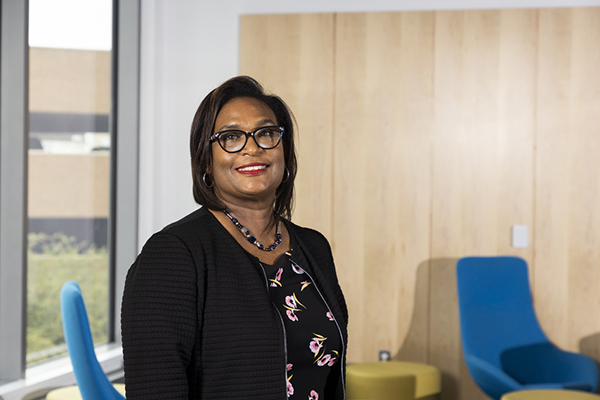 Assistant Professor Shirl Donaldson is in the business of problem-solving. As a new professor in the College of Innovation and Technology, Donaldson is "focused on getting things done well, and done in a way that benefits everyone involved."
Read on to learn more about Donaldson, and the story of her path to CIT and the University of Michigan-Flint.
Beginnings in Academia
Donaldson didn't set out to be a professor. She started out working at her family's machine shops, where they were a Tier 1 supplier to automotive companies. Donaldson believes this hands-on experience positively impacts her teaching.
Her first experiences with teaching came through corporate and employee training. These training experiences stoked her passion for problem-solving. She facilitated experiences that helped employees perform efficiently. Donaldson then received an opportunity to begin teaching at a university level and became a professor. This career move has also allowed her to delve into research.
As a professor, Donaldson's goal is to help students become well-rounded. She wants them to be well educated in the STEM field, but she also wants them to know how to communicate, work together, and take charge when needed. 
Research Interests
A main research focus for Donaldson is first-generation college students. She says that 30 percent of incoming college students have parents that didn't go to college, which can create a steep learning curve. Donaldson's goal is to help these students "find a niche, become successful, and help their parents understand what's going on."
Another area of interest for her is Ph.D. candidates. Research has shown that these students handle coursework well, but encounter challenges completing their dissertations. Donaldson is interested in applying her project management skills to see if these techniques "help potential Ph.D. candidates communicate better with their advisor or committees, increase completion rates, or shorten time to completion."
This kind of research won't just help Ph.D. students—Donaldson also looks at how these kinds of project management techniques can help students be better team members and how to carry those skills into their careers.
Classes at CIT
Donaldson is currently teaching CIT 100: Technology Foundations, the first-ever course in the College of Innovation and Technology. Her goal in this class is to teach students communication and teamwork. A base of STEM knowledge is necessary for the field, but being a well-rounded individual is just as important. As the curriculum grows, Donaldson hopes to incorporate industry-sponsored projects in her courses.
She will also be teaching CIT 120: Organizational Leadership for Next Generation Industries in the coming winter semester, which explores the skills students need to be effective leaders in technology-rich environments.
"The goal is for graduates to come in and take leadership roles where they are hired and have the technical capability but are also able to work with people," Donaldson says, going on to state that she wants her students to have both humanistic knowledge and business acumen.
The UM-Flint Experience So Far
One thing that surprised Donaldson about UM-Flint was that the campus is located in the heart of downtown Flint. She lives at Riverfront currently, and feels like she is at the "hub of everything that's going on."
Donaldson hopes to show her love of this profession to her students. She states that her favorite part of teaching is "when I see the light go on, and when they see value in what they're learning."
Coming Back Home
A native Detroiter, Donaldson feels as though she has come full circle, stating that "I'm back home." She attended Purdue and taught in Texas, so teaching in CIT feels like "when all the pieces in your life come together." It means a lot to Donaldson that she is able to contribute to an area that's important to her.
"I feel lucky that I get to do that."
Contact University Communications & Marketing with comments, questions, or story ideas.