UM-Flint recognized as veteran-friendly school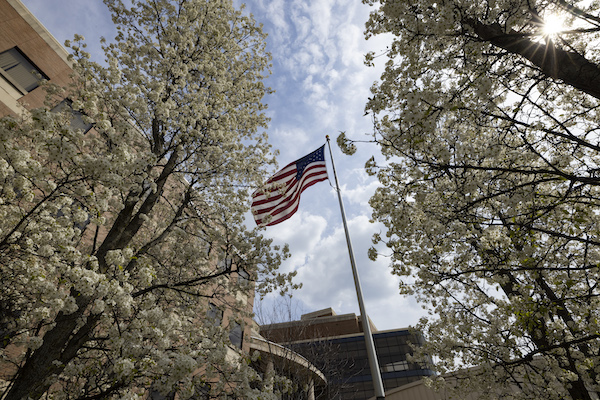 The University of Michigan-Flint has been recognized for its excellence in serving student veterans.
This summer, the university was named to three different lists:
The Military Times 2021 "Best for Vets: Colleges" list ranked UM-Flint 41 out of more than 360 universities and colleges.
UM-Flint has retained its gold-level ranking as a veteran-friendly institution with the Military Veterans Affairs Agency. UM-Flint has been a gold-level status each year since the program started in 2015.
"These rankings prove to students that the University of Michigan-Flint is committed to serving our military service members, veterans, and their dependents, and we are honored to support them in the pursuit of their academic and civilian career goals," said Helen Budd, Student Veterans Resource Center (SVRC) program manager.
The SVRC provides academic support to UM-Flint student veterans, offers help using GI Bill benefits, and provides a community of fellow student veterans. The center's team is growing as the university aims to recruit more student veterans. In April, Andrew Ornelas joined the UM-Flint Division of Student Affairs as the SVRC Veterans' Outreach & Enrollment Coordinator.
Ornelas graduated from New Mexico Highlands University with his BA in 1992 and received his Masters from Kansas State University in 2005. He is a Retired U.S. Army Lieutenant Colonel, served for more than 20 years and five deployments in Somalia, Haiti, Bosnia, and Afghanistan. Before starting at UM-Flint, he worked at Delta College as their Veterans Coordinator.
As part of his role, Ornelas is visiting U.S. military and National Guard bases to meet with education officers and potential students. He's visited National Guard units in Port Huron and Ypsilanti, and he visited Wright Patterson Air Force Base in Dayton, Ohio in June.
In the coming weeks, Ornelas will travel to MacDill Air Force Base in Tampa, Florida; Fort Bragg and Camp Lejeune in North Carolina; and a veterans fest in Fowlerville, Michigan. He plans to visit California, Colorado, New York, Texas, Virginia, and Washington, among other states in the next year.
Another part of his work is meeting with Michigan community colleges to connect with student veterans to share information about UM-Flint's programs and services.
"The goal is to get the word out about our great programs at the University of Michigan-Flint to all the bases in our country," he said. "We will be doing this by meet and greets with their educational offices and officers, and having them display our information."
Lindsay Knake
Lindsay Knake is the Communications Coordinator for the UM-Flint Division of Student Affairs. Contact her with any questions, comments, or ideas about the DSA newsletter, social media, events, and communications.