"Staying clean by helping others": UM-Flint student founds a nonprofit organization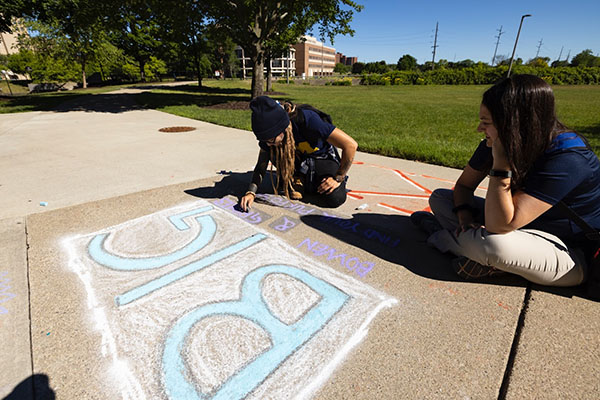 At the age of 17, Alex Grimes was left homeless in Miami, Florida, with nothing but drug use to turn to. After a decade of growing up in Puerto Rico and travelling across the U.S., Grimes turned to UM-Flint, pursuing a BBA in Human Resources and Organizational Behavior, seeking sobriety, and founding a nonprofit organization.
"I had a full ride to Stetson University and I fell back into addiction and I messed that up," Grimes said. "The University of Michigan-Flint was the only campus that gave me a second opportunity. I took that, and I've been trying to stay clean and not mess up this opportunity that I have."
In the midst of the opportunity at UM-Flint, Grimes founded Bowen & Grimes, a non-profit organization whose goal is to become a recovery resource across all communities.
"If I can't help myself, I can't help others," Grimes said. "This non-profit is the thing that's keeping me sober. This whole mission and dream is way beyond me."
As a UM-Flint student, Grimes has made the most of resources available to make the nonprofit dream a reality. According to Grimes, the Business Engagement Center was key to establishing Bowen & Grimes.
"At UM-Flint's Business Engagement Center, they helped me when I had to get my Tax ID, and taught me more about how to start a business. They helped me create bylaws for the nonprofit. Any time I have questions, I just go to the Business Engagement Center," Grimes said. "UM-Flint is what's given me all the resources to make Bowen & Grimes happen."
After graduating with her BBA in December 2021, Grimes will pursue a Master's Degree in Public Administration with a concentration in Nonprofit Management at UM-Flint.
The Past and Future of Bowen & Grimes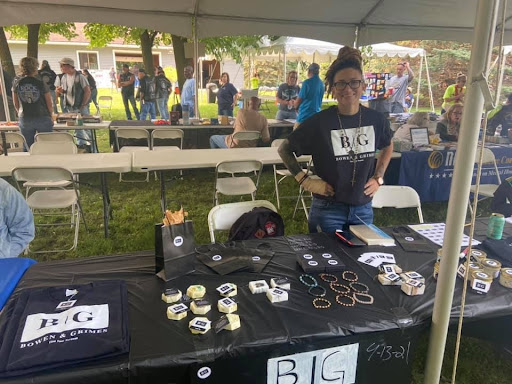 Bowen & Grimes was founded in October 2020 when the COVID-19 pandemic began, but did not become official until May 2021. At the time, Bowen, a former partner, was serving time, and Grimes was in active addiction.
"We swore to stay clean by helping others," Grimes said. "That's when we filed with the state."
Much of Bowen & Grimes' services are on a website, where an online store sells hand-crafted products made by individuals in recovery.
"Not only are we providing recovering addicts with crafts to keep them busy, but we're helping them raise money for themselves, and they are helping Bowen & Grimes raise money," Grimes said. "It's kind of like a circle that goes around."
Grimes also manages a TikTok account, documenting her journey and offering community encouragement to those with addiction.
"We post videos every single day supporting those struggling with addiction," Grimes said. "We are telling people, 'Hey, it's okay to relapse. You get down, and you get back up.'"
The message of hope and recovery that Bowen & Grimes shares will first empower others in physical recovery centers in Flint and Sault Ste. Marie, Michigan, before expanding into other communities. The organization will host support groups and provide crafts, group therapy, and counseling at no cost.
Grimes acknowledges her former partner, who still struggles with active addiction, as the inspiration behind the entire non-profit.
"I don't ever want anybody to feel and see the person that you love tear themselves apart and not be able to do anything," Grimes said. "No partner, mother or family member can stop addiction. It has to be you. So I keep the dream going, and we'll keep on dreaming."
More information about Bowen & Grimes can be found on their website. The organization also has a GoFundMe fundraiser.
Contact University Communications & Marketing with comments, questions, or story ideas.