Student Involvement & Leadership leads UM-Flint engagement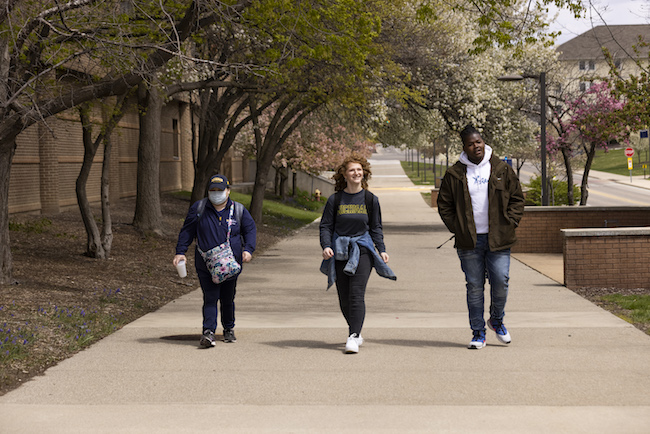 Joining a student club or organization at the University of Michigan-Flint can lead to getting an internship or making lifelong friends.
UM-Flint's Student Involvement and Leadership (SIL) supports and facilitates the mission of engagement on campus through supporting student organizations, offering leadership training, and organizing events. The office has a goal of providing all UM-Flint students with a meaningful and rich college experience.
The University offers more than 100 student organizations to get involved with. From academic-focused clubs to identity organizations, the University and fellow students offer a diverse spectrum of organizations on campus.
"Getting involved can make a huge difference in your experience at the university," said Christopher DeEulis, Associate Director of SIL. We have everything from student organizations, and fraternities and sororities, to research opportunities, work on campus, and study abroad."
Signature events from SIL include the Mgagement Fair in September, which showcases the student organizations and University services; and Celebrating Wolverine Excellence each spring, which awards students for their leadership and success.
SIL also supports UM-Flint's Greek Life. Sororities and Fraternities are values-based organizations that provide life-long connections for students to be able to focus on holistic development, DeEulis said.
For students interested in leadership development, SIL provides programs based on the social change model. This year, the program is focused on virtual engagement and continued learning.
"Student involvement helps students to apply their skills, both that they learn inside the classroom and ones that they cultivate in co-curricular spaces. These skills, communication, project management, conflict resolution, leadership, inclusion, etc. are directly applicable for students as they seek out future career opportunities," DeEulis said. "Students who are involved and engaged in activities have great examples to share during interviews, and a larger network of people to help them find jobs, as well."
If a student organization doesn't exist, students can create it. Recent additions include a Model UN team and an Esports Team.
"Engagement offers students a chance to connect. They are able to connect with their peers, and also with faculty, staff, and our community," DeEulis said. "This increases their sense of belonging, helps to create a support network, and gives them ways to have some fun outside of class."
Overall, SIL aims to offer opportunities for students to become engaged and responsible leaders; develop critical thinking and problem-solving skills; develop life skills and understanding of one's own values, interests, and goals; and learn how to be inclusive of people with various identities and perspectives.
SIL staff members include DeEulis, Program Manager Jaleesa Harrington, and Senior Administrative Assistant Mary Valasquez.
Lindsay Knake
Lindsay Knake is the Communications Coordinator for the UM-Flint Division of Student Affairs. Contact her with any questions, comments, or ideas about the DSA newsletter, social media, events, and communications.