Dance students "Dream in Color" to create performance video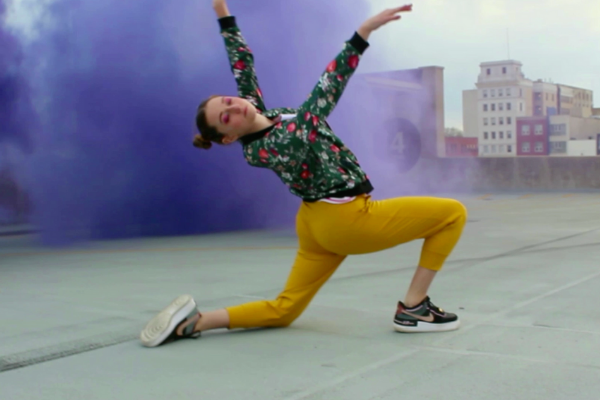 One UM-Flint student can do amazing things; put two UM-Flint students together and there's no limit to what they'll achieve.
Two Dance students – Meredith Sheatzley (BA Dance, BSW '21) and Morgan Nichols (BA Dance '22) – teamed up to create "Dream in Color – A Dance Film." The video follows Meredith's performance from the dance studio, to the performance stage, into the heart of Flint itself. Morgan handled cinematography and editing, while the pair shared choreography duties. The project was supported by capstone instructor and dance faculty Beth Freiman, with costume design support from Lecturer IV Lisa Borton.
The video is Meredith's capstone project, the final project in a UM-Flint student's program that allows them to integrate and express all of their learning. She explains that the concept evolved as they visited filming locations throughout Flint.
"From the very beginning we wanted to use Flint's cityscape as our backdrop by creating choreography that interacted with the city and architecture as well as showcased it," Meredith says. "Focused on uplifting city life and community engagement, we wanted to contribute by highlighting all the art and culture Flint has to offer the world."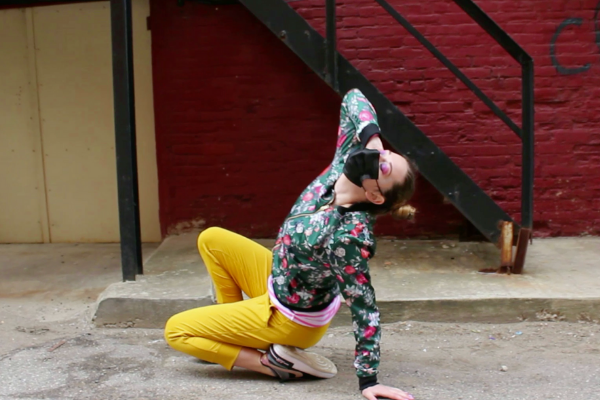 While a performance-based capstone would usually take place in front a live audience, the pandemic has pushed students to be more creative than ever. There is more to this project than simply capturing a dance routine on video; creating a recorded dance performance offers its own unique challenges. Morgan says that experimentation was crucial in making this video come to life. Nearly every aspect of the piece, from costume and hair to choreography and framing, went through several iterations to support the overall story. For example, multiple costume changes in each scene represent personal growth and transcendence from the everyday to destiny.
"On the abstract side of the film, we used multiple colored smoke bombs to really drive the idea of crossing the line between reality and fantasy; we wanted the whole thing to have a dreamy character and spirit," Morgan says.
Creating a work of art like this takes a high level of collaboration and teamwork. Morgan and Meredith met in the dance program and have worked together both professionally and as friends for years. That relationship, and the trust that comes with, contributed to this project's success.
"We each valued each other's input and ultimately each contributed to all aspects of the film," Morgan says. "Respect for each other as not only artists and dancers, but as people as well, really contributed to the successful outcome of the film."
Meredith, who graduated this May, is headed to graduate school to earn a Master's in Social Work. She will continue to use dance to engage with the community, with the ultimate goal of using art to bring social justice issues to light. Morgan will also be attending graduate school after earning her bachelor's degree—continuing at UM-Flint for an MA in Arts Administration. The experience supports her mission of creating and supporting spaces where art is valued and utilized in all its power.
Logan McGrady
Logan McGrady is the marketing & digital communication manager for the Office of Marketing and Communication.