UM-Flint introduces four new learning communities for Fall 2021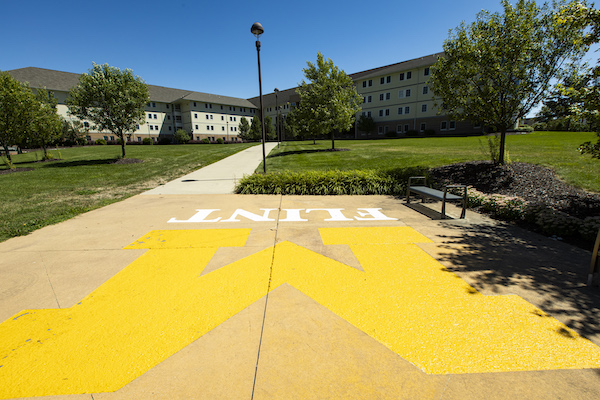 The University of Michigan-Flint is introducing four new residential and theme learning communities in Fall 2021.
The Residential Learning Communities are the Promise Scholar program and Global Learning Community, and the theme communities are Innovation & Technology and Gender & Sexuality.
Residential learning communities provide students a shared experience with peers living and learning together in UM-Flint's Residence Halls. Each residential learning community is tied to common academic courses and a residential experience that focuses on a deeper exploration of their common interests, said Joslyn Brown, the Associate Director of Housing & Residential Life. Theme communities bring students with similar interests and passions together around a common theme. The university's theme communities add a level of connection and support that creates a sense of belonging with our residents, but does not have a common academic course associated with it.
"Typically students living in these types of environments share that they establish long-lasting connections to peers, faculty, and staff, as well as have higher levels of involvement," she said.
Residential Learning Communities
The Promise Scholars Residential Learning Community is focused on providing students selected for the Office of Educational Opportunities and Initiatives' (EOI) Promise Scholars Program a safe living and learning experience that promotes academic excellence, self-discovery, and civic responsibility, in addition to fostering a sense of community and appreciation for individual differences.
"This new RLC will offer students a built-in support system, engaging programming, and a dedicated team of staff to support their needs during their transition into UM-Flint," said Dr. Tiese Roxbury, EOI Director.
The support system is a collective of peers, continuing scholars, Promise Scholar staff, the extended EOI family, RAs in the residence halls, and other staff they will meet through the different programs and events. The programming will include skill-building workshops, networking events, movie and game nights, team building, and professional and personal development opportunities.
The Global Learning Community will allow students to prepare for life in a globalized world through cross-cultural interactions and integrated learning experiences. No matter what a student's major is, if they are interested in global affairs, they can benefit from living in this community.
"We provide an enhanced educational experience for students with a common interest in global affairs – whatever their major or career path," said Sarah Pattison, Associate Director for Global Engagement.
The program involves taking anthropology courses and living in the Riverfront Residence Hall, a study abroad scholarship, both small group mentoring and one-on-one attention, specialized programming and projects, and connecting with students with similar interests in global affairs.
Theme Communities
The Innovation & Technology Theme Community is a partnership with UM-Flint's new College of Innovation and Technology, Brown said. University staff are developing the specifics of the program.
Students interested in innovation, technology, and entrepreneurship will have the opportunity to explore ways to help shape the future. Students of any major are welcome to join the community, but Brown highly encourages those in the College of Innovation and Technology to call this community home next year.
The Gender and Sexuality Theme Community will offer students who are interested in deepening their awareness and understanding of issues impacting women, survivors, and members of the LGBTQIA+ communities through participating in group discussion, service learning through community outreach, and peer collaboration.
"The Gender and Sexualiy Themed Community will offer students an opportunity to explore areas related to sexuality and gender from an intersectional lens and expand knowledge gained in coursework," said Samara Hough, CGS Director. "Students can utilize these tools in their own communities in an effort to create safe, inclusive communities."
In addition to increased learning and awareness, students will be connected to community and given support by their peers to ensure student success.
In addition to these new communities, UM-Flint is home to a Leadership Learning Community and a Social Justice & Diversity Residential Learning Community.
Students can visit UM-Flint's website for more information and interest forms to join the communities.
Lindsay Knake
Lindsay Knake is the Communications Coordinator for the UM-Flint Division of Student Affairs. Contact her with any questions, comments, or ideas about the DSA newsletter, social media, events, and communications.