Listen to this amazing collaboration between UM-Flint Music, local high schools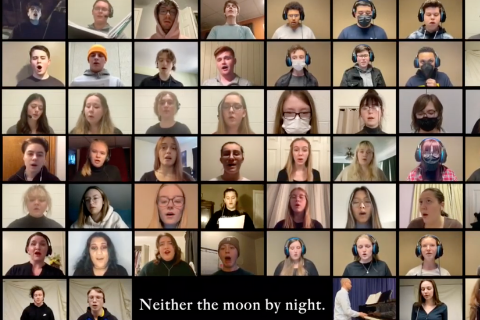 Close to 70 UM-Flint and area high school students have teamed up to create beautiful music, even when they couldn't be in the same room together.
For the past 44 years, students from high school choirs have visited campus to collaborate with UM-Flint Chamber Singers and choir conductors during the Chamber Choir Invitational. After a full day of rehearsals and workshops, the students put on a public performance, utilizing the lessons learned from the day's work and hours of advance preparation. It might seem impossible to continue with this event during the pandemic, but the UM-Flint Music program does whatever it takes to share the beauty of music with the community.
Rather than a day on campus, students from Swartz Creek, Flushing, Durand, and Kensington Woods schools joined the UM-Flint Chamber Singers and Dr. Gabriela Hristova online in February to discuss the musical selections and logistics of recording. It was also when students got to meet the composers of what they would soon perform. Minneapolis-based composer Kyle Pederson (Hands are Knockin') and Thomas LaVoy from Marquette, MI (Neither the Moon by Night) joined the virtual meeting to provide inside perspectives on their work. Associate Professor of Music and conductor of the choral ensembles at UM-Flint Gabriela Hristova explains that speaking with the composers of the music you are currently studying is a unique opportunity.
"You can put a face to the music that you have learned, ask questions and hear them talk about their own creative process—what inspires them, how they begin the process of composing a choral piece," Hristova says. She added that it was interesting to observe the composers' individual personalities reflected through the two selections of music. The upbeat "Hands are Knockin" mirrors Pederson, as the peaceful "Neither the Moon by Night" matches LaVoy.
"It was really important to maintain the tradition of our Choir Invitational and give our students an opportunity to still learn and make music during this challenging for us musicians pandemic. Even in a different format we were able to join voices, put our artistry together, and perform beautiful choral music."
Prior to the virtual event, the UM-Flint Chamber Singers had pre-recorded the individual voice parts of the musical pieces and shared those recordings with high school students to aid in learning the music and recording their performances. Lecturer Matt Daniels also provided techniques to consider when singing during a solo recording, drawing from his background as a composer and recording artist. Once each individual performance was recorded—close to 70 in total—it was up to UM-Flint music alum and area music teacher Stephen Simmons to compile those videos and create the finished product.
Seeing (and listening to) that end product was special for Kaitlynn Powell, a Psychology major who is part of the UM-Flint Chamber Singers.
"Seeing everyone sing together while we were apart gave the invitational experience a human touch that we are all missing out on during this pandemic," Powell says. "Even if it was just everyone singing in their boxes, seeing the videos made me feel a sense of unity I haven't in a long time."
The experience is equally meaningful for the high school participants. According to Jared Leuck, Swartz Creek Community Schools Choir Director, participating in the Invitational pushes his students to elevate their musicianship and artistry.
"Participating in the Chamber Choir Invitational allows the members of our Madrigal ensemble to partially experience the next level of choral education. They work with professors and sing with college age musicians. In addition, they also work with other students from different schools that are in similar levels of proficiency. All of this works to encourage my students to excel."
This is just the latest example of UM-Flint Music's creativity and persistence in creating meaningful opportunities for their students and bringing the joy of music to the community. Students teamed up with the Carolyn Mawby Chorale during the Flint Festival of Choirs in March to record "What a Wonderful World." And the rooftop performance from the UM-Flint Jazz Ensemble received media attention from a variety of outlets.
Want to experience the community and opportunities UM-Flint Music has to offer for yourself? Learn more online and apply today.
Logan McGrady
Logan McGrady is the marketing & digital communication manager for the Office of Marketing and Communication.