Becoming Uncomfortable: Caroline Markvluwer's Culturally-Inclusive Approach to Healthcare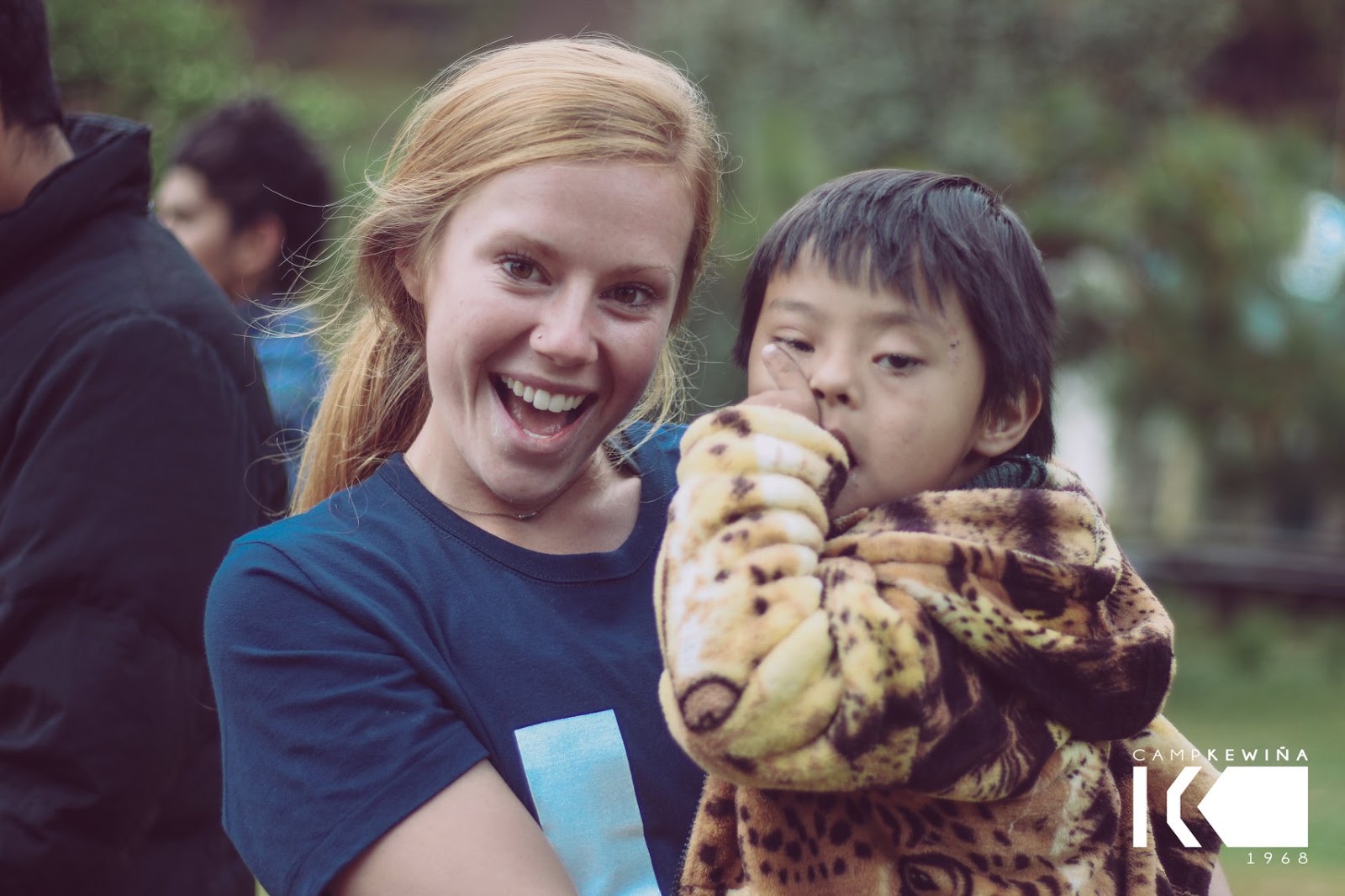 Madre Canguro. That's Spanish for "Mother Kangaroo," an honorary title given to UM-Flint Occupational Therapy Doctoral Program (OTD) student Caroline Markvluwer in her time at Campamento Kewina, a four-day camp in Cochabamba, Bolivia dedicated to meeting the unique needs to Bolivian children with Down Syndrome.
At the camp, Markvluwer was paired with Alejandro, a four-year-old boy who couldn't walk or talk. In the same way a mother kangaroo carries her joey, Markvluwer carried Alejandro in her arms for the entirety of the camp, allowing him to participate in all of the activities the counselors prepared.
"All of us at the camp were eating lunch in the cafeteria and they started playing music for the kiddos. Alejandro started to bounce and dance in my lap, and I was like, 'Do you want to go dance?' Him and I danced every single day after lunch," Markvluwer said. "Even though Alejandro couldn't talk, and he couldn't walk, his smiles and his body language showed that he was in his element."
After the camp full of sore muscles, rock climbing, and lots of dancing, the experience has continued to influence how Markvluwer serves her local community today through Occupational Therapy.
Originally from Charlevoix, Michigan, Markvluwer grew up in a household that valued service, volunteering at homeless shelters, food pantries, nursing homes, and acting as a caregiver to patients with autoimmune disease and disabilities.
Markvluwer's older sister, who is an avid traveller, helped inspire Markvluwer to explore other cultures.
"My sister really inspired me to go outside of my comfort zone and travel the world. She has taught in France and went to Africa as a missionary for a year," Markvluwer said. "It was good having that as an example to learn a new language and immerse myself in another culture."
Markvluwer immersed herself in Bolivian culture after graduating from Calvin University with a Bachelor's Degree in Kinesiology in 2018. After running track for three years and working with other people from different backgrounds, Markvluwer jumped at the chance to travel to Cochabama, Bolivia as a physical education teacher for K-12 children.
Markvluwer taught in Cochabamba for a year, and the experience helped shape her future career as an occupational therapist.
"This could have not set me up any better for what I want to do as a therapist, because as a teacher, you have to lesson plan and create curriculum," Markvluwer said. "It's basically the same thing you have to do with a patient. You have to be flexible and you have to roll with the punches. I think teaching really set me up for a career in Occupational Therapy because therapists are, in my mind, also like educators."
Volunteering to care for individuals who had autoimmune diseases also influenced Markvluwer's skillset in her field, as she helped them partake in range of motion exercises.
"We tend to take everyday activities for granted. These individuals rely on outside sources to assist them with some everyday activities." Markvluwer said. "They became my mentors and I will continue to apply what they have taught me in my future career in Occupational Therapy."
Markvluwer chose UM-Flint for her doctorate program for Occupational Therapy as UM-Flint's Occupational Therapy program was the first doctorate program in Michigan, a fact that interested Markvluwer.
"I specifically chose a doctorate program for Occupational Therapy because I was really interested in doing some sort of research and learning about research," Markvluwer said. "At UM-Flint, there's a lot of professors that are super passionate about what they do, and who are still practicing clinicians in addition to being educators."
Markvluwer's research derives from her experience in Bolivia and different cultures. Her doctoral capstone is through Centro Multicultural de la Familia (CMF) in Pontiac, Michigan. At CMF, Markvluwer currently works as an interpreter in COVID-19 vaccine clinics, in addition to becoming a member of their outreach committee this summer. Markvluwer is also developing a partnership with CMF and Ventanilla de Salud at the Mexican Consulate to create a plan for an afterschool program for children with disabilities. As a future occupational therapist, Markvluwer hopes to become an advocate for immigrant families of Central and South America in Michigan and beyond.
"If I want to be a healthcare professional, I need to be open to communicating to a greater population. The Latino population in the United States is huge, and in Michigan. We have this population of people right in our backyard," Markvluwer said. "Being a patient in general is scary, especially for an individual who is unable to speak English and trying to navigate the healthcare system. As healthcare professionals, we have to be open to working and connecting with those people and creating a culturally inclusive environment for them."
Markvluwer continues to learn the Spanish language from a tutor to better connect with the community at Centro Multicultural de la Familia.
"I want to connect to my future patients. I want to make them feel included and comfortable with us as therapists to build a rapport," Markvluwer said.
After graduation, Markvluwer hopes to work in pediatrics, while continuing to ensure that her research project at CMF is sustainable.
For her peers, Markvluwer offers one piece of advice: it's okay to be uncomfortable.
"With all of the divide in just the past year, I would really encourage people to become uncomfortable," Markvluwer said. "It's important as a healthcare professional to listen first and to ask questions when working with patients from different cultural backgrounds. Always remember to practice cultural humility within each context you are immersed in."
Contact University Communications & Marketing with comments, questions, or story ideas.