UM-Flint offers education, survivor support during Sexual Assault Awareness Month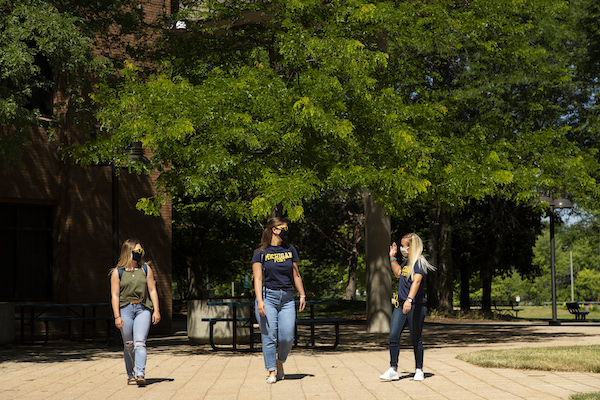 April is Sexual Assault Awareness Month (SAAM), and the University of Michigan-Flint students and staff are here to support survivors and continue to build a campus culture that is free of sexual violence.
UM-Flint is offering events and discussions for the campus community to learn how to be an ally, how to support survivors, and how to help prevent sexual violence.
Peer educator Melanie Craw, a senior majoring in sociology, said it isn't uncommon for survivors to feel unheard.
"This month gives survivors time and space to share their experiences. SAAM also allows people who might not actively be in this conversation, to join conversations geared towards helping others understand how to support survivors and how to prevent sexual violence," she said.
SAAM is about the awareness and prevention of sexual assault, harassment, and abuse. First observed in 2001, SAAM follows decades of activism from survivors and advocates who called for legislation and funding to support survivors and prevent sexual violence. The National Sexual Violence Resource Center coordinates the annual SAAM campaign.
In 2021, SAAM is focused on building safe spaces online, as the internet is where many people socialize, find romantic partners, and make friends. However, the technology can also be used to bully, threaten, and commit abuse.
Sexual violence is an umbrella term that includes any type of unwanted sexual contact, including sexual assault, harassment, and abuse, according to the NSVRC.
Forms of sexual violence include:
Rape or sexual assault
Sexual harassment
Sexual abuse
Unwanted sexual contact/touching
Sexual exploitation and trafficking
Exposing one's genitals or naked body to others without consent
Nonconsensual image sharing
Words and actions of a sexual nature against a person's will and without their consent
"The most important thing is to believe and support survivors, and allowing them to have their own voices back and use them as much (or as little) as they choose is the most allied thing you can do," said Cat Carlisle, a UM-Flint Peer Educator and senior majoring in Mechanical Engineering. "Learning their stories and letting them choose what to do and what healing looks like for them is so important. I also want to highlight that the effects of sexual assault don't stop with the survivor. It impacts so many people who weren't directly involved in the assault, at all levels."
Kayla Neal, a senior majoring in political science, said sexual assault awareness is not limited to one month. It should be a constant factor in how people conduct their day-to-day lives, she said.
"Unfortunately, people every single day of their lives have to live with their experiences. It is something that cannot be undone," Neal added.
At 2:30 p.m. Thursday, April 15, UM-Flint's Center for Gender and Sexuality is hosting an event that will include a discussion on how to support a survivor. The event is open to everyone.
UM-Flint has many resources available to support students. Counseling is available through Counseling and Psychology Services, and the Center for Gender and Sexuality offers survivor support and education for all students on allyship, consent, and more.
UM-Flint also has been part of Culture of Respect, a two-year initiative aimed at ending sexual violence on campus. The university will continue that work with Stop Sexual Violence: Creating Safe Spaces, a campaign that will launch in the fall
Lindsay Knake
Lindsay Knake is the Communications Coordinator for the UM-Flint Division of Student Affairs. Contact her with any questions, comments, or ideas about the DSA newsletter, social media, events, and communications.